Côte d'Ivoire's post-war recovery has been lauded around the world, and the development of a new mall is a sign that the optimism has a solid foundation.
Shopping malls have become emblematic of economic growth and political stability in Africa. Dismissed as garish symbols of mass-consumerism elsewhere in the world, here they represent a growing middle class with buying power. The opening of a mall in a working class Abidjan neighborhood displays an even greater optimism.
Cosmos Yopougon is a $30 million project that formally opened last month in Abidjan's most populous neighborhood with the same name. The mall boasts a Carrefour supermarket, a Burger King and a 700-seater Majestic Cinema complex as its anchor tenants, along with a CFA1,000 store, similar to a $1 store in the US. Telcos MTN and Orange will also use their stores in the mall as their flagship mobile money outlets.
It isn't the first retail bet in Côte d'Ivoire. Two years ago, French group CFAO opened the $66 million Playce-Marcory, a mall that brought an American or European shopping experience to Abidjan's wealthier neighborhoods, following the existing trend around the continent.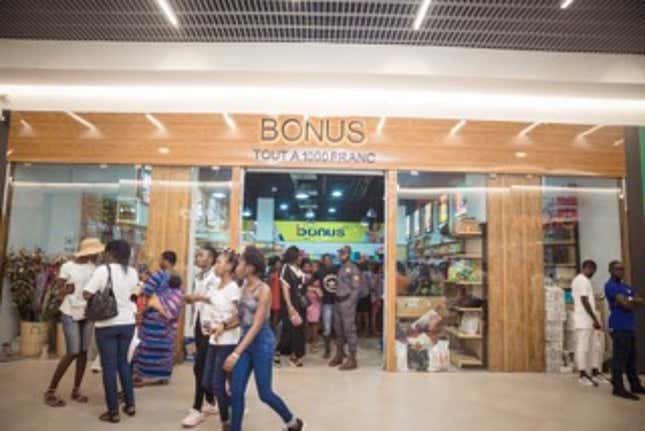 Also known as "Yop City," Yopougon has become increasingly mixed-income as the country's economy has improved. It's also why developers HC Capital chose the neighborhood, bucking retail trends. HC Capital's format looks a lot like the model that South African grocer Shoprite used to expand across the continent.
The area has an annual fast-moving consumergoods spend (FMCG, consumer spending that accounts for spending on products such as food and beverages) of €440 million ($499 million), comparable to Abidjan's affluent neighborhoods, HC Capital founder Hafeez Giwa told Quartz.
"It's not as easy as getting a report from a large investment bank, you have to do it yourself," he said in a phonecall from Beirut.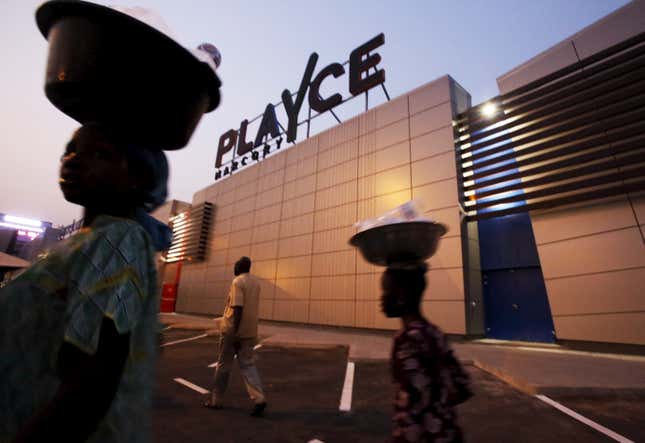 Giwa, who is Nigerian, and his partner Cheick Sanankoua, an Ivorian national, started HC Capital Properties in 2014 with the specific intention of getting into the Central and West African market. The two met while at Harvard Business School, and after stints at Morgan Stanley and private equity firms, they decided to take the leap into neighborhoods that felt familiar to them.
"What differentiates us is that we're from these markets," said Giwa.
The mall's location, however, could put it at odds with infomal vendors who have boosted Yop City's economy until now. Giwa says the mall has only shifted the economic node of the region, with vendors given space within the mall and popping up around the mall to take advantage of the new footraffic.
Sign up to the Quartz Africa Weekly Brief here for news and analysis on African business, tech and innovation in your inbox