Many major African cities—Lagos, Nairobi, Accra, Cape Town, and Dakar—play host to a fashion week showcasing their latest haute couture designs with all the glitz and glamour that entails. But this year Lagos Fashion Week tried something different in addition to the usual high-end dazzle with a campaign celebrating Lagos' Aswani Market, the massive secondhand clothing street market.
What the organizers were highlighting is that even though secondhand clothing is often viewed as an impediment to the growth of Nigeria's fashion retail and garment production industry, it cannot be ignored. The sub-sector is an affordable clothing option for millions of ordinary Nigerians and creates jobs for tens of thousands of people.
With high-end designer names like Lisa Folawiyo, Style Temple and Mai Atafo a lady's chiffon blouse can go for anything from $250 to $750. So it's no surprise many urban Nigerians who live on less than $500 a month would happily go for a fairly used Balmain black sequin blouse that costs less than $5 in Aswani market.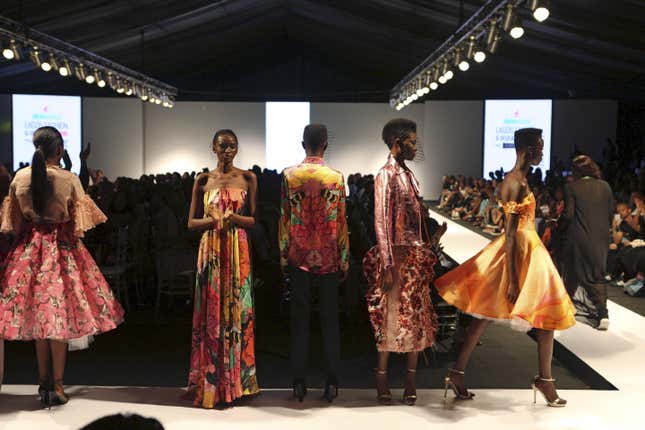 The secondhand market sector in Nigeria has expanded over the last couple of decades to cities across the country including Ibadan, Enugu, Kano, Onitsha, and Port-Harcourt amongst others. They're welcomed by a burgeoning target market dominated by low-income earners and part of the shrinking middle class that can no longer afford brand new clothing.
Market day
But Lagos, Africa's biggest city with a population of some 20 million when you include its outer-bounds, is easily the biggest hub for secondhand merchandise in the country with everything from cars to refrigerators brought into the country to meet the demands of a growing low-income middle class. This is especially true when it comes to secondhand clothes at a number of markets across the city including Aswani, Katangowa and Yaba where the affordable items have nicknames like "Akube", "Gwanjo" or "Okrika". Market days are observed weekly when new wares are restocked, giving the stalls a fresh look.
A typical day in Aswani market is fraught with high foot traffic, traders yelling their prices in a singsong manner and customers "bending and selecting" through the endless heaps of clothing. The sprawling market is a sensory overload of color, clatter and chaotic energy which can be overwhelming and yet rewarding for its customers.

The Tuesday-only Aswani market, which is about four miles from Murtala Muhammed international airport, is one of the biggest hubs for fairly used clothing in the country. It caters to everyone and items can be purchased at ridiculously low prices.
A man dangling moderately used lingerie and briefs in the air at the entry point of Aswani market shouts in pidgin, "Na mumu dey go boutique," which translates to "Only fools shop at boutiques." While this may be a ploy to attract customers, this seems to be the perception of most people regarding "bend-and-select" shopping—why go to upscale stores when you can purchase the same clothing for a cheaper price?
Consequences
The secondhand clothing sector has often been criticized for contributing to the death of the retail and garment production industry in Nigeria. Despite efforts by the government to clamp down on it, the business is still thriving and textile manufacturers in the country struggle with limited capacity for clothing production, poor patronage, and meagre purchasing power.
In Sub-Saharan Africa, a report by Africa Practice showed Nigeria was ranked as the third largest textile industry alongside South Africa and Egypt in 1980, representing 63% of the textile capacity in the West African sub-region. However, economic troubles, bad policy and government negligence have severely stifled the sector.
The number of Nigerian textile factories fell from 125 in the early 1990s to fewer than 40 in 2010. Lagos still has the highest number of textile factories (16) but they're mostly small and unintegrated single-process plants. Up in northern Nigeria where the oldest integrated textile mills are located, the integrated factories of Kaduna are in better shape but not as influential on the market place as they once were.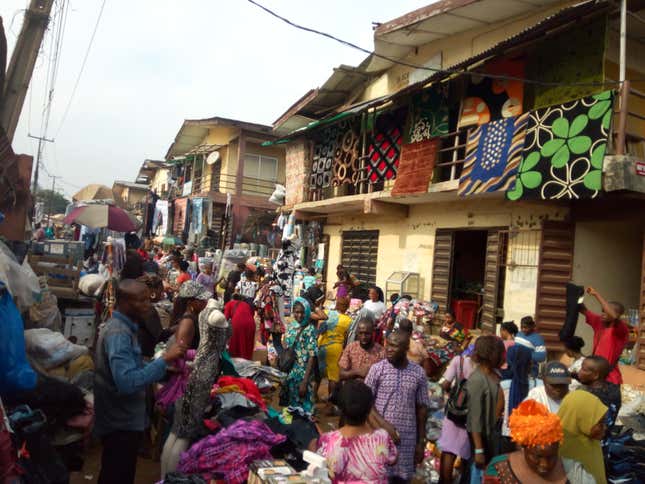 Kingsley Okeke is a trader who specializes in anything male, footwear mostly, and he has been selling at Aswani market for over a decade. He says the secondhand trade is one of the few businesses that require little start-up capital and offers high profit margin. "Anybody can start secondhand business with 70, 000 naira to 100, 000 naira ($200 to $300), even without owning a shop, you can sell from wherever you are," said Okeke.
Secondhand clothing can be imported directly into Nigeria from western countries but many traders choose to import through bordering countries including Cotonou in Benin Republic and Lome in Togo. "It is easier to import from Cotonou and cheaper compared to the high cost of customs duties and delay of cargos at the ports in the country, said Wumi Oguntuase, founder of ThriftStore NG, an online thrift fashion store.
However, many traders have to bribe border officials to ship items into the country because these secondhand goods are technically "contraband." Yet, it is also a thriving enterprise and governments across the border benefit from it thus creating a symbiotic relationship.
The secondhand clothes are purchased by wholesalers in bales, which ranges from $200 to $400 and sorted into grades in Nigeria. There are different grades of bale: Grade AA and Grade AB. Grade AA is the high quality category of clothes, which are virtually new, though often more expensive, while Grade AB is cheaper, a combination of high and low quality clothes.
Ngozi Joseph focuses mainly on women and children clothes, she says it sells faster because there is high demand for it and a wide variety to purchase. "Okrika business is quite saturated but its customer base is ever growing, though you may lose customers intermittently, it doesn't reflect in your sales," Joseph said. Secondhand clothing has a perpetually rising customer because the wares are affordable and durable.
Though the secondhand market is applauded as a sub-sector that has created opportunities for millions of Nigerians, the textile industries have the potential to double this figure and improve the GDP of the country but it would require major policy shifts and support from government and that isn't a priority today.  

Sign up to the Quartz Africa Weekly Brief here for news and analysis on African business, tech and innovation in your inbox