The global claim to fame for Nigeria's Nollywood movie industry has typically been its volume of production, ranked behind only India's Bollywood.
While that emphasis on low-budget, high-volume production saw Nollywood movies become hugely popular at home and across Africa and the diaspora, it also fostered low standards. But the past decade has seen a new generation filmmakers shift focus from quantity to quality—a move that's yielding increased international recognition and has seen Nollywood movies increasingly become a big draw for audiences at local cinemas.
Most emblematic of that trend perhaps is The Wedding Party, a 2017 romantic comedy, which became the first Nollywood movie to gross over 400 million naira ($1 million) at local cinemas. Its sequel, released only a year later, did even better. The trend of high earnings have largely continued as Nigerian movies are on track to record gross cinema earnings of over a billion naira ($2.7 million) once again last year after first doing so in 2016.
The pull of Nollywood movies at local cinemas was seen during the peak December period when moviegoers are spoiled for choice with several Hollywood releases also available. Nollywood's Chief Daddy was the second highest grossing movie (behind Warner Bros' Aquaman) during the festive season, according to data from Cinema Exhibitors' Association of Nigeria, a body that tracks local box office earnings. Indeed, during the New Year holiday week alone, Nollywood accounted for three of the top five top earning movies at local cinemas. Up North, an acclaimed new release, has already grossed 50 million naira ($137,000) in its first ten days. These earnings are significant in an industry that's not been historically known for yielding major returns on investment mainly due to long-running challenges with piracy and distribution.
The changing reality is mainly down to more filmmakers and production companies making bigger commitments to movies in budget and scale, says Tope Oshin, director of Up North. "There used to be limits to spending [on production] and effort based on demand," she says. "If your budget is low, you have to cut back on a lot of things and it shows. Owing to recent success, we can spend a bit more knowing that audience is responding to quality."
These days, big budget Nollywood movies can cost up to 300 million naira ($820,000) to make—a vast increase from previous years when filmmakers pegged budgets given lower demand, Oshin says.  Beyond the adoption of better equipment, Chris Ihidero, writer of Hush, a popular drama series, attributes much of the improvement in the quality of Nollywood films to the presence of more skilled crew members in production across areas like cinematography and lighting. "There's been an uptick in production value and in cinematic range of what producers are taking on," he says.
It's worth investing more upfront in better-trained crew, upgraded equipment and higher production values as there are more international licensing avenues than ever to recoup investment over the longer term from cable and satellite TV distribution to airlines and streaming partners like Netflix and Amazon Prime.
Crucially, profits from cinema runs also open up an important revenue stream for filmmakers in comparison to other existing earning models. DVD and VCD releases, the model for Nollywood's early success, are hampered by an enduring piracy problem. Unlike cinema runs which offer the promise of open-ended profits, licensing to television channels like the MultiChoice-owned Africa Magic come with capped, one-time earnings.
Meanwhile, the long-term success of licensing deals with video on demand platforms like iROKOtv and Netflix (the global streaming giant acquired its first original Nollywood film last September) will depend on solving internet access and connectivity problems.
But the cinema model also has its limitations. With fewer than 50 theaters across the country, there's a major shortage of screens for filmmakers to maximize profits. However, there's progress on that front as increased investment in cinema chains suggests filmmakers will soon have more options.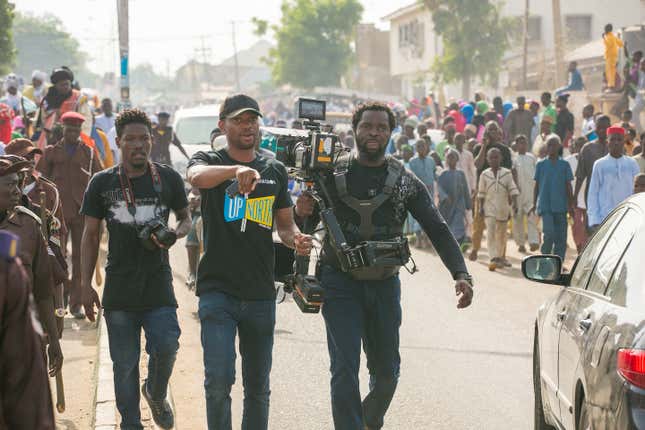 In addition to bigger production budgets, Imoh Umoren, an indie film director, also attributes Nollywood's recent success at cinemas to better promotion and marketing. But the next level, he argues, lies in exploring more movie genres and story ideas beyond comedy and drama. "We've established that we can achieve the basics—good cinematography, good technical quality and good performances—but we're still making borderline safe stories," he says.
Wilfred Okiche, a movie critic, shares similar sentiments: "In the last couple of years, the pictures have gotten better in technical terms but are the stories better? No," he says. "It's been a matter of smart marketing and giving people what they want to see."
Sign up to the Quartz Africa Weekly Brief here for news and analysis on African business, tech and innovation in your inbox