Internet access was restored in Zimbabwe late on Wednesday, but on Thursday WhatsApp, Facebook and Twitter remained inaccessible.
More than 600 people were arrested this week as police armed with AK-47 rifles rounded up protestors, according to the Associated Press. At least six people were killed when the military was deployed to quell protests against high fuel prices on Monday. Amnesty International reported eight deaths, while the Association of Doctors for Human Rights reported treated 68 cases of gunshot wounds and more than 100 other cases of assaults. A tense calm returned on Thursday.
Zimbabweans were protesting a fuel hike that would see the price of petrol and diesel rise by 150%in a country that already had fuel shortages. Amid the violent crackdown on protestors, Zimbabweans were also cut off from the internet and social media in a blackout meant to stop demonstrators from organizing. It also means that the true extent of the crisis is difficult to ascertain as Zimbabwe remains cut off from the world. In 2017, WhatsApp alone accounted for nearly half of all internet traffic in Zimbabwe, and is instrumental in evading state control.
It was a tactic used before. In 2016, Zimbabwean authorities blocked WhatsApp in an attempt to stop the protests against the worsening economy that would mark the beginning of the end of former president Robert Mugabe. Then, Zimbabweans used VPNs to get around the blackout, but this time that didn't work.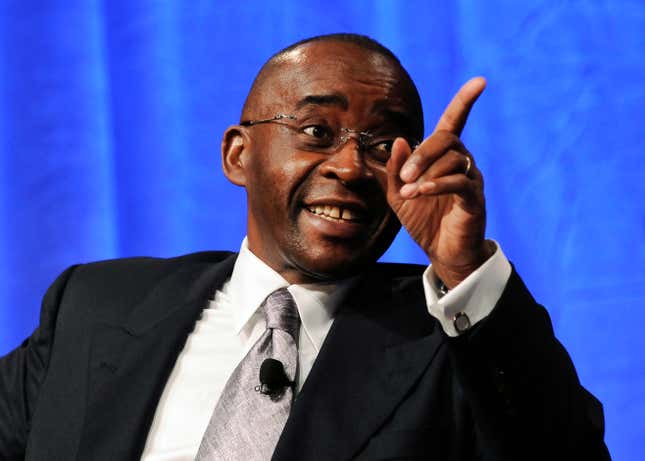 Zimbabwean billionaire and founder of one of the country's largest telcos Econet, Strive Masiyiwa was surprisingly candid in explaining his company's reasons for capitulating to the blackout. Econet sent a text message to its subscribers apologizing for cutting their service.
"As it was a written directive issued in terms of the law, non-compliance would result in immediate imprisonment of management on the ground," Masiyiwa wrote on his Facebook page on Jan. 16. "Whenever such directives are issued, management call in the legal teams, and review them in terms of the law."
While his message addressed the directive issued by Zimbabwean authorities this week, Masiyiwa also directed his comments to subscribers in the DR Congo and Sudan. "Last week we were issued with a similar order in the Democratic Republic of Congo [DRC]. We complied as directed," he wrote.
Competitors Net One Cellular, and Telecel Zimbabwe did not follow Econet's example of apologizing.
Shutting down Econet's internet has more significant impact than the other two combined. Of Zimbabwe's more than 14 million active subscribers, Econet controls 53.1% of the market, while NetOne and Telecel have 35.2% and 11.7% respectively, according to a 2017 report by the Postal and Telecommunications Regulatory Authority of Zimbabwe.
Zimbabwe Lawyers for Human Rights took all three telcos to court on January 16, in an urgent application over access to the internet. The matter has yet to be heard, says lawyer Danford Halimani. "I would not want to pass judgment on what would be a tricky situation," said Halimani about the companies' compliance with the blackout. "It's a very difficult situation dealing with a government like ours that is not really democratic."
Without irony, Zimbabwe's president Emmerson Mnangagwa, currently on a state visit to Moscow, used Facebook and Twitter to call for calm over the protests.
Farai Matiashe contributed to this report from Harare. 
Sign up to the Quartz Africa Weekly Brief here for news and analysis on African business, tech and innovation in your inbox