This story has been updated.
On a day they expected to be voting for the president, frustrated Nigerians are having to change their plans.
Hours before voting was due to begin today, the country's electoral commission, INEC, announced its decision to delay the polls by a week. Given the timing of the announcement (around 2.30 am local time), millions of eligible voters—especially those without access to the internet and social media—only found out when they woke up this morning (Feb. 16). There have been reports of some people getting in line early to vote only to be told the election had been canceled.
The presidential and national assembly elections will now be held a week later on Saturday Feb. 23. State governorship and legislative elections have also been postponed to Mar. 9, they were originally slated for Mar. 2.
For its part, INEC has not revealed the financial cost of a delay and has blamed the delay on logistical difficulties even though it has had four years to prepare and is backed with a $522 million budget. 
But for ordinary citizens, the impact of a one-week delay will likely be disruptive and in some cases, very costly.
As Nigerians can only vote in polling units where they were initially registered, elections in Nigeria usually involve making painstaking and expensive travel plans. People who have moved homes, changed jobs or left the country have to go back to their old polling units to vote.
There have already been reports of Nigerians flying in from Europe, the US and Asia, likely on tight itineraries, just to vote. Within the country, traveling to different states and regions to vote has become common.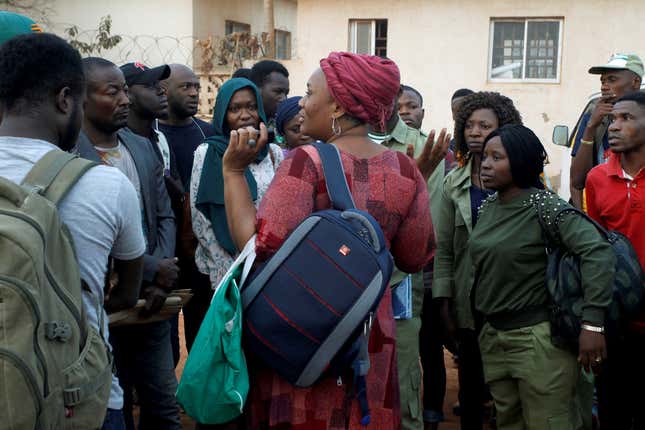 Schools have also planned their operations around INEC's earlier schedule with students sent home. Nigeria's struggling economy will also be impacted with several businesses shuttering operations in anticipation of the elections. A postponement now means doing it all over again.
The delay will impact turnout among Nigeria's 84 million registered voters "in a big way," says Stanley Azuakola, director at Civic Monitor, a social enterprise. Come next week, many voters will likely be unable—or unwilling—to redo travel plans allowing them to vote. That poses a major problem in a country that has recently struggled with voter turnout: after a six-week delay before the 2015 presidential elections, only 33.5% of eligible voters eventually cast a ballot at the polls.
The postponement of the election has been met with anger and frustration among Nigerians especially as INEC's late announcement suggests a lack of consideration for its impact on citizens. Indeed, in the commission's official statement announcing its "difficult decision," there was no apology or acknowledgment of the impact the delay could have on voters and the country especially after the commission repeatedly claimed there would be no possible delay right up the 12 hours before its announcement.
In fact, INEC's decision endangered the lives of thousands of young Nigerians it had signed up as ad-hoc staff for the elections. Across the country, these young Nigerians were left "unprotected, without security and welfare" through the night at polling units, Favour, a INEC ad-hoc staff working in Lagos tells Quartz.
It's also unclear how the postponement will affect international election observation missions already in the country. The United Nations, ECOWAS, the European Union as well as the United States' International Republican Institute (IRI) and the National Democratic Institute (NDI) all have election observers already on ground. In a joint statement, IRI and NDI say INEC "underestimated the challenges associated with the administration of the elections" but also noted a delay is better than possibly disenfranchising voters due to logistics problems.
The possibility of having fewer observers when the elections are eventually held will "affect the credibility of the polls," Azuakola says. "We have seen over time how important these observers are. The most objective viewpoints about the elections comes from them once voting starts."
Sign up to the Quartz Africa Weekly Brief here for news and analysis on African business, tech and innovation in your inbox