The mobile operating system KaiOS is gradually securing its place among the slew of mobile devices targeting African markets.
At the Mobile World Congress in Barcelona this week, the French telecom company Orange rolled out its new 3G-powered "smart feature phone" will be powered by the Linux-based program. Developed in San Diego, California, the light operating system was born out of Mozilla's failed FirefoxOS project and is used to bring smartphone-like functionalities to cheap feature phones.
Currently running on 50 million phones across the world, its developer KaiOS Technologies hopes to be running on over 150 million devices by mid-2019.
Part of this expansion strategy involves partnering with telecom companies like MTN and France's Orange and could help close the digital divide in developing nations including those in Africa.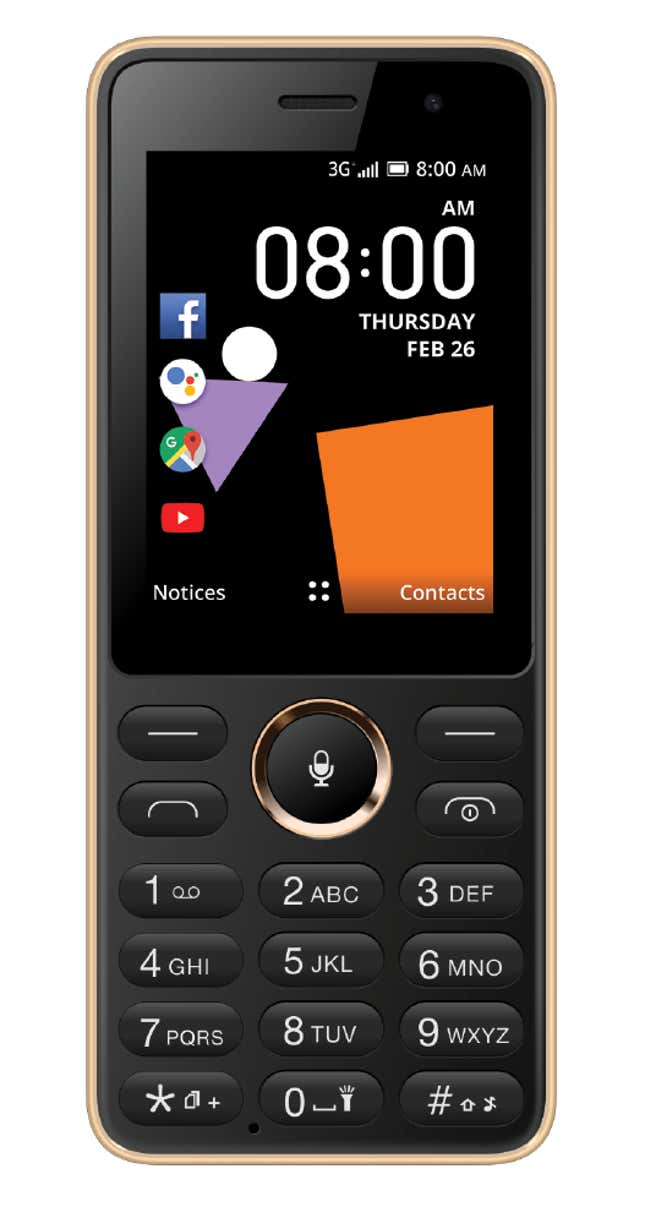 Orange's version of the "smart feature phone" is set to have customized content, voice, and language features. Dubbed Sanza, after a xylophone-like musical instrument used in many African nations, the phone will retail at $20 depending on the 16 countries where it will launch—a majority of whom are in Francophone Africa. Orange customers in Mali, Burkina Faso, and Côte d'Ivoire will be able to buy the phone as early as April this year.
The phone is similar to one launched by MTN in South Africa and Nigeria last year, which also uses the KaiOS operating system.
The Sanza will combine both feature phone functionalities like a long-lasting battery of up to five days, torch and Bluetooth but also have smart applications like Facebook, Twitter, and Google Maps, along with the Orange mobile money service, besides the My Orange app that monitors consumption.
Orange told Quartz Africa the phone's hardware will be supplied by Beijing-controlled telecommunications company China Mobile and manufactured in China. The phone's menu will be available to users in languages including Swahili, Arabic, Portuguese, and French, while Google Assistant will help users resolve language and literacy challenges by speaking directly to their phone.
Tapping into voice recognition is a pragmatic move, given how much the service has become imperative globally. Last year, Google invested $22 million into KaiOS in a bid to power feature phones in emerging markets like India and Indonesia where it has gained immense popularity. This week, Google announced it was making the Assistant app smarter on feature phones using KaiOS.
Africa's young and fast-expanding markets are increasingly seen by the telecoms industry as the future of growth. Various African governments, operators, and entrepreneurs have announced or launched plans to develop their own home-grown phones.
Yet developing an affordable phone and achieving market success will not be easy. Orange and MTN both face the likes of Shenzhen-based Transsion, whose phones have dominated the African markets. And as more African nations migrate from 3G to 4G, the Beijing-headquartered electronics company Xiaomi now says it's looking to develop more products unique to the African market.
Sign up to the Quartz Africa Weekly Brief here for news and analysis on African business, tech and innovation in your inbox