The national character of Ghana is a permanent state of striving for global significance and a status of African exceptionalism.
Ghanaians have for decades been bound to a narrative of their unique station in an African constellation of struggling states, which pedigree they have convinced themselves into believing deserves global attention and recognition. Private schools are thus called "international schools" and every church has "world", "global", "international" or some such cosmic label tucked somewhere in the name or motto.
No sooner have you started to capture any part of the Ghanaian essence and they will attempt to pull a "first".
"We are the first country in Africa to break the yoke of colonialism," delivered with characteristic flourish.
"We are the first country in the world to ratify the Convention of the Rights of the Child".
"We are the first country in Africa to undergo the transition from military dictatorship/one-party rule to democracy, and a double-shift of power between two political parties."
And so on and so forth.
These narratives used to be drummed home into the heads of young Ghanaians, in the schools and the media, with that mixture of spiritual burden and rhetorical high energy they are so well known for.
Even if you were to point out to Ghanaians that they couldn't possibly have been the first country in Africa to decolonize, because those pesky North African countries, Egypt, Libya and Morocco got there first, they quickly qualify the claim by adding "sub-Saharan". If you point to Sudan, they won't miss a beat, "Black Africa". If, in frustration, you blurt out, "Liberia", they would, without batting an eyelid, construct: "Predominantly Black, Sub-Saharan African country to break the yoke of European colonialism"! Amartya Sen talks about Indian "argumentativeness", he has clearly never encountered Ghanaians.
That many of the "firsts" with which Ghana likes to distinguish itself don't always survive scrutiny means little when it is also true that Ghana does on some occasions come close enough to its cherished "world class" landmarks.
In fact, Ghana is undeniably No.2 worldwide or in Africa in a number of notable categories, such as in cocoa exports, gold production and manganese mining. And, yes, it was indeed the first worldwide to ratify the Convention on the Rights of the Child.
Even then, in the context of Africa's long struggle with underachievement, no one can dispute Ghana usually finds itself in the better deciles in the African segments of the important global rankings.
It has made the top ten of the (African segment of the) global infrastructure, connectedness, and innovation indexes. It is consistently in the top ten for foreign direct investment inflows, economic growth rates and public health achievements. Just a few months ago, Ghana's president Nana Akufo-Addo beamed from WHO literature as the leader of the first country in the WHO Africa region to eradicate blinding trachoma.
As the country this week commemorates the 62nd anniversary of independence from Britain, this is the appropriate background to the growing domestic angst about Ghana's vaunted national self-image.
For many decades, the narrative of specialness kept embers of hope burning even in the darkest nights. So ingrained was the narrative that a spiritual essence of "Ghanaian excellence" was indissolubly bound up with Ghanaian identity itself, that the post-colonial leadership considered continental leadership the small country's manifest destiny even as its economic and political stature declined.
The leading independence hero and first president, Kwame Nkrumah, popularized the moniker, "Black Star of Africa" and declared the "independence of Ghana is meaningless unless it is linked with the total liberation of the African continent!"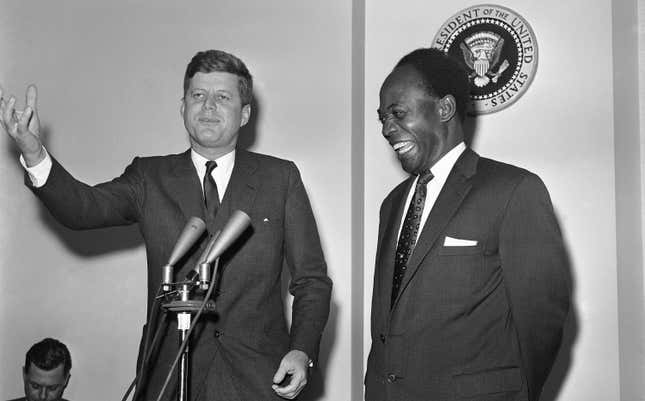 As commodity prices fell, and the reserves saved up from the boom years were being depleted, Nkrumah—nicknamed, Osagyefo or Messiah, by his political compatriots—continued to sponsor numerous "freedom fighter" groups and host their leaders including Robert Mugabe and Sam Nujoma—in ideological and guerrilla training schools in Accra and the hinterlands, all with the country's dwindling resources.
When Osagyefo was removed by military leaders in 1966 (with the dubious distinction of being the second successful coup in the subregion), they did not fully repudiate the narrative of grandeur. In fact, one of their main justifications was that Osagyefo was damaging Ghana's image abroad (largely with reference to Ghana's dispatch of operatives to intervene in the Congolese civil war), a peculiar excuse for an African putsch. Even when in the decade following 1972 during a long-spell of military rule  and real GDP fell by a quarter, Ghanaian revolutionaries and professional commentators always maintained a haughty line. Their agitations were usually grounded in Ghana's grander, pan-African, manifest destiny instead of the insular, sectarian grievances then common across Africa.
Visitors to Accra, especially those fortunate enough to interact with the political elite, could not help but be struck by the tendency to aggrandize.
Golda Meir, in Accra to set up Israel's first embassy in Africa, complained about Ghanaian leaders seeming disinterest in concrete policy initiatives. Reminiscing about Osagyefo, she wrote, "He talked on one level, and I talked on another. He talked about the glories of freedom, and I talked about education, public health, and the need for Africa to produce its own teachers, technicians and doctors."
When Zhou Enlai of China and Che Guevara of Cuba visited, grand themes of third-world solidarity rather than immediate bilateral opportunities in commerce and industry dominated the agenda, even though in both cases Ghana was being approached as a gateway to the continent. In fact, it was an aspiring mediator between the US and China in the Vietnam war that Osagyefo travelled to Hanoi only to be outflanked back home and overthrown. Why Osagyefo felt that his tiny outpost on the Gulf of Guinea was the right mediator in the Vietnam fiasco isn't too hard to understand when you appreciate Ghanaian self-image.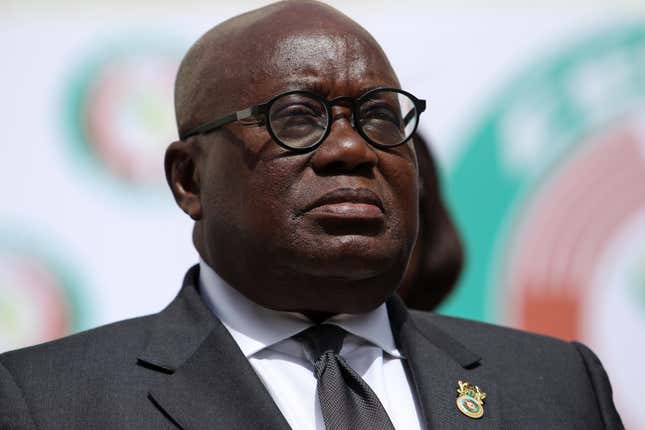 It is safe to say that for most of Ghana's existence it has been waiting and striving to live up to and be worthy of its self-adorned status as the "Gateway to Africa". It is also safe to say that the current third generation of post-independence Ghana is finally succumbing to fatigue from this onerous burden. The majority are developing a wide range of ingenious coping mechanisms to deal with the reality that optimal governance and institutions may not emerge in the near future.
This sobering development has come on the back of declining confidence in the political and economic governance systems, and their dominant elites, to deliver the grand transformation Ghanaians have been waiting for.
Three debilitating power crises since 1998 have cut episodic growth spikes and taking a shine off the halving of poverty rates since 1992 because average GDP per capita growth rates of 2.7% since 2000 have not been enough to reverse the effects of the slow decades between 1960 and 2000, when growth rates averaged just 0.45%.
Hence, even though foreign direct investment has risen to $3.3 billion today from $2 million in 1984, child malnutrition is still over 20% and population-wide undernutrition is over 50%. Fantastic projections of oil production have likewise failed to materialize and the triumphant 500,000 barrels of oil a day milestone that was supposed to be attained in a decade when the country struck oil in 2007 continues to stretch out elusively into the future.
But it's concerns about leadership that are proving strongest in forcing second-best coping mechanisms among the youthful, emerging, middle class. Corruption has proven to be a major sticking point.
Ghana ranked 55 in 1998, the first year in which it appeared on Transparency International's much followed Corruption Perception Index. It climbed up to 50 in 2002, much to the government's delight, but since then it has stumbled and is now mired in the sixth and seventh deciles of the rankings, save for a brief improvement in 2014, when it managed to hit 61.
Many are of the view that the country's constitution concentrates too much power in the presidency. Despite Ghana's public sector having only 600,000 people, compared to nearly 2.8 million federal employees in the US, the Ghanaian president appoints more functionaries directly than the US President. In fact, as a share of the total state administrative budget, the Ghanaian president controls (10%) 500 times more resources in relative terms than the US President (0.02%).
With a liquidity crisis threatening a third of the financial sector (nearly a quarter of banks and lower-tier financial institutions have failed or are on the brink of failure), bringing to an end a credit boom that dates back to the early 2000s, trust in public sector reform is at an all-time low.
Rather than rely on uneven political leadership results, Ghana's youthful, increasingly self-aware, middle class have congregated on Facebook and are controlling the narrative to the deep frustration of a political elite struggling to keep up.
Amidst the constant lamentation about poor policy choices and the foibles of political appointees, they are also doing brisk business and creating informal networks that have designed supply chains linking fashion designs from the interior of Ghana with Chinese pricing power to dress up dapper young professionals.
They hold multiple side jobs, constantly seek out new trends to uplift their social status, and are becoming savvy patrons of street art festivals and inner city galleries. Fusion cuisine on the beach and paragliding in the Easter Hills are all a thing with this new generation of explorers.
Nowadays, you are not likely to find young Ghanaians going on about how the first black president of the UN General Assembly and the first sub-Saharan African secretary-general of the UN were both Ghanaian. They probably don't even know who they are.
But try any line of conversation regarding the use of native herbs and clays in beauty treatments, and how the "niche is unexploited", and you would most likely strike a chord, because between the wannabes in Accra and the hustlers shuttling between Techiman and Kumasi, you would be fully covered.
The national reckoning seems to be this: We don't have to beat the world to it, we just have to get close enough.
I should know, I'm one of them.
Sign up to the Quartz Africa Weekly Brief here for news and analysis on African business, tech and innovation in your inbox