Despite facing its biggest crisis in years, Ethiopian Airlines' chief executive says the company remains committed to its pan-African expansion plans including striking more partnerships across the continent.
Tewolde GebreMariam said the airline remained bullish about forging into new markets and opening up to private investment. He said the carrier is in the process of acquiring airlines in Togo, Ghana, and Guinea, alongside already existing partner airlines in Chad, Malawi, and Mozambique. He spoke about the plans for privatization both to Quartz Africa and on a panel at the Africa CEO Forum in the Rwandan capital, Kigali.
Ethiopian Airlines is being supported strongly by other African countries and businesses. The airline was given the "African Champion of the Year" award at the CEO Forum, which is attended by captains of African industry as well as political leaders and government officials.
The judges gave the award based on Ethiopian's vision of better linking the continent, often seen as a challenging issue for trade and business by many African policymakers. "We promise to keep up the good work for the good of the African continent," Tewolde said in his acceptance speech.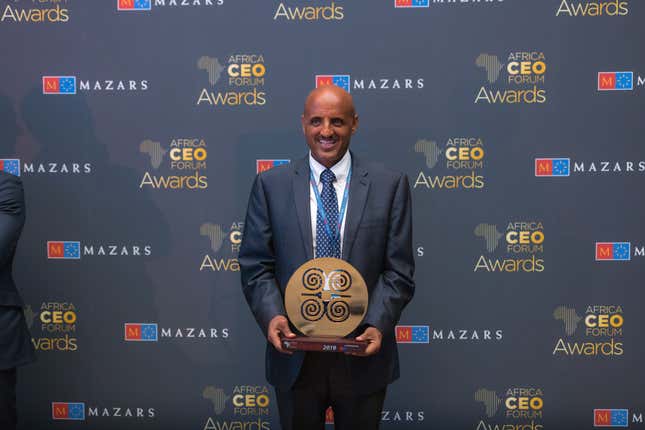 The state airline hopes to operationalize an airline in Zambia by July, Tewolde said, and will consider buying a stake in Eritrean Airlines "when it is ready." After 20 years, Africa's largest airline resumed flights to the Eritrean capital Asmara just last year, following a thaw in relations between the two countries. It also began flights to Somalia in October after a four-decade hiatus, following the outbreak of hostilities between the two nations in the 1970s. Just days after the crash, Ethiopian said it is finalizing preparations to launch a direct flight to Istanbul by early April.
Tewolde also commented on plans to open up the state carrier for domestic and international investment. The move is part of reforms by prime minister Abiy Ahmed to loosen state monopoly on several economic sectors, including telecoms, aviation, and energy. The process was still in its early stages, Tewolde argued, but "When we open the airline for shares and privatization, it will be given priority to African countries."
As Ethiopian has grown to be Africa's top airline in passenger numbers and destinations, Tewolde has previously argued the airline should be co-owned by African governments. At the panel on Monday (Mar. 25) in Kigali, he said African nations shouldn't all establish airlines but rather engage in partnerships and create centralized hubs like London's Heathrow or the Brussels airports to facilitate faster and easier travel. The African Union-led Single African Air Transport Market initiative could help facilitate this, he added, leading to a more integrated continent.
"We need to get our house in order. We need collaboration to create companies that compete at a global scale," Tewolde noted.
In many ways, Ethiopian Airlines isn't waiting for this dream to materialize; it's actively taking part in creating it. Besides helping ease visa processing to Ethiopia, it currently has code-sharing with 27 airlines worldwide, tripled the size of its hub in Addis Ababa, runs Africa's largest aviation academy, provides technical maintenance to carriers in Africa and the Middle East, and flies to more than 61 destinations in Africa alone.
The comments from Tewolde come as the airline grapples with the deadliest incident in its history following the crash of a Nairobi-bound Ethiopian Boeing 737 Max 8 plane on Mar. 10 which killed all 157 people on board. The crash has put a strain on the airline's long-standing connection with Boeing, especially after similarities were noted with the October Lion Air crash in Indonesia.
Sign up to the Quartz Africa Weekly Brief here for news and analysis on African business, tech and innovation in your inbox