Transsion Holdings, the top mobile phone maker in Africa, has applied to launch an initial public offering in Shanghai, China.
It comes after a decade of booming growth for the Chinese phone maker now known for dominating Africa's mobile phone market, stealing a march on more prominent global mobile makers like Samsung and Apple.
The Shenzhen, China-headquartered company has completed a three-month advisory phase with an investment bank going over its finances and management governance. A date for the listing has not been set. While the company has not yet disclosed its funding target for the IPO (Transsion did not respond to Quartz's emails asking how much it intends to raise), the listing will likely be a boon as Transsion looks to double down on deepening its operations in Africa as it continues to compete for market share.
So far, Transsion has enjoyed success by focusing exclusively on African and South Asian markets and particularly producing phones with locally-tailored features including multiple SIM slots, longer battery life and camera technology calibrated to darker skin tones.
But crucially, its pricing strategy—typically much cheaper than brands like Huawei, Samsung and particularly Apple—has positioned its brands as the strong default option for a millions of African users of feature phone and smartphones. It's a strategy that's seen Transsion's smartphone brands, Tecno, Itel, and Infinix, become ubiquitous across the continent over the past decade, eventually surpassing Samsung for market share for the first time in 2017.
Transsion has a major factory in Addis Ababa, where its smartphone components are assembled, tested and completed. It also has research and development centers in Nigeria and Kenya. The Ethiopian factory, first opened in 2011, has expanded to 1,600 employees with a production capacity of a million phones per month.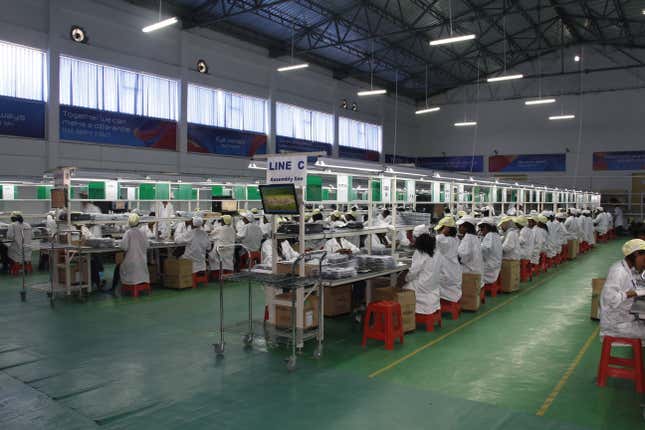 Transsion's proposed listing comes after a directive from Chinese president Xi Jinping to create a new equity bourse specifically to allow Chinese tech companies to raise capital locally, providing an alternative to stock exchanges in the global West.
The goal of incentivizing more Chinese tech companies to list locally is aimed at reversing a trend that has seen some of the country's biggest tech successes, like Alibaba, launch initial public offerings outside China.
Sign up to the Quartz Africa Weekly Brief here for news and analysis on African business, tech and innovation in your inbox