Organic fibers made from nettles has bagged a Kenyan company one of the world's top sustainable fashion prizes.
Green Nettle Textile was this year awarded almost $170,000 as part of the $1.1 million Global Change Award, a fashion innovation challenge initiated by H&M Foundation in collaboration with management consulting firm Accenture and the KTH Royal Institute of Technology in Sweden. Described by some as the Nobel Prize for sustainable fashion, the award seeks to disrupt the fashion industry by choosing early stage ideas and incubating them towards the goal of an environmentally-conscious, circular fashion instead of a wasteful, linear model.
This year, the competition received 6,640 entries from 182 countries, with a tremendous increase in entrances from emerging markets. Nigeria, Ghana, Kenya, and South Africa were among the top 10 nations that submitted entries for the award.
Green Nettle won the award along with four other firms that made expanding children's clothes (United Kingdom), a biodegradable vegan leather (Peru), a digital system that helps make garments recyclable from sketch to scrap (Germany) besides a toxic-free membrane for outdoor wear (Switzerland). Besides financial support, the winners will also get access to a mentorship program that will take them to markets including Sweden, Hong Kong, and the United States.
Using nettles in producing fabric was astute given that the plant grows in Kenya and is used for nutritional and medicinal purposes. After the Kenya Bureau of Standards certified the plant in 2009, farmers in Kenya started betting on its newfound commercial capabilities. Green Nettle Textile is now proving an extension of that dynamism, hoping to grow the stinging plant in barren areas to make an environmentally-friendly alternative to conventional fabric and create income for farmers.
As clothes become cheaper and more disposable, the fashion industry has explored how to create clothes for rapidly growing populations while protecting the planet. The overproduction and overconsumption of fast fashion have especially come under criticism—including how eco-friendly is clothing from the chief GCA award sponsor H&M. There have also been concerns about how much energy and water clothing production consumes, besides how much industrial waste factories release into oceans, rivers and natural habitats. Environmental groups like Greenpeace have, for instance, advocated for companies to change their customers' mindsets and to design clothes for long life.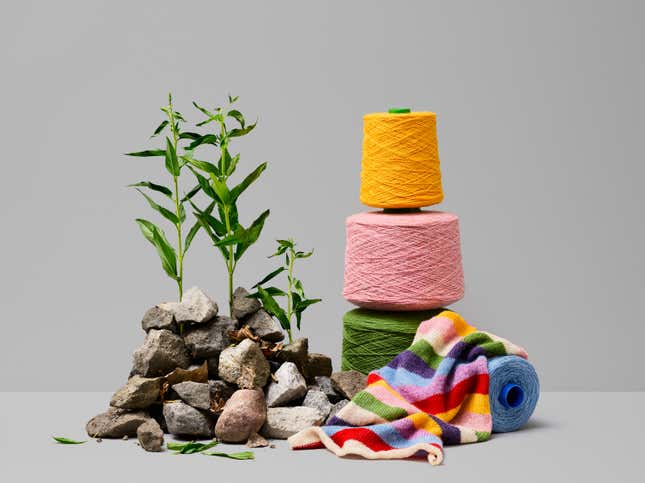 In Africa, where there's a nascent manufacturing and fashion industry, local designers are not just challenging reductive ideas of what makes up "African" fashion but also where to source materials from. Last year, Rwanda raised tariffs on used clothing and footwear from the US as it positions itself to become a significant exporter of clothes. Yet funding has proved critical for these designers and manufacturers, an issue creative funds like HEVA want to change.
To further support companies like Green Nettle, H&M Foundation this year partnered with crowdfunding platform Indiegogo to not only get more people to back the winners but also raise awareness about sustainable fashion worldwide.
Sign up to the Quartz Africa Weekly Brief here for news and analysis on African business, tech and innovation in your inbox