The three-decade rule of Sudanese president Omar Hassan al-Bashir has ended.
In a television address, defense minister Ahmed Awad Ibn Awf said the 75-year-old leader has been arrested and put in a "safe place." The army general also announced the dissolution of the government, the suspension of the 2005 constitution, along with a three-month state of emergency. He also said Sudan's airspace will be closed for 24 hours.
"The armed forces will take power with representation of the people to pave the way for Sudanese people to live in dignity," Ibn Awf said.
Al-Bashir's removal follows hours of uncertainty in which the army promised they would make an "important announcement." Reports also surfaced that current and former officials were arrested, that military officers surrounded the presidential palace since morning hours, and that the army had taken over the state TV and radio.
The statement ended Al-Bashir's decadeslong rein over Sudan, a vast nation in northeast Africa that has been beset by armed conflict and multiple economic shocks. Since coming to power in 1989, the strongman, who is wanted by the International Criminal Court on genocide charges in connection with atrocities in the western Darfur region, has ruled Sudan longer than any other leader since the country gained independence in 1956. Al-Bashir's rule will be remembered for overseeing the deal that split Africa's biggest nation and saw the birth of South Sudan in 2011.
His downfall also marks Sudan's completion of a hat-trick of unseating authoritarian regimes through popular uprisings, first in 1964 against the military government of Ibrahim Abboud and then again in 1985 against president Jaafar Nimeiri.
Protests against al-Bashir started on Dec. 19 when the government phased out wheat and fuel subsidies at the suggestion of international lenders. In the weeks after, protests turned deadly and spread from smaller cities, engulfing the capital Khartoum and major metropolitan areas like Omdurman. The government responded by cracking down on protestors, shutting the internet and social media outlets, cutting electricity and water services, and dispersing protestors using tear gas. Officials have said 49 people have died in protest-related violence.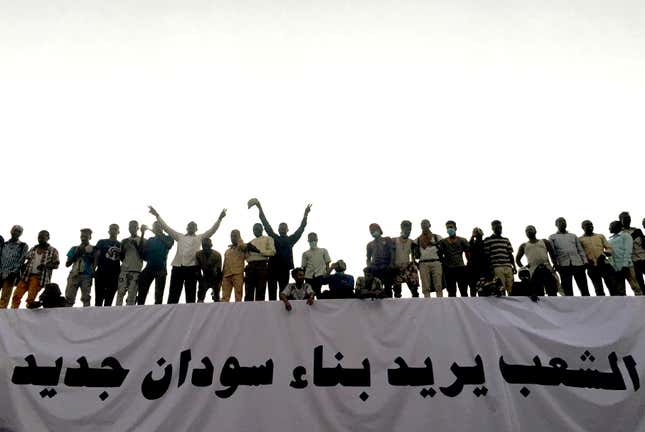 In February, al-Bashir gave a speech in which he acknowledged the demands of protestors and delayed constitutional amendments that would have allowed him to run for the presidency again next year—but eventually refused to step down. He also declared a yearlong state of emergency and dissolved both central and state governments. To up the pressure on him, protestors camped in front of his residence and army headquarters in the capital this past week, and called on the military to intervene and rally on their side. While Western powers have been slow to respond to the protest, Sudanese women, musicians, artists, and the country's global diaspora all played a crucial role in calling for al-Bashir to step down.
Al-Bashir is the second longtime African leader who has resigned in recent days: 82-year-old Abdelaziz Bouteflika stepped down in early April with parliament appointing Abdelkader Bensalah as interim leader of the North African state, disappointing those who wanted more radical change. Elections will be held July 4.
The challenge for Sudan now will be where the country goes from here, and how to ensure it doesn't conflagrate like neighboring nations like Libya. The "remarkable unity [and] will to oust Bashir must translate into will to chart viable transition," the Horn of Africa project director with the International Crisis Group Rashid Abdi wrote on Twitter.
Sign up to the Quartz Africa Weekly Brief here for news and analysis on African business, tech and innovation in your inbox