When Tony Mathias, an exchange student from Uganda, was forced out of his apartment in April in the city of Guangzhou, China, he didn't realize he was part of a dangerous trend that had kicked off in the southern port city.
"I've been sleeping under the bridge for four days with no food to eat…No shops or restaurants will serve me," the 24-year-old told the AFP news agency. "We're like beggars on the street."
On social media, it became clear that Mathias' experience wasn't an isolated incident in Guangzhou. With the worst of the coronavirus behind it, local authorities were scrambling to stop overseas travelers from causing a second wave of the outbreak in China's third-largest city. But it soon became evident that local officials and landlords were not applying caution equally. They were particularly overzealous when it came to Africans.
Soon, photos and videos of Africans forced to sleep on the streets after being evicted from apartments and hotels were going viral globally. These migrants were also being forced into quarantine, despite having no recent travel history. They had no way of going back to their home countries even if they wanted to, given transport connections had been shut.
The wave of suspicion and anti-foreigner sentiment in the city, which has long been a major hub for African traders and business people in China, was supposedly sparked by state media reports that a group of African men had broken quarantine and kicked off a small local transmission of the novel coronavirus. But Chinese social media platforms like Weibo have long been home to racist commentary about Africans, and many observers saw evidence of that sentiment in the response to Covid-19.

Coming to your aid
As coronavirus quickly spread around the world and large global health donors like Bill Gates warned of 10 million deaths, there was fear, including from the World Health Organization that Africa's health systems could become overwhelmed. "The best advice for Africa is to prepare for the worst and prepare today," Dr. Tedros Adhanom Ghebreyesus, the Ethiopian-born head of the WHO, said in mid-March when only 233 cases of Covid-19 had been confirmed in the region.
As Europe and North America battled serious outbreaks, China, which was on its way to suppressing the virus, was the only major economy to make significant and visible efforts to support African governments.
Together with state-owned enterprises, Chinese businessmen based in Africa, and its richest man, Jack Ma, China embarked on a donation blitz across the continent. Planeloads of masks, test kits, personal protective equipment, and medical teams have been sent from China to be distributed across the continent.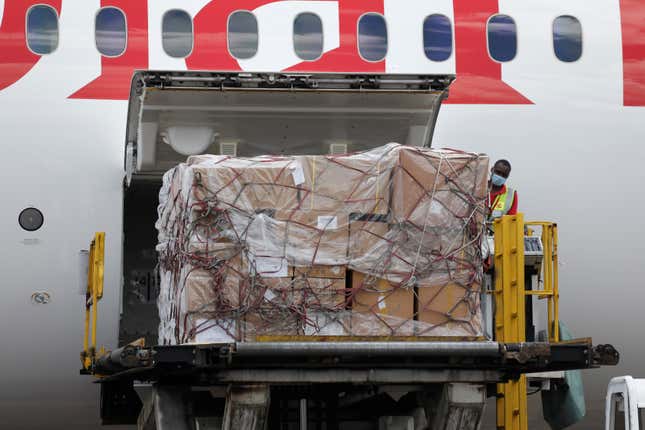 Sub-Saharan Africa was the largest recipient of coronavirus-related donations from Chinese sources between early March and May, according to a study by DC-based RWR Advisory Group. The region was the destination for 36% of all donations, followed by Europe, which received 18%. Many of the donations were made by companies and philanthropies, not the Chinese government directly.
For African governments with weaker health systems, the donations have been essential in their relative success so far preventing the apocalyptic predictions from coming true. For China, the donations and offers of help, termed by some as "mask diplomacy," are a soft power move to win goodwill and show its people how it not only controlled the virus at home but helped Africa (and the rest of the world) quell the pandemic.
It has also served as a way for China to deflate accusatory remarks, mostly coming out of its main rival, the United States, which blamed China for the global spread of Covid-19.
But the smiles at the donation photo ops quickly turned sour as photos and videos of events in Guangzhou spread, including a sign outside a local McDonalds that said: "Black people are not allowed to enter."
"The images of Africans being evicted, persecuted and harassed in Guangzhou will remain in the imagination of many Africans for a long time. This is the real damage of the Guangzhou incidents," says Roberto Castillo, assistant professor at the Department of Cultural Studies at Lingnan University, where he researches race and racism in contemporary Africa-China relations.
"Many across the African continent saw this as a Chinese betrayal at a time [coronavirus crisis] in which Africa had been extremely supportive of China," he adds.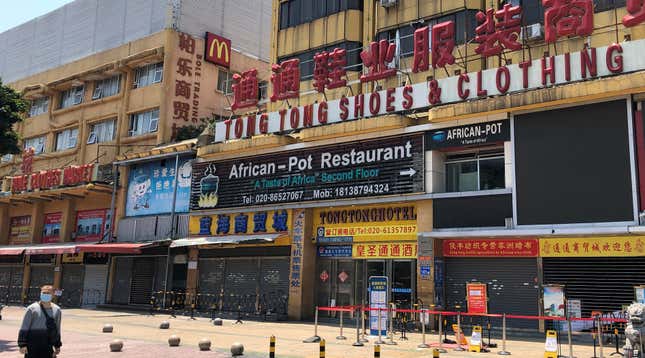 What was initially thought to be a minor social media embarrassment morphed into the biggest diplomatic crisis ever between African governments and China. Ghana, Kenya, Nigeria and Uganda were among the countries to summon China's ambassadors, along with the African Union Commission, to register their displeasure. Ghana's foreign minister, Shirley Ayorkor Botchwey, described the reports as "inhumane."

Beijing foreign ministry officials initially denied the reports, describing them as "rumors" and "misunderstandings" spread by Western media, despite the fact local media in African countries were the first to report on the issue.
"It is irresponsible and immoral for the US to sow discord," foreign ministry spokesman Zhao Lijian said at a briefing on April 13. "Its attempt to drive a wedge between China and Africa will never succeed," he added.
But the mounting evidence proved otherwise. Since then, authorities in Guangdong province, the epicenter, have introduced new anti-discrimination measures, effectively admitting there is a race relations problem.
"In a way, the crisis has had a positive outcome for Africans in general as they were able to press China on the issue, and China responded," Castillo told Quartz Africa. "We saw a form of empowerment and agency on the side of African governments in the relationship that we hadn't seen before."
The new measures haven't stopped some mid-level African politicians from seizing the moment as an easy 'win-win' populist opportunity to assert themselves against the mighty Chinese.
Fronted by legislator Benjamin Kalu, Nigeria's House of Representatives unanimously passed a motion on the "Maltreatment & Institutional Racial Discrimination Against Nigerians Living in China by the Government of China." The motion urged relevant agencies to "check the validity of all immigration documents of every Chinese person in Nigeria" and repatriate undocumented Chinese migrants.
In Kenya, at least two members of parliament have warned of possible retribution, including MP Babu Owino, who has a history of making Sinophobic remarks. "Let [the Chinese government] know that we have the territorial sovereignty of dealing with their people in Kenya, the way they are dealing with ours in China. Let them not forget that," he said at a press conference.
Since then, Chinese migrant workers and their businesses seem to be bearing the brunt in Nigeria and elsewhere on the continent as they increasingly come under the spotlight of local law enforcement.
Despite receiving no official apology from Chinese officials, the ultimate decision-makers within African governments—presidents, prime ministers, finance and foreign ministers—have been more cautious about rocking the boat and appear eager to accept Beijing's line that the matter has been resolved. China is Africa's largest bilateral creditor, and governments may be particularly cautious about issuing a public rebuke, especially leading up to talks about debt relief occasioned by the current economic crisis.
A fifth of the total external debt held by African countries—or around $55 billion—is believed to be owed to China. Research by the China Africa Research Initiative at Johns Hopkins estimates that China extended more than $152 billion in loans to 49 African countries between 2000 and 2018.
The debt is a mix of cash loans, infrastructure construction agreements, and resource-backed loans. Many of the agreements across the continent are on commercial terms rather than government-to-government, meaning the discussions around Chinese debt often fall into both the traditional bilateral loans and private creditor loans.
There has been growing concern in the Bretton Woods hemisphere of the world that China has been coercing developing countries, particularly in Africa, into taking credit on onerous terms, which could see China grab control of state assets if the loans were not repaid as agreed.
This so-called "debt-trap diplomacy" narrative started a few years ago as polite mutterings in the think tanks of Washington, DC and parts of Europe. It has since been blown out into the mainstream in no uncertain terms by the Trump White House. Now that the Trump administration has its own man leading the World Bank—David Malpass—even the bank has aired concerns about China's opaque deals in Africa.
Despite several China-Africa analysts and scholars pointing out there's little evidence of any African asset ever being claimed by Beijing, the narrative has stuck.
African governments have been keen to find the estimated $100 billion a year needed to narrow the continent's infrastructure gap. At the same time, China has needed to support its state-owned enterprises, such as construction firms and banks, in finding work outside China. So, in simple terms, that's often meant that an infrastructure loan underwritten by the Chinese government is struck with a Chinese bank for a Chinese construction firm with mostly Chinese workers to come to said African country and build an airport, railway, or bridge.
Another feature of the China-Africa debt narrative is around problematic resource-backed loans, in which a country gets finance in exchange for, or collateralized by, future streams of income from its natural resources, such as oil or minerals. Between 2004 and 2018, $65.8 billion of resource-backed loans was made to Sub-Saharan African countries, according to research (pdf) by the Natural Resources Governance Institute.
More than half the total amount of loans to Sub-Saharan African countries examined in the report came from the China Development Bank and China Eximbank, and were given to Angola ($21.4 billion), Ghana ($3 billion), Niger ($1 billion), and Sudan ($3 billion).
The significance of the fact that roughly 20% of African debt is to China, largely in the form of commercial agreements, is that the quarterly or biannual debt repayments account for 30% to 50% of total repayments made by these countries, according to analysis by Standard Chartered Bank.
This brings us to the ongoing conversations about debt relief or debt moratoriums being championed by African countries and the United Nations as a way to get through this difficult period.
That will not be easy or straightforward, in part because China has insisted on negotiating with each of its debtors one-on-one, like it did when making the loans.
"For countries who face debt difficulties, China will never force them, but will resolve it through consultation via bilateral channels," China's foreign ministry spokesman Zhao Lijian said in April.
This has made some analysts uncomfortable, perhaps because they feel a united Africa has a better chance of getting a good deal from China than some countries with a GDP the size of a Shanghai suburb. Others note that there's just not much chance of an alternative arrangement.
"It might be a waste of time to attempt to try and force China to do something it has never done and shows no inclination to do," says W Gyude Moore, fellow at the Center for Global Development. "It is best to go forward with bilateral deliberations. But there is nothing preventing African countries from conferring among themselves, sharing notes even as they enter these bilateral negotiations."
As Deborah Brautigam, director of the Johns Hopkins China Africa Research Initiative points out, China's economic challenges post-Covid, and the fact that it has $1.9 trillion of its own debt, "make it unlikely that we will see Beijing agree to real and wide-ranging debt relief."
Sign up to the Quartz Africa Weekly Brief here for news and analysis on African business, tech and innovation in your inbox