The African Centres for Disease Control and Prevention opened its doors in January 2017. The health agency was created on the heels of the worst Ebola outbreak in history, which had killed more than 11,000 people in West Africa in two years. Designed to bolster African countries' ability to respond to outbreaks, the African CDC is now central to the continent's response to the Covid-19 pandemic.
Factors such as demographics and limited travel comparative to other regions have helped to slow the spread of the novel coronavirus in Africa. But decisiveness on the part of governments, borne from experience with outbreaks like Ebola, is a key reason why the continent has seen fewer confirmed cases and deaths than other regions.
Governments have used strict lockdowns to try to gauge the extent of the outbreak through testing, and to ready hospitals for a deluge of sick patients. Now, as they reopen, they will start to see if those preparations were sufficient: South Africa is seeing its cases climb, Nigeria has reported numerous deaths in its northern city of Kano, and Mauritania saw its case numbers jump from 8 to 131 in a week.
Prior experience may not be enough. In preparing for the full might of the global pandemic, countries have been forced to reckon with the deep cracks in their healthcare systems.
For example, despite many African countries having the funds, they have been unable to access test kits and chemicals on the open market. That's largely the result of the continent historically outsourcing the manufacture of medicines, medical equipment, and diagnostic testing to other nations. For the most part, that's made sense: other countries had the know-how and money to set up manufacturing facilities that could produce quality products at scale.
But the Covid-19 pandemic has turned countries inwards. Many of the world's largest economies have restricted the export of medical equipment and closed their borders. This has meant that Africans' access to healthcare has depended on the goodwill of foreign countries and the ability of global supply chains to overcome border shutdowns.
"We need to take this outbreak as an opportunity to take back our health security, even if it is simple things like [local production of] gloves, or complex like medicines or equipment," Ahmed Ogwell Ouma, deputy director of the African Centres for Disease Control and Prevention, told a webinar about access to pharmaceuticals.
He believes countries—particularly in Africa—should "never waste an outbreak."

You know the drill
Africa has decades of experience dealing with pandemics and epidemics. It's a hard-won tool in the continent's arsenal which experts argue is a major reason for the relatively slow progression of the disease there.
South Africa—which is preparing to open up its economy after weeks of a hard physical lockdown—is the heart of the world's HIV epidemic and has dealt for decades with widespread tuberculosis. West African countries have weathered waves of deadly infectious diseases, such as Ebola, and the devastation they bring.
The expertise, resulting from dealing with these diseases and their consequences, has enabled the continent to respond quickly and decisively to Covid-19. Rwanda grounded commercial flights within five days of its first confirmed Covid-19 case, while most countries halted international arrivals and instituted contact tracing to identify possible cases. Some started repurposing equipment and infrastructure earmarked for other diseases. South Africa, for example, began using TB and HIV-viral-load testing machines to hunt for the novel coronavirus, and set up a national ventilator project to produce more than 10,000 ventilators to assist with local and continental demand. Uganda and Senegal are both developing rapid diagnostic tests.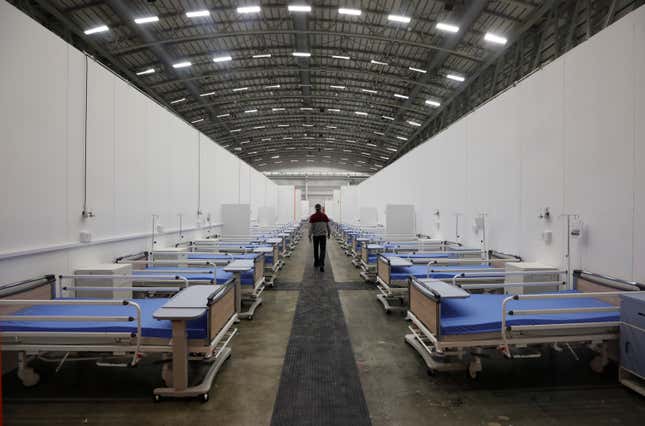 For some African scientists, it felt like a vindication that in the face of a devastating global epidemic, Africa was, in some respects, more prepared than other slow-moving developed countries. "Africa will surprise you," says Catherine Kyobutungi, executive director of the African Population and Health Research Centre in Kenya. "Did [people] think that we are just sitting waiting for Covid to come for us?"
But experience and research infrastructure cannot prop up healthcare systems that are woefully underprepared for a deluge of very sick people.
In severe cases of Covid-19, the virus attacks people's lungs, and requires careful monitoring and sometimes assisted breathing. A recent survey by Reuters found that the continent has fewer than one hospital bed and one ventilator per 100,000 people. The US has between 20 and 31 beds per 100,000.  Kenya, which has a population of 50 million, only has 130 ICU beds and just over 200 specialist ICU nurses, a 2015 paper found.
"The situation we're in today with Covid-19 … speaks to our health security," the African CDC's Ogwell Ouma said. "Our countries in Africa have the resources, they have money in their pockets, but can't purchase the products."

More than just lip-service
African residents have long struggled to access quality healthcare because of corruption, lack of funding, and a shortage of trained professionals. Healthcare workers often choose to emigrate rather than struggle with the frustrations of poor remuneration and overwork. Tellingly, countries' leaders often prefer to travel to other countries for treatment.
Exacerbating the problem is that African countries rely on foreign companies to meet their healthcare needs, with most of the equipment and medication imported. This means they have little control over the quality of the products they receive and are at the mercy of global supply chains. And the Covid-19 pandemic has shown that poorer countries struggle to compete with richer nations when such provisions are in high demand.
"Local manufacturers need to be motivated and incentivized to make those things we need in any outbreak or communicable disease," Ogwell Ouma said. To address shortages, the African CDC is in the process of taking an inventory of equipment and resources on the continent in order to try to plug the gaps.
Because of the high demand for diagnostic equipment globally, African countries are being priced out of the market. That's frustrated health officials in countries like Nigeria, which has been scrambling to access Covid-19 tests.
"The prevention of a small outbreak becoming a pandemic comes from your ability to predict what is causing that; it is dependent on diagnostics," Nigeria CDC chief Chikwe Ihekweazu says. "At every conference, everyone starts by saying that someone at risk somewhere is a risk for everyone everywhere," he says. "I hope that out of this there will be a resurgence in thinking that we need to pull [together] in a structured way to protect all our health."
Another issue is that African researchers have long struggled to access research funding. "African governments do not invest in research and technology, even though our ministers have promised time and time again," says Martin Antonio, a professor of molecular microbiology and global health at the London School of Hygiene and Tropical Medicine and based in The Gambia. "Let's hope that Covid-19 will wake African countries up to do that."
Due to the continent's resource constraints, researchers have to grapple with the difficult fact that of the more than 7,600 virus genomes sequenced, African researchers have detailed only 90. This could make any possible vaccine less efficacious within African populations—even if it can be procured in sufficient quantities.
This will become increasingly important as the pandemic runs its course. While African countries are struggling to access tests and medical equipment now, they are likely to face the same problems when it comes to a vaccine supply. "We don't have manufacturing here in Africa, and this is serious because we are [mostly] dependent on the West to produce vaccines," Antonio says. "You have to look after your own people first, so Africa will always be stuck at the back of the queue. If they don't have excess, our people will die."

The way forward and out
The pandemic has helped to accelerate some improvements in Africa's healthcare systems. As an example, the African CDC is setting up a digital portal that will enable African countries to bulk buy medical equipment. These economies of scale will allow them to compete with other international orders, Africa CDC head John Nkengasong told the Financial Times.
But while this may address some immediate needs, longer-lasting interventions will be needed in order to improve health security on the continent.
Gerald Mboowa, a researcher at Makerere University in Uganda, is hopeful that the continent will see a rise in the strength of its health regulators as a result of the pandemic, much as the Ebola outbreak led to the establishment of the African CDC. Currently, most regulators license imported technology for local use. "We need to work on a regulator at a continental level to oversee the regulation and development of diagnostics," Mboowa says. This would allow new, locally-developed medical technology and pharmaceuticals to be quality-tested and approved.
For Catherine Kyobutungi, of the African Population and Health Research Centre, the continent's handling of the pandemic has illustrated the depth and wealth of knowledge among its scientists, in spite of the many resource limitations they face. "It is time for us, the scientists, to say this is the capacity that exists here, and you don't need to look outside [the continent] for expertise."
Researchers are taking advantage of the flood of research funding opportunities, both within and outside the continent, that have resulted from the pandemic. Still others are diverting funds from other research projects to study the makeup and movement and SARS-CoV-2 in their countries.
While the pandemic has been a brutal wake up call, the worst is yet to come for the continent as its number of confirmed cases continues to climb. Experts hope that in its aftermath—as with the establishment of the CDC—African governments will see an incentive to put healthcare and research at the center of its plans for the future.
Sign up to the Quartz Africa Weekly Brief here for news and analysis on African business, tech and innovation in your inbox