Six years ago, the Sea Cable System (Seacom), the first undersea broadband cable along Africa's eastern and Southern coastlines, was launched. At the time of its birth, its American-born founder Brian Herlihy raised eyebrows with his talk of building the first "pan-African undersea cable."
It was Ivy Matsepe-Casaburi, the influential late South African Minister of Communications, who held the keys to Seacom's launch. Matsepe-Casaburi was adamant that in South Africa–one of the key anchor countries for the cable network–no undersea cable would be allowed, unless it was majority owned by local, or African investors.
The chips began to fall: Seacom's proposed east African cable was temporarily put on hold, and added to this, an increase in Somalian pirate activity delayed the rollout of the project.
Six years later, Africa's growing access to international bandwidth is widely attributed to Seacom–which now connects South Africa, Mozambique, Tanzania, Kenya, Ethiopia, Uganda and Rwanda – with the rest of the world via landing points in France and India.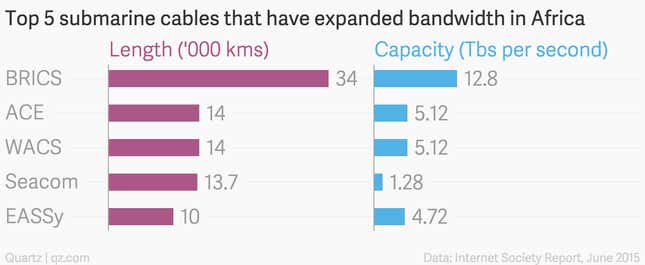 The Internet Society's 2015 report on Internet development and governance in Africa, credits submarine cables like Seacom, the Eastern Africa Sub Cable System (Eassy), the West African Cable System (Wacs) and the 2012-launched Brics cable, as having played a key role in accelerating Africa's access to international bandwidth by 20-fold in just five years.
The report also notes that while submarine cables have had a dramatic impact on access to bandwidth, more needs to be done in building cross-border connectivity and terrestial infrastructure for landlocked countries far from the coastline.
Correlating with the rapid increase in international bandwidth. is the increased investment in telecommunications, media and technology on the continent.
Global business advisory firm, Ernst and Young, released the EY 2015 Africa Attractiveness Study which shows that in 2014, the top FDI flows into the African continent were in the telecommunications, media and technology sector, as opposed to the two traditional sectors: commodities and agriculture.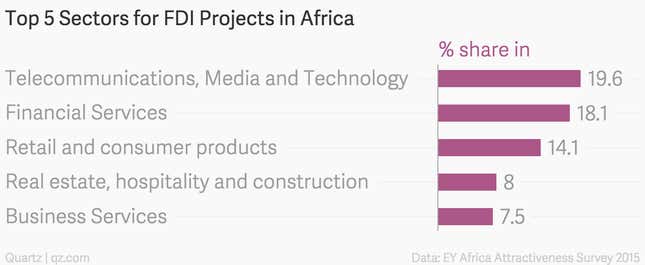 The increased capital investments in Africa's telecommunications, technology and media sector will not only help further expand access to international bandwidth, but also encourage African entrepreneurs to exploit increased bandwidth, as an asset to create local internet-based gaming, media and other entertainment content.