In front of the Samsung store, a parent passed his baby up to a top-hatted man on stilts. As the stilt man bounced the baby, whose face scrunched up in fear, onlookers laughed, cheered, and held up their smart phones to snap photos.
There was no sign of sadness or fear at today's reopening of Nairobi's Westgate Mall, where a 2013 attack by Somalia-based terrorist group Al Shabaab left 67 people dead. It was a party, a memorial to the resilience of Kenyan capitalism perhaps more so than to those who lost their lives.
Westgate is back, shoppers said with their shillings.
In Nakumatt, the supermarket chain, shoppers went into a frenzy over "buy three, get one free" deals, scooping up boxes of toothpaste and ramen. Others stood hypnotized in the TV section, downed gourmet cheese samples, and cheerfully tried to win a free TV in a dart contest.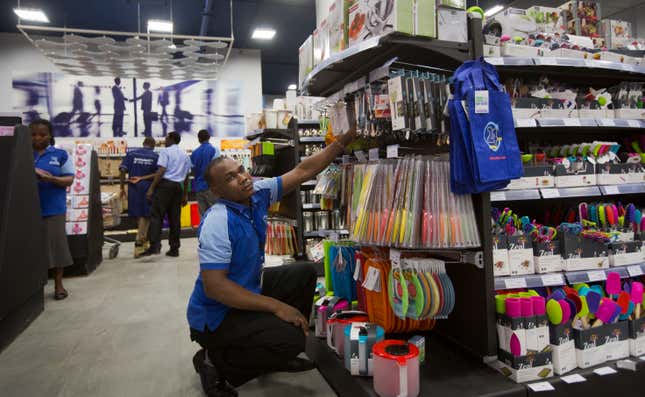 Inspector General of Police Joseph Boinett, after declaring to a cluster of cameras "[terrorists] will not mess up our way of life," went on a shopping trip in Nakumatt's entertainment store. He bought copies of George W. Bush's Decision Points and Malcom Gladwell's Outliers.
Many milled around for hours at the cafes and in the arcades. A return to Nakumatt two hours after an initial interview found many of the same people still there, this time sampling the skirt steak whipped up at the meat counter.
"It's Westgate. Who wouldn't want to be at Westgate at this moment?," said Alice Kamanda, a waitress who transferred to the mall's Dorman's, a coffee shop, from another Nairobi mall.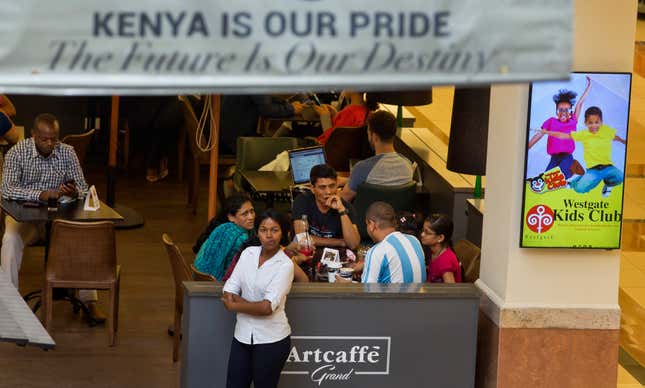 Nairobi has other high-end malls, but this was one of the first and it remains the best in the eyes of many Nairobi residents, particularly the large Kenyan-Indian population that patronizes the mall.
"Westgate has its own charm. You can't compare any other mall," says Nisha Popatia, the owner of Pick 'n' Mix, a sandwich and salad bar.
She wasn't there the day of the attack, but her husband and many of the staff who stood next to her today blending smoothies and pressing sandwiches in the panini machine were there. Still, she was unequivocally excited about Westgate's reopening.
"It's like coming back home. You feel like you belong here."
Security Concerns
The mall isn't fully back to its former glory. Many of the stores haven't yet reopened, although about 90% retained their leases, according to Sony Holdings, the Israeli company that owns the mall. Nakumatt is split between three store fronts because the back end of the formerly enormous store is still rubble from the explosives set off by Kenya Defense Forces. A protracted battle with the mall's insurer is holding back reconstruction.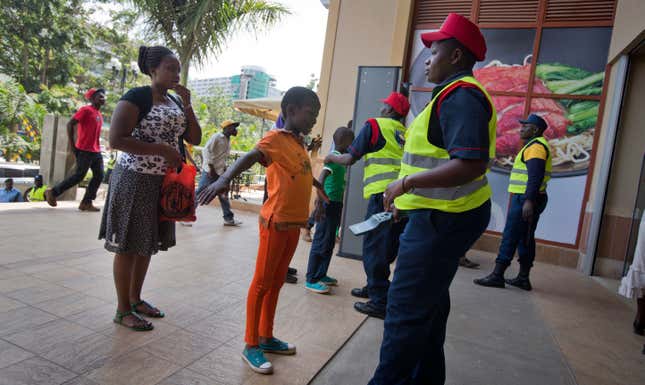 IRG, the Israeli security company hired in 2014, insists that with its overhaul, Westgate is the safest mall in Nairobi today. Managing Director Haim Cohen's team of ex-Israeli commandos has trained the mall's security personnel assiduously.
"Our life is security. The difference is not on the number of guys–we know how to recognize anything suspicious," Cohen said. "[Before] everyone didn't take it seriously."
He says the Westgate attack woke Kenya up to its vulnerability. Store owners scoff at that idea.
"We're not going to allow a handful of people bring our work down. I'm not going down like that," says Sejal Dhulashia-Patel, the owner of the children's clothing store Little Soles, which was one of Westgate's first tenants. They lost an employee and two customers in the attack.
Still, it's time to move on, she said, criticizing the flashbacks to the attack that have been on the news this week. Gesturing to the packed café, she said, "That's not where we are. This is where we are today."