When US president Barack Obama speaks in front of the African Union in Ethiopia today (July 28), he will address the delegation at the organization's new, shiny headquarters—built by the Chinese.
The symbolism aptly demonstrates the challenge that America faces in Africa. While the president is beloved on the continent, he and the US are increasingly competing with China for influence. Delegates listening to Obama may be reminded of another speech given at the African Union last year. Then, Chinese premier Li Keqiang told leaders that he expects his country's trade with the continent to double by 2020, with investment quadrupling to $100 billion.
China has paid special attention to Ethiopia, the fastest growing economy in sub-Saharan Africa, which has expected GDP growth of over 10% this year alone. Much of this growth is being driven by China, whose total investment in the country has reached almost $17 billion, according to data from the Heritage Foundation.
China has established Ethiopia as one of its six special economic zones on the continent. Last year the Huajian Group, a Chinese shoe manufacturer, announced a $2 billion investment plan in the country, just one of a raft of deals that the Ethiopian government has signed with the Chinese government spanning across sectors.
It's not just money that Beijing offers. In many ways, China and Ethiopia make natural partners. Both countries resist Western formulas of democracy and criticism of their human rights records. (Ethiopia's former prime minister, for example, has supported China's stance that its treatment of Tibet is an internal affair.) Ethiopia, also a heavily state-dominated economy, hopes to emulate China's economic rise (paywall) through manufacturing power. Both ruling parties operate with little transparency, in a process where decisions are made by a small group of elites.
China is wielding soft power, America's traditional domain, as well. A Confucius Institute, a Chinese government-affiliated language and culture center, was set up last year in Ethiopia's capital. China has also expanded the number of scholarships for Ethiopian students studying in China. And volunteers from the Chinese mainland, in a program similar to America's Peace Corps, are arriving in country to work on capacity building.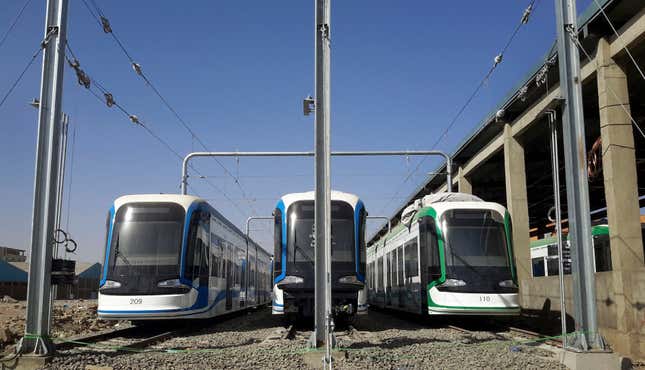 Worries exist in Ethiopia about the country's large trade imbalance with China and the influx of Chinese goods—China accounts for 21% of total imports into the country but only 11% of Ethiopia's exports are bound for People's Republic—but China's position in the country seems to be firmly entrenched. Former US ambassador to Ethiopia David Shinn wrote earlier this year, "Increasingly, Ethiopia sees China as an alternative to the West and, especially, Western political conditionality."
Critics across the region ask whether China's relationship with Africa is exploitative. But African countries argue the transactional approach is easier to deal with than the conditions that sometimes accompany western investments. As Tanzania's president Jakaya Kikwete once said, "Our investment conditions don't include democracy standards or values of the investors' country of origin." It was a pointed remark aimed at those who are critical of the way that African countries have embraced China.