Wecyclers, a start-up that helps low-income communities exchange their recyclable waste for cash and other rewards, has won $55,000 from a foundation run by AOL co-founder Steve Case.
The young company won the award at the #PitchForLagos event during Lagos Start-Up week event where it was was up against eight other pre-selected start-ups. These included civic start-up BudgIT, who have made waves with efforts to ensure transparency in the finances of Nigeria's National Assembly.
Wecyclers, whose founders have backgrounds from US Ivy league schools including MIT, Harvard and Stanford, thinks it can achieve its goal of making recycling a popular practice in Nigeria. It  is doing this by rewarding local communities with redeemable points in exchange for their recyclable waste.
Wecycler's business model is based on collecting waste from low income communities and then rewarding them with redeemable points per kilogram in exchange for their recyclable waste. These points can be redeemed for household items, food and even cash. The waste is then transported to Wecyclers' hubs via special modified tricycles to help get round Lagos' notoriously bad traffic jams. The waste is sorted and recyclable items are sold to recycling companies. The start-up works closely with the Lagos Waste Management Agency.
While the start-up may be classified as a social enterprise, it is also focused on generating revenue by re-selling the recyclable waste. The Lagos metal and plastic waste market alone is valued at $700 million so Wecyclers hopes to do well by carving a niche for itself in the recycling industry.
Case Foundation, organizers of the #PitchForLagos event, is run by Steve Case and his wife, Jean, who have been touring Africa since the start of the Global Entrepreneurship summit held in Kenya last month and it appears the continent's start-up scene made a lasting impression.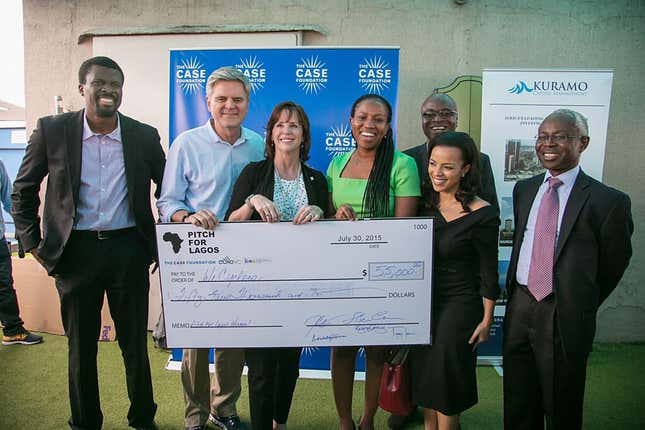 The #PitchForLagos event has been one of the highlights of the Lagos Start-Up Week. The five day event has brought the thriving Lagos start-up community together to discuss a variety of issues including raising capital. Lagos has been recognized as one of the major hubs of tech driven start-ups as it has produced some of Africa's notable start-up successes including iRoko TV and Hotels.ng.