Africa's middle class is rising and they have money to spend. About a third of the continent spends between $4 to $20 a day—a group that is expected to grow to 42% by 2060, according to data from the Africa Development Bank (pdf). That's more than a billion people.
Consumption on the continent (pdf) rose to more than $1 trillion in 2012, from $364 million in 2000, an annual rate of growth of 10.7%.
With deepening internet penetration, some of this spending is starting to happen online. With 50% of the continent expected to have access to the internet by 2025, online shopping could account for 10% of retail sales, or $75 billion, according to a McKinsey report (pdf). Google points out that online searches on the continent are rising with commercial queries showing a significant jump.
All this is inspiring the emergence of e-commerce platforms trying to cash in on Africa's new-found wealth.
Jumia, a Nigerian-based online retailer, has become the leader of this new class of e-commerce businesses on the continent. Founded in 2012, the company is operational in nine African markets. It claims 150,000 unique visitors a day and says it generated $28 million in revenue in 2014. On top of that, it raised $150 million in new funding, putting the value of the company at a little over a $500 million, according to Jumia's parent company, German start-up backer Rocket Internet.
A lot of what the African e-commerce platforms provide is connecting global brands with the continent's emerging consumers. One example of this is Mall For Africa. Also Nigerian in origin, it works as a conduit for customers to more than 150 global retailers. "People in Africa love US and UK brands," founder Chris Folayan tells Quartz.  "But there was no simple way to get them. And this is the solution."
The outlet works as a digital app—available on PCs and mobile—through which customers can order goods using PayPal or Visa cards, which are then delivered. In Nigeria, Mall For Africa created an MFA WebCard, which reloads with US dollars like a debit card, for people without these traditional online payment methods. With funding from Helios Investment, the platform recently launched in Kenya, with the aim of leveraging M-Pesa, the popular mobile-money transfer tool.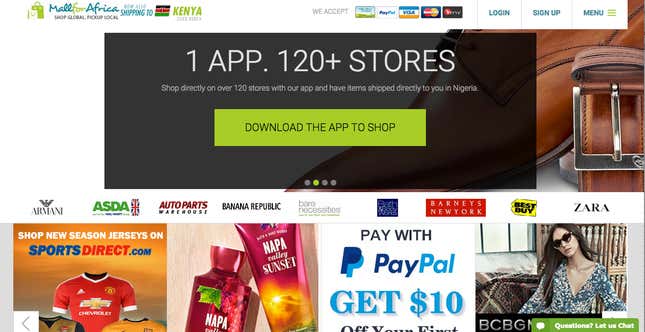 But some argue that, despite enormous potential, the African e-commerce space still faces significant challenges. Ndubuisi Ekekwe, writing in Harvard Business Review, points to the failure of the online business directory Mocality and the mobile advertising platform inMobi as signs that e-commerce in Africa has yet to mature. Even Jumia, despite its market dominance, has yet to turn a profit, Ekekwe notes.
Nevertheless, with deepening internet penetration and mobile becoming the primary tool through which people engage with the world, the trend suggests that its inevitable that African consumers will migrate to e-commerce. The global growth rate of e-commerce is 16.8%; Africa's e-commerce space is growing at a rate of 25.8%. Meanwhile, in some of Africa's biggest markets, a majority of internet users already shop online or expect to do so in the future.