Even though Nigeria is Africa's largest economy, Lagos, its commercial capital, still has a disproportionately strong hold over all business sectors. That's due to its status as a global megacity with over 20 million people, as well as its ready access to the traditional finance sector.
The country's leading start-ups opened shop in Lagos over the last decade and some of them have gone on to become pan-African names like iRoko, Jumia, Konga, and MallforAfrica to name a few and key events like DEMO Africa will take place here this month. Lagos is also home to internationally recognized incubators including Co-Creation Hub, accelerators such as IDEA Hub in the Yaba area of Lagos, and numerous co-working spaces such as CapitalSquare and Lagos Garage. It is also has a strong network of angel investors, the Lagos Angel Network, which was formed by investors and influential businessmen.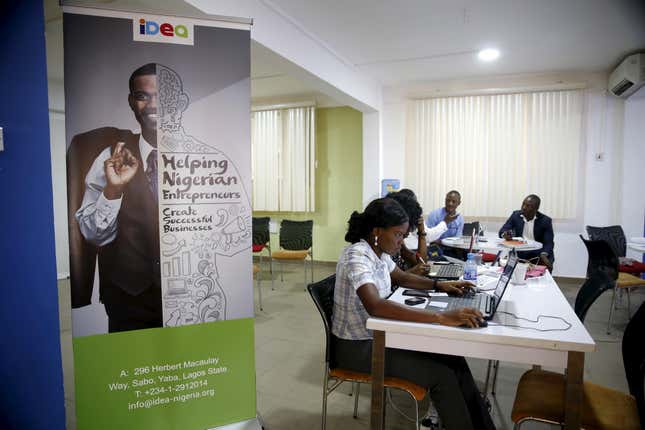 But living in Lagos comes at a high price, as the city ranks high among Africa's most expensive places to live and with a price of real estate which competes with the likes of New York and London.
For an increasing number of local entrepreneurs  there's more to Nigeria than Lagos despite all its commercial and logistical advantages. Over the last five years, with little fanfare, tech hubs and start-up communities have been sprouting in other big Nigerian cities like Abuja, Ibadan, Port Harcourt and Enugu.
"The Lagos market is really getting choked day by day and as a new startup, you could get fried if you initially expose yourself to the highly competitive market in which Lagos startups operate," says Korede Moshood, founder of Comestible World, a platform launching this month to offer food delivery services in Ibadan, a city that is some 75 miles away from Lagos. "In Ibadan where competition is less and there are many problems to solve, if you are a smart entrepreneur you could easily scale up here and then enter Lagos."
Just over 100 miles farther out from Ibadan, angel investment momentum is also growing in Akure, capital city of Ondo State, where the StartUP Drive was initiated by Ademola Morebise, a serial tech entrepreneur. He said the startup ecosystem in the city is now at a place where local stakeholders can boast of a budding community which is supported by the Federal University of Technology Akure.
"The tech guys relocated to Akure for educational purposes and on arrival here they got interested in building startups, maybe after attending a tech event. So, for such people, Lagos is not an option," says Morebise. "You cannot school in Akure and build your startup in Lagos, it's probably too hard to do. Another reason is that many people are realizing that when working on an internet-age company, your location might just not be as important as it used to under the industrial-age," Morebise said.
Looking east
But he believes startups in Lagos still have a better chance of securing funding than those in Akure and a strong connection between startups and the city is still lacking. This is however not the case in the oil industry city of Port Harcourt where residents are increasingly using solutions introduced by tech startups for their daily lives.
Uche Ikechukwu, co-founder of Port Harcourt-based FocusHub Nigeria noted that although the ecosystem in the city is nascent, it is attracting more attention, He says there are about 25 startups operating in the city at various growth stages. They include Food Stantly which is mobile web marketplace for food.
"The Port Harcourt market is still very open. First-to-market companies have a major potential to establish before competition comes up. Another advantage is in operational costs: transportation, logistics and accommodation are relatively cheaper in Port Harcourt than Lagos," he said.
Considering access to funding, he said most startups in the city are funded via bootstrapping and angel investments.
"We foresee great potential in Port Harcourt and in the region generally. Initiation may be tough, but our observations show that startups may actually succeed better here than in Lagos for example, provided the teething challenges are overcome."
The situation in Enugu is similar to that of Port Harcourt and Akure for Omasirichukwu Joseph Udeinya, founder and lead software developer at Novadge based in southeastern Nigeria's historic city.
"I think clients will always took for efficient ways of doing things in order to stay competitive so startups that provide the needed services will increase their revenue and grow.  Enugu is not an exception so startups should expect rewards if they serve a need," he said.
Entrepreneurs—not contractors
Even in Abuja, the federal capital city with a reputation as a place to seek government contracts rather than as a hotbed of entrepreneurialism, a budding start-up community is starting to develop. There are names like Taskit, a task outsourcing marketplace similar to TaskRabbit; Acadar an online collaborative platform and Kernel, an angel investing group focused on very early stage technology investments in Africa
Perhaps the biggest affirmation of the startup ecosystem in Abuja, and outside Lagos, was last year, when Abuja-based SimplePay won Seedstars World Best Startup prize, securing up to $500,000.
For startup ecosystems to grow in Enugu, Ibadan, Abuja, Port Harcourt and other Nigerian cities other than Lagos, Morebise said founders should be focusing more on developing solutions that would work in several places apart from their immediate location.
"No point if your startup only works in Akure. You might as well be a dinosaur. You have to build something that will have wide reach," he told.
"Startups in cities outside Lagos need more exposure to great ideas and best practices. With those in place, you will get amazing people building amazing things that will attract every other thing needed—talent, resources and funding. But for now, it's more like startups in these other cities need to show the world what they can do."