Diezani Allison-Madueke, Nigeria's former minister of petroleum, was arrested in London on charges of money laundering on Friday. She was granted bail hours later after handing over her passport at a local police station.
The former minister's arrest would be the first high profile case of president Buhari long-anticipated anti-corruption campaign which has seen key government agencies probed in the four months Buhari has been in office.
Allison-Madueke's arrest appears to have been part of a collaboration between various Nigerian and international law enforcement agencies. The UK's National Crime Agency's recently formed International Corruption Unit said it had arrested five people across London "as part of an investigation into suspected bribery and money laundering offences."
The new unit was set up specifically to—among other things, investigate money laundering by corrupt foreign officials and their associates and to trace and recover proceeds of international corruption.
As news of the arrest in London broke, the ex-minister's home in Abuja was raided by local anti-graft agencies. Allison-Madueke's arrest in London seemed to follow a similar pattern to the case of former governor James Ibori who was prosecuted and jailed in the UK in a similar multinational investigation after being unsuccessfully tried in Nigeria.
As petroleum minister, Allison- Madueke played a key role over the course of former president Goodluck Jonathan's tenure but much of her five years in office was dogged by several corruption and financial mismanagement scandals.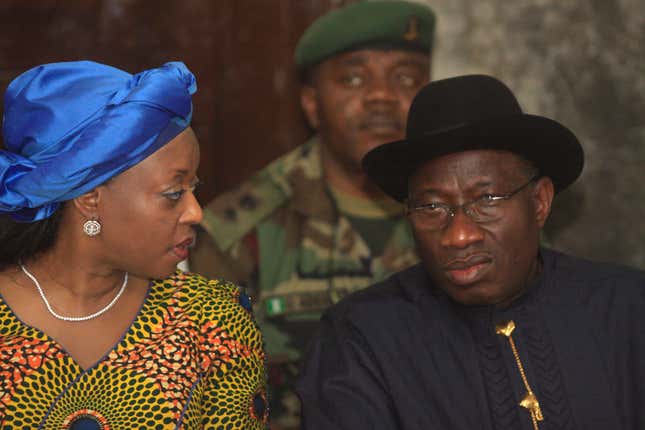 One such case resulted in the firing of the Central Bank governor, Sanusi Lamido Sanusi, after he raised alarm concerning finances of the Nigerian National Petroleum Company (NNPC). At the time, Sanusi claimed that as much as $20 billion was missing but his claims were shrugged off by the presidency and weeks later, he was suspended from office.
In the following months, audit reports supported the claims of the former Central Bank governor. Similarly, Allison-Madueke faced intense pressure in 2012 after revelations of oil subsidy scams possibly costing the country billions of dollars were revealed. The events of 2012, in fact, led to a shutdown of the economy for a week as labour unions launched mass strikes and civilians took to the streets to protest the increment in fuel prices.
Nigeria's oil industry, which generates up to 70 % of government revenues, has long been mired in corruption and mismanagement under successive governments. In August, the National Resource Governance Institute (NRGI) investigation into Nigeria's oil industry slammed NNPC for its opaque transactional practices and overall mismanagement.
In one instance, it estimated NNPC withheld $12.3 billion from the Nigerian treasury on the sale of 110 million barrels of oil over ten years from a single block controlled by a subsidiary. NRGI also estimated that in 2013, the treasury received only 58% of the value of the $16.8 billion worth of oil NNPC had earmarked for its underperforming refineries.
In order to keep a closer eye on the country's key revenue generator, Buhari said this week he would take control of the ministry himself.
President Buhari has repeatedly said there will be penalties for public office holders found guilty of financial misappropriation. Last week, at the United Nations General Assembly, he admonished the international community for providing a 'safe haven' for looted funds and also said that people found guilty of misappropriating Nigeria's oil money would soon face prosecution. Despite plunging prices, oil remains a key revenue source for Nigeria and President Buhari has focused on reforms in the industry with appointment of new heads of the national oil company and even the use of drones to combat industrial scale oil theft.