Two years ago, the South African paralympic athlete Oscar Pistorius dominated international news after shooting and killing his girlfriend, Reeva Steenkamp, in his home.
Now, the home—in Silver Woods Country Estate, a luxurious gated community in South Africa's capital, Pretoria—is back in the news after Pistorious, now serving a five-year jail sentence, sold it last year to raise funds for his legal costs.
Two business partners, David Scott and Kagiso Mokoape, have taken out a lease on Pistorius' former home, and they plan on turning it into a "party house," according to a news report from South Africa's News24.
Footage obtained by Netwerk24 shows the two partners standing both outside and inside Pistorius' former home, toting beers and speaking of their plans to turn the house into a party pad.
"We're going to decorate the house in honor of what happened here. And then we'll invite people over," Scott says at the beginning of the video.
The duo also gave a brief tour of the backyard, showing the window where Pistorious feared an intruder had entered the bathroom where he shot Steenkamp. This formed an integral part of the athlete's defense at trial: Pistorius argued that he didn't intend to shoot his girlfriend, but rather, he had heard noise coming from the bathroom and thought it may have been an intruder who had entered through the window.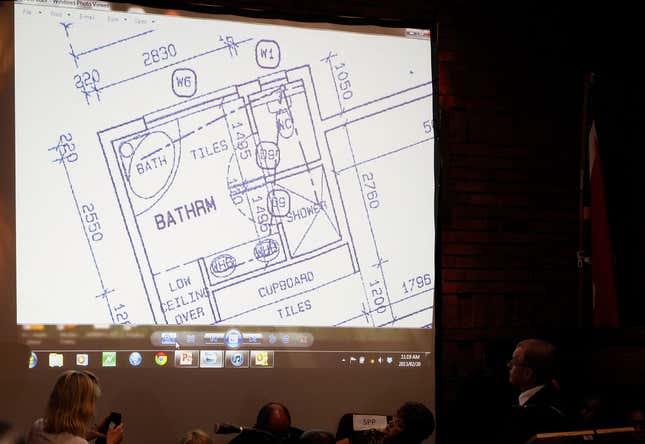 As bizarre as the business plan is Scott's view of what happened that night—including a disparaging comment on Steenkamp and women in general.
"I know what happened. I can tell you now, I've had girlfriends before. That night they had a fight. Oscar's girlfriend did what a typical woman did to any man [sic], [she] tried to double [cross] him. With a syndrome that he has anyway with his legs being amputated, he would've flipped easily," says Scott.
The video ends in the bathroom where Steenkamp was murdered, with Scott and Mokoape reenacting their version of what might have happened.
"We're standing in front of this toilet," Scott says. "This is where it happened. It's already two years, it's not too soon in any case. But no disrespect to anything that happened."