For Indian prime minister Narendra Modi, diplomacy is not an exercise in bland formalities—it is carefully choreographed and laden with symbolism and sartorial flair. So when 42 African heads of state meet with him next week Monday (Oct. 26) in New Delhi for the India-Africa Summit, they will be dressed in Modi's signature sleeveless jacket—the desi waistcoat —a variant of the "Nehru jacket" which was popularized by Jawaharlal Nehru, India's first prime minister after independence.
The Indian government has designed the bespoke jackets, in assorted colors, for African heads of states (based on measurements sent in advance) to wear at a dinner Modi will be hosting in their honor next week.
From a pinstripe suit with Modi's own name stitched into the stripes, which he wore to a meeting with Obama, to his assorted sleeveless kurtas and jackets and hats, the Indian prime minister has become known internationally as a fashionable politician.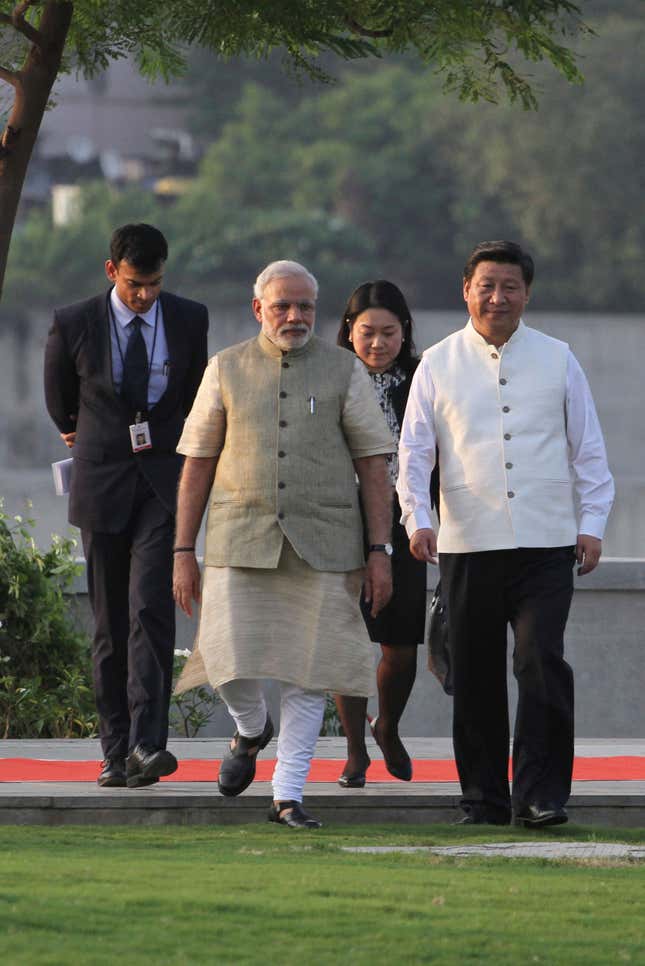 And this is not the first time Modi has imposed his style upon world leaders. China's Xi Jinping was also gifted the Modi jacket when he visited India last September—a state visit which was regarded as "historic" in strengthening Sino-Indian relations.
The gesture is steeped in symbolism, according to an Indian ministerial official. Speaking to the Indian Express, the official said: "The PM [prime minister] and the foreign ministry believe that the sewing machine is more than just a tool to stitch and mend clothes. It is also the tool that helps people feel really comfortable around each other, stitch-by-stitch."
Next week's India-Africa summit (Oct. 26-29)—the third of its kind—is important for Modi. It aims to sell India as a partner to many African countries which have historical and cultural ties to the subcontinent. Southern and eastern Africa have a large Indian diaspora  (pdf, pg. 94) that settled in the two regions during the 19th century.
Through the summit, India is hoping to boost trade with Africa and sign a raft of agreements that will see greater investment in certain Africa countries, particularly in sectors such as oil and gas.
The summit also comes when other world powers are ramping up their efforts to court African countries for trade and other diplomatic and geo-strategic goals. Obama launched the US-Africa Leaders Summit last year—a move seen as the US re-asserting itself in response to China's increasing involvement in African issues, including trade, aid, and peacekeeping missions.
Despite his diplomatic successes overseas, criticism of Modi is growing back home in India for not doing enough to quell rising religious intolerance and his silence in the face of violence against Muslims. Last month, 35 leading Indian writers returned the country's most prestigious literary award to the government, in protest.
Whether Modi's brand of diplomacy will win the goodwill of African countries remains to be seen. As well as his sartorial advances, he will be wooing their leaders with flowers: A national rose garden will be dedicated to African heads of states, this gesture reportedly symbolizing Modi's desire for African ties to "bloom."