FastJet has big ambitions for intra-Africa travel. To exploit Africa's growing traveller base, the company wants to create "Africa's first pan-continental airline" by offering quality low-cost flights without the "costly frills."
While low-cost airlines have secured their foothold in more developed markets—like AirAsia has done for South-East Asia—operating a low-cost airline can be tricky in Africa. With operations in six countries—and after having transported 1.5 million passengers since it was launched in November 2012—FastJet is battling to secure permissions from African aviation authorities in countries where it wants to expand.
Speaking to Bloomberg, Ed Winter, the British-born ex-pilot who is now CEO of FastJet, pointed his finger at African governments, blaming them for having protectionist policies that favor large, and often inefficient, state-owned airlines.
"The continued policy in some countries about protectionism of state airlines surely can't make sense," he said. "Why would countries put so much money into an airline, when that money will be far better spent on roads, health, all those things which the people need?"
Sixteen African countries fully or partly own airlines that often enjoy a significant market share compared to smaller airlines, and some are largely inefficient.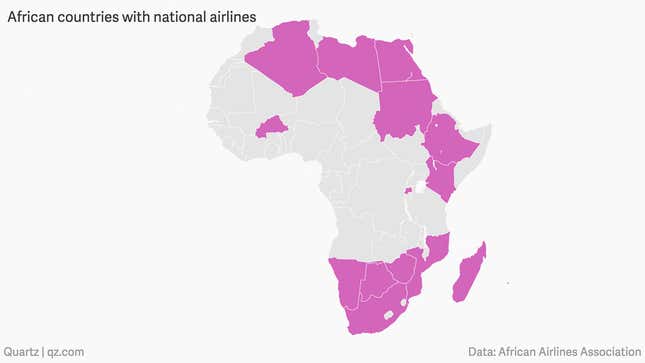 Take South Africa's national airline, for example.
Since 2006, South African Airways (SAA) has mostly survived on government-backed loans—totalling to $105 million this year. The company's top job of CEO is a revolving door: it has had no fewer than six people in the hot seat—both acting and permanently—over the past three years. Political meddling is common in the affairs of the airline, while the company continues to make a loss, despite having a turnaround strategy (pdf) that was meant to reduce costs and increase revenue.
Similarly, Kenya Airways has not had a good run this past year. In July, the company reported a pre-tax shortfall of $293 million for the 2014-15 year—its biggest annual loss ever. Low commodity prices and a weakened currency certainly contributed to the losses, but the mismanagement of the airline was also a driving factor, as we previously reported.
Which is why Winter thinks that government's should have less of a play in the commercial aviation business. "Governments can't run airlines, it has been proven," Winter told Bloomberg. "Let private enterprise take its course. You will get a much better aviation landscape. Competition is good for everybody. It drives out the inefficient."