The race for South Africa's top job is heating up. Seventeen months into his job as deputy president, it was assumed that Cyril Ramaphosa—a former trade unionist, also one of South Africa's richest men—would easily slide into the top job in 2019 when president Jacob Zuma steps down.
Ramaphosa, who made a return into politics in 2012 after a 10-year sojourn, has always had presidential ambitions. In 1997, Ramaphosa was considered as a favoured successor for the presidency by Mandela, but this plan was thwarted by a skilful Thabo Mbeki, South Africa's former president, who out maneuvered Ramaphosa in African National Congress' (ANC) internal politics, eventually becoming president.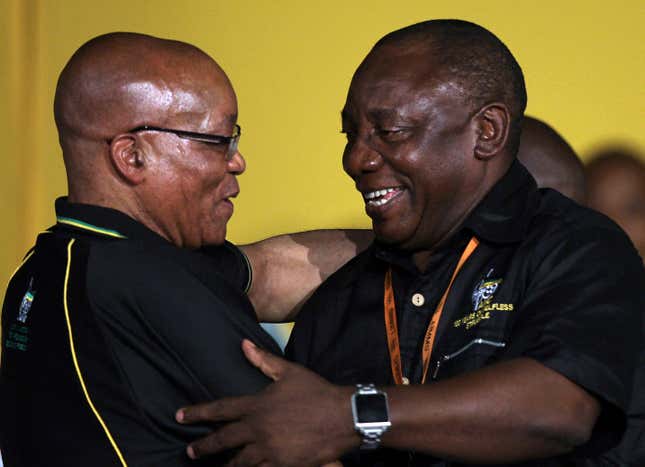 Last week, South Africa's Mail and Guardian reported  (paywall) Ramaphosa has finally decided to throw his hat in the ring to contest for ANC president in 2017—a stepping stone for him to become South Africa's president in 2019.
Despite cementing his standing as South Africa's "fixer" and diplomat-in-chief in Jacob Zuma's presidency, Ramaphosa now faces another hurdle that may thwart his chances of emerging as president in 2019: Nkosazana Dlamini-Zuma, the current African Union (AU) chair and ex-wife of president Jacob Zuma.
Jacob Zuma's "get out of jail card"
At 66, Dlamini-Zuma is a seasoned South African politician. She served in Nelson Mandela's 1994 cabinet as health minister, eventually landing up as foreign affairs and home affairs minister in Thabo Mbeki's cabinet. She is renowned for turning around the home affairs portfolio, which was plagued by administrative inefficiencies and corruption.
Over the past months, debates have been raging in the ANC about the need for a woman president in 2019, and Dlamini-Zuma's name has enjoyed preference.
In response to these calls, Dlamini-Zuma has been more forthcoming about her presidential ambitions than Ramaphosa.
"In the ruling party you never refuse a responsibility. I have never refused any responsibility that the ANC asked me to do," she said at a ANC Women's League conference in August this year.
But the debate about who takes over from president Jacob Zuma is not merely a tussle between Dlamini-Zuma, accomplished woman candidate, and Ramaphosa, a successful businessman.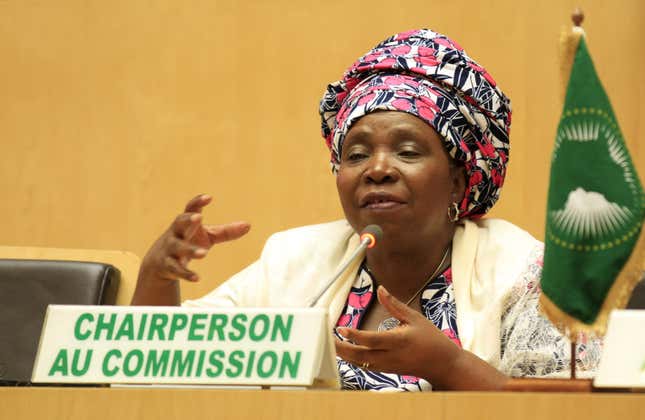 It is tied to Dlamini-Zuma's history with the South Africa's current president, Jacob Zuma. The two were married for 26 years, until 1998, and they have four children together.
While the pair have kept a warm relationship together, it has not always been rosy. When Jacob Zuma defeated former South African president, Thabo Mbeki, in an internal race for the ANC presidency in 2007, Dlamini-Zuma supported Mbeki's camp over her ex-husband's bid.
Relations warmed again when Jacob Zuma's ascended to power. Becoming South Africa's president allowed him to support and led Dlamini-Zuma's controversial campaign to become chair of the African Union (AU) in 2012—a move which signalled that Jacob Zuma might have bigger plans for Dlamini-Zuma back home, and that the AU job was in preparation for a takeover in 2019.
As the succession battle builds up, it seems that Jacob Zuma might be throwing his weight behind Dlamini-Zuma again. But for a different reason, beyond the need—and internal desire within the ANC—for a woman president, but also for his own self-interest.
In 2009, Zuma faced 700 charges of corruption and racketeering. These were later aside after Zuma argued that the charges were politically motivated. The drive for Dlamini-Zuma to become president—which has massive support from Zuma and his key allies in the ANC—is in part a strategy to keep the charges dead, long after Zuma has left the seat of power, some believe.
The argument for this is that as his ex-wife, she would not let the charges stand against Zuma, while Ramaphosa would.
"It is now almost common cause, at least outside the ANC, that those who support the president [Jacob Zuma] do not trust Deputy President Cyril Ramaphosa. They, for reasons that are not always obvious to me, are afraid that Ramaphosa is the kind of chap who would not discourage the reinstatement of corruption charges against Zuma were the gods of some ANC faction to deem this  necessary for the cleansing of the spirit of our polity. In more graphic language, Ramaphosa will send Zuma to jail," writes Aubrey Matshiqi, a South African independent political analyst.
"If you asked me two months ago, I would have said Cyril Ramaphosa is going to be South Africa's next president," said Nic Borain, a political analyst who consults for BNP Paribas. "But Nkosazana Dlamini-Zuma, seems to be gaining ground. She has the support of all major ANC allied bodies—including the ANC youth league, the ANC women's league, a powerful trifecta of regional ANC leaders and of course, her ex-husband," says Borain.