What does the Holocaust have to do with a gleaming $27 million, 8.5 megawatt solar energy facility in the heart of east Africa? More than you might think.
The burgeoning ties between Israel and Rwanda—fueled in part by what the two nations perceive as their shared experience as genocide victims—helped spur Israeli green energy pioneers to build the field of 28,360 solar panels on a verdant rolling hillside outside Kigali.
The sprawling project went from contract signing to completion in a lightning-quick 12 months and is already providing 6% of Rwanda's power. Yosef Abramowitz, the CEO of Gigawatt Global, called that evidence of Rwanda's place as a business and tech-friendly role model for the continent.
"It is a symbol of hope for sub-Saharan Africa's tens of millions of orphans and 600 million people without power," said Abramowitz, who in 2006 co-founded solar giant Arava Power, one of Israel's pioneering solar companies. 
Not coincidentally, the solar plant, which went online in February, is built on the grounds of a non-profit called the Agohozo-Shalom Youth Village, which was founded by Jewish philanthropists to care for orphans of the 1994 genocide in which up to 1 million Rwandans were murdered.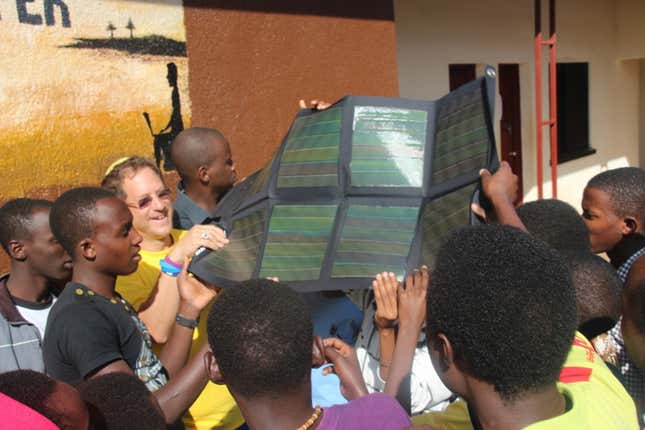 The group says it uses strategies developed by Israel's kibbutzes after the Holocaust.
"There is definitely a parallel with Israel," said Jean-Claude Nkulikiyimfura, the village's director, though he couldn't comment further on the broader strategic relationship between Israel and Rwanda. "The genius is to take the model and tweak it for the Rwandan context."
Abramowitz relishes the idea of supporting the non-profit's charitable mission by leasing its land for the solar plant, which is built in the shape of an enormous map of Africa. He also aims to create a inspiring model that could be replicated in other parts of the continent or other parts of the developing world.
Buying friends
To some, the solar field and the expansion of cultural and business ties between Rwanda and Israel might sound like a win-win situation. But not everyone sees the unlikely alliance as a good thing.
Critics say Israel is seeking to buy friendship, noting that Rwanda broke ranks with other African nations to help block a UN Security Council resolution backing Palestinian statehood. Israel also cajoled Rwanda along with Uganda into accepting airlifts of immigrants from other African countries who were rounded up in an operation criticized by Israeli human rights activists.
For its part, Rwanda may also be seeking allies as a way of deflecting criticism of its own questionable policies.
President Paul Kagame has been in power since he led the military push to end the 1994 killing spree and was recently cleared to run for a third term in 2017 despite a constitutional prohibition. With no real opposition or independent media, the election would be a certain victory for the ascetic leader, who won 93% of the vote in a 2010 cakewalk.
The U.S. has denounced the idea that Kagame might cling on to power. But Rwanda remains a key American ally in the fractious Great Lakes region—and the support of Israel and Jewish interests may help deflect any long-term fallout. The solar project was funded by Power Africa, a U.S. initiative to fund new African power sources.
"A project like this can bring power to people who need it and jobs and technology to Rwanda — and those are all good things," said Galia Sabar, a professor of African studies at Tel Aviv University. "But there are questions that need to be asked about what Israel is doing there and why. And there are definitely questions about what Paul Kagame is doing."