Rwandans headed to the polls on Friday (Dec. 18) to vote on a constitutional amendment that would allow president Paul Kagame to run for office again. The amendment is expected to pass, paving the way for Kagame to stay in power for seven more years and ushering in new rules for a leader's time in office—five year individual terms with a maximum two terms in office.
Kagame himself has been cagey on whether he will seek the presidency again. He is scheduled to address the nation on Monday, where he is expected to make clear his intentions. With the new rules he could stay in power, potentially, for another 17 years. Preliminary results of the vote will start coming in today, but the final outcome of the referendum won't be announced until Monday.
The 58-year-old led a rebel army in 1994 that stopped a genocide in Rwanda that had claimed 800,000 lives in the space of 100 days. After serving as defense minister and vice president following the war, he was first elected president in 2003. He has led the country ever since.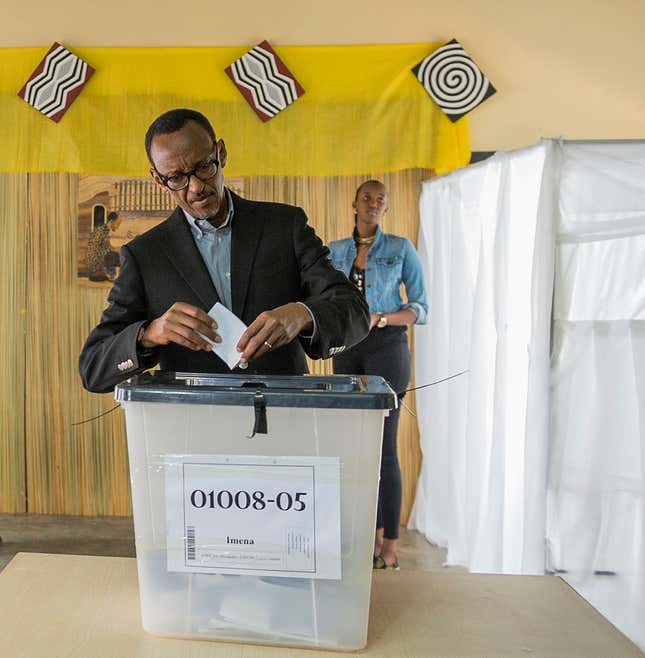 A majority of the 6.4 million people expected to take part in today's referendum seem to want him to stay on. A poll in August reportedly found only 10 people against allowing Kagame to continue in power. "I came to vote… because we want our president to continue leading us," a Rwandan voter who cast her ballot in neighboring Uganda told AFP.
Kagame has presided over remarkable changes in the country since becoming president. Annual GDP growth is expected to hit 7.4% in 2015 while GDP per capita has increased every year since 2005, with poverty declining to 45% in 2010, from 57% in 2005, data from the World Bank shows. Meanwhile, infant mortality rates and life expectancy have improved significantly during his time in office. All this has helped Rwanda develop a reputation as the "ultimate turnaround."
Still, Kagame has his critics. Former allies have accused him of descending into despotism. "Sacrificing human rights on the altar of economic growth, Kagame is delivering neither democracy nor prosperity," David Himbara, a former senior aide and economic adviser to Kagame, wrote for Quartz earlier this year. The United States and other foreign allies have also voiced their criticism over the potential of a Kagame third term.
Meanwhile, the country's main opposition party has opposed the referendum, calling for fresh leadership to take the country forward. "Of course we have seen tremendous economic progress since," said Frank Habineza, leader of the opposition Democratic Green Party of Rwanda. "But also we need to have promotion of new talents, new leaders so that we can also have new promises and new development."