It was odd that the Kenyan government and UN-Habitat decided in 2008 what Korogocho needed from a city-wide slum upgrading project in Nairobi was new roads.
There are very few cars driving through this slum of  over 150,000 people that is best known for the neighboring trash dump that dwarfs it. The main vehicle traffic is the garbage trucks accessing Dandora dumpsite via one road.
But a few years later when the roads were built it gave locals Joseph Kuria and Daniel Onyango an idea. The two university students wanted to add a sports program to their neighborhood NGO Hoperaisers. It was started in 2007 to try and keep neighborhood children out of the dump, where they would dig for items to re-sell. They also wanted to keep them away from local gangs. Hoperaisers already had a music club, but Korogocho had only one public field and there wasn't enough space for a soccer program.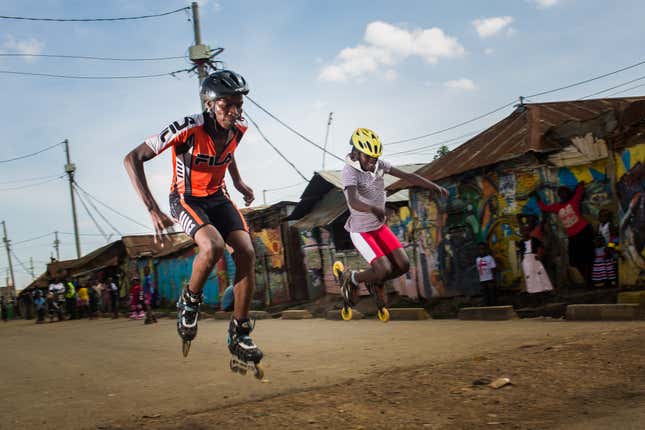 What it had more than enough of was newly paved roads and little traffic. In a city where the streets in even the most elite neighborhoods are often rutted with potholes, Korogocho's smooth streets were an opportunity that couldn't be wasted.
And so a poorly targeted aid project became the catalyst for a skating club and competition team that has become one of East Africa's largest and has vaulted members onto the Kenyan national team in just a couple years.
Kids join as young as four and the ages run up to high school. Practices regularly get 40 or more kids who take turns sharing the used skates, unitards, and helmets donated to the club. Many shove their flip flops up their arms to their elbows to act as pads. When they go to competitions, the private, better-funded teams lend the Korogocho team competition-level skates and helmets, both of which they lack.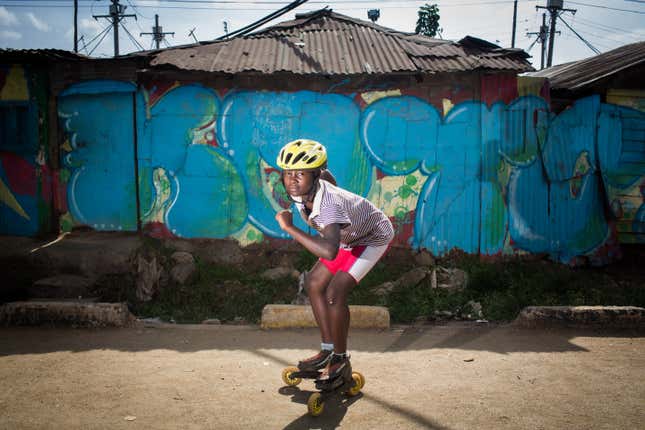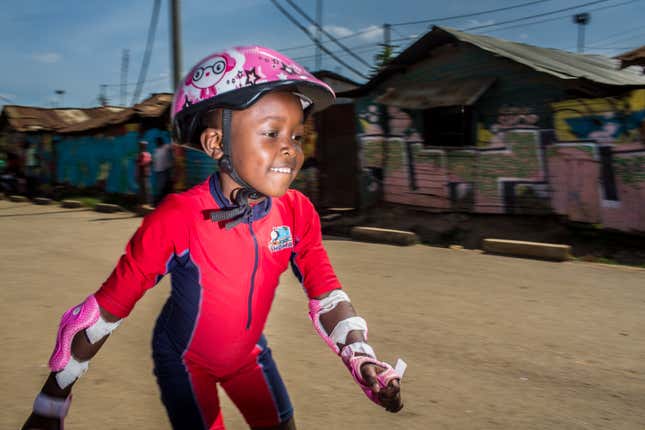 Kuria, Onyango, and the other "coaches" have no serious skating experience. Some of the kids in the program are probably better than them. But at a recent Saturday practice, Kuria coached them through a crossover – a technique for making a sharp turn – with an air of authority, gleaned from YouTube videos, where he and Onyango have learned just about everything they've passed on to the kids in the program.
Now, Korogocho skaters are rubbing shoulders with the elite Kenyans who can afford to buy their own gear and even providing some informal coaching to kids from the "other side" on weekends at the sunken car park in Nairobi's central business district.
"It was the perception that it was a rich people's sport," Onyango said. Now, some of the "best performing skaters are from this part of the city."