Electronics companies and car makers may be buying cobalt sourced from child miners in the Democratic Republic of Congo and sold by a Chinese company with links to the Chinese and DRC governments, according to a report from Amnesty International and Africa Resources Watch.
The report accuses companies including Apple, Samsung, Microsoft, Sony, Lenovo, and vehicle manufacturers VW, Mercedes Daimler and others of failing to make sure their suppliers are not using child labor. 
"It is a major paradox of the digital era that some of the world's richest, most innovative companies are able to market incredibly sophisticated devices without being required to show where they source raw materials for their components," executive director of Africa Resources Watch Emmanuel Umpula said in a statement.
Apple said in a statement in response to the report (p. 76) that it never tolerates underage labor in its supply chain and has strict standards and rigorous audits.  "We are currently evaluating dozens of different materials, including cobalt, in order to identify labor and environmental risks as well as opportunities for Apple to bring about effective, scalable and sustainable change."
Also on the list are Dell, HP, Huawei, Lenovo, LG, and Vodafone and an electric car manufacturer in China, BYD, which says on its website that it has clients in the United States, Canada, Brazil, India, and the United Kingdom. Most of the companies named in the report have refuted its claims, while two have said they would investigate further.
The report, based on interviews with over 90 workers and visits to five mining sites last year, also highlights China's increasingly scrutinized role in Africa and the DRC. Almost 90% of minerals (pdf, p. 2) from the country's resource-rich southern province of Katanga go to China.
According to the researchers, the supply chain for cobalt used in lithium-ion batteries looks something like this: workers, including children as young as seven years old, in the city of Kolwezi in Katanga mine cobalt ore with their hands and rudimentary tools. The children mostly scavenge for rocks and wash and sort the ore. The miners lug the ore to a nearby market and sell it to Chinese traders. Much of the mineral is then sold to a company called Congo Dongfang Mining (CDM), a subsidiary of China's largest cobalt producer Zhejiang Huayou Cobalt and one of the world's largest cobalt manufacturers.
The cobalt is exported to China where it is refined and sold to a range of battery manufacturers like Samsung and LG Chem, two of the world's largest, and then on to manufacturers of consumer goods in China and South Korea.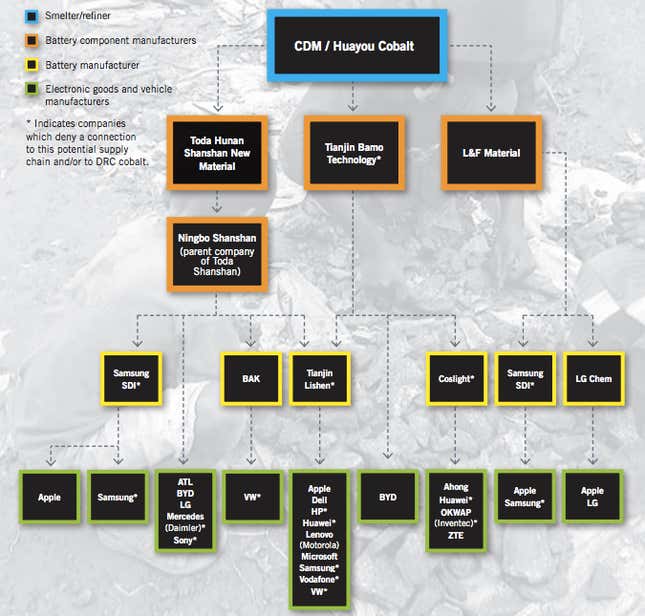 Huayou, which was the subject of similar accusations in 2008, says it now only purchases from licensed traders and "rigorously selected" suppliers. The company says that staff visit the mines from "from time to time" and have not found evidence of child labor, according to the report.
The Chinese and Congolese governments have been accused of ignoring rampant labor violations and health hazards in an industry where at least 80 people died in southern DRC between September 2014 and December 2015. Hand-dug tunnels often collapse, and chronic exposure can lead to lung disease, asthma, and pulmonary deficiencies. UNICEF estimated in 2014 that about 40,000 children work in these mines.
Huayou's third largest shareholder is the China-Africa Development fund, a Chinese government fund that supports diplomatic and commercial efforts on the continent. Huayou is also a minority shareholder in the $6 billion Sicomines deal, a joint venture between the DRC and China to exchange minerals for infrastructure projects. According to the report, CDM also donated $20,000 to president Joseph Kabila's presidential campaign in 2011.