A war is brewing between local taxi drivers and Uber in Nairobi, with cabbies protesting against the ride hailing app's presence in the city. They say its cheap fares are threatening to put them out of business and are demanding the government shut Uber down. Two suspects were arrested this week for allegedly attacking an Uber driver in the city.
Kenya's United Taxi Organization (KUTO), an umbrella organization for cab drivers, has denied that any of its members are behind the attacks. However, the organization has promised to bring the country's capital to a grinding halt unless the government shuts down Uber, which is valued by investors at some $50 billion.
"We will block roads if Uber is not done away with in a week's time," Mwangi Mubia, one of the leaders of KUTO, told reporters. "We have told our members to park their vehicles at strategic locations and all over town."
Over the last few weeks, Uber drivers have complained that they have been threatened and harassed with little done by the company to help them. Andrew, 54, who has been an Uber driver for almost a year, told Quartz that on Jan. 19, his car was surrounded by a group of men who attempted to pull him out of the vehicle. He only managed to get away after he drove through the group. "Even now we don't know what to do, we are discussing among ourselves. We don't know the way forward," he said.
He and other drivers want Uber to hire a security company or work with the police to set up an emergency hotline, but according to him, so far the company's only advice to drivers has been that if their cars are damaged to take them to the Uber office in central Nairobi.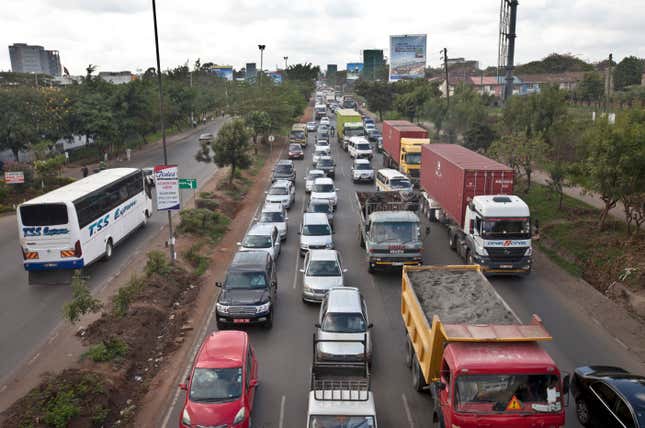 Another driver, Stephen, 36, a former airline dispatcher who has been driving with Uber for almost half a year, says he has been harassed twice. Most recently, on Jan. 28th, he was picking up a passenger in Nairobi's central business district when he was cornered by several cars. Stephen accelerated, crossing over the median into what would have been oncoming traffic had it not been in the early morning. "They were demanding to know whether I was driving on Uber," he told Quartz. "They actually waylaid us, blocking my exit using two cars on both my right and left side. I had to use my defensive driving skills quickly before the situation became worse."
Passengers caught in the middle
Uber passengers have been caught up in the fight and are growing wary of using the service.
"I'm definitely not using Uber at night and I am even hesitant about using it in the day," Elizabeth Resor, who was a passenger in Stephen's car, told Quartz.
She is not the only one. When an Uber driver arrived to pick up Anne Chen, a social worker, and her three-year-old daughter outside of a popular shopping center in the city, a group of drivers surrounded the car, blocking her from getting in. They opened all the car doors, while chanting "Uber, Uber" at the driver, she said.
Chen decided against taking the car—she told the driver to leave before the situation worsened. She said she sent an email to Uber complaining about the escalating turf war.
Uber says it is aware of incidents and that it was working with the authorities and all relevant parties to help resolve the situation.
"Uber has been engaging with taxi associations since last year to find a way that we can partner with them," a company spokesman said. "We do not feel that it should be about Uber or Taxi but rather Uber and Taxi."
However, Uber drivers said that the company has started cautioning them to keep a low profile.
The country's ministry of interior said on Tuesday confirmed reports of violence against Uber drivers and said that the police was investigating the complaints.
"Such barbaric acts cannot and shall not be tolerated," it said in a statement. "Business rivalry should never be settled through attacks and intimidation but rather through the established legal mechanism of resolving disputes."
Uber launched in Nairobi in 2015, the sixth of nine African cities to host the service. It has since become one of the most popular modes of transport in the city, mainly because it's a cheaper alternative to traditional taxis. Uber drivers in Nairobi reportedly charge half the price of their competitors. A cash option was introduced in June to cater to the number of Kenyans without credit cards but with mobile money M-Pesa accounts. Following the introduction of the cash payment option, Uber tripled its growth in Nairobi making it one of the fastest growing cities internationally for the company
The company's troubles in Nairobi reflect the broader resistance Uber has been facing when entering new markets. The service has been battling traditional taxi drivers in almost all the 60 countries it is operational. Similar tensions have come to the fore in South Africa where the company hired security to protect drivers receiving threats. Last month, French taxi drivers took to the streets across the country to protest against the company's presence.
But Uber believes these reactions are typical of taxi monopolies working hard to protect their turf. The traditional taxi industry "feels threatened by our high quality service and quick response time," Travis Kalanick, the company's CEO, said in a 2013 interview.