For decades, Nigeria's state oil company, the Nigerian National Petroleum Corporation (NNPC) has been the leading symbol of official corruption and a seemingly boundless source of political patronage. Faced with plummeting global oil prices and dwindling state coffers, president Muhammadu Buhari cannot afford to allow the NNPC, under a veneer of reform, to operate much as it did before. Yet nine months into his term, NNPC continues to do business with several disreputable, politically-connected companies.
Last August, Buhari tasked Emmanuel Ibe Kachikwu, a Harvard-trained lawyer and former general counsel for ExxonMobil Africa, with fixing a broken NNPC. A few months later, Buhari dual-hatted Kachikwu as minister of state (deputy minister) for petroleum, giving him enormous power over Nigeria's oil industry. While Buhari kept the position of petroleum minister for himself, he is unlikely to be able to concentrate on the role given his many other responsibilities.
In a surprise announcement last week, Kachikwu rolled out a plan to restructure NNPC into seven independent business units. Though the business rationale behind this move is unclear, Kachikwu's previous decisions, such as shaking up the senior management of NNPC and its subsidiaries and cutting the number of short-term crude marketing contract recipients, have received widespread praise. Under Kachikwu, fewer featherweight front companies are being allowed to market NNPC crude. He has also promised to replace corruption-prone crude oil swaps and offshore processing agreements with more transparent and cost-effective arrangements. While laudable, these changes only partially address NNPC's biggest flaws as outlined in a comprehensive report by the Natural Resource Governance Institute (NRGI) published last year. They also disguise that NNPC maintains relationships with many of the same companies and individuals accused of corruption under the 2012 Fuel Subsidy scandal and similar schemes.
Same old perennial contracts
The two most significant contract decisions made by Kachikwu thus far suggest that it is business as usual at the NNPC—at least for now. Looking at the list of companies he awarded crude oil lifting contracts or granted permission to import refined petroleum products (e.g. gasoline and jet fuel), many have clear links to political power brokers or have been connected to fraud cases: They include:
Another toxic legacy inherited by the NNPC is the Strategic Alliance Agreement its exploration arm, the Nigerian Petroleum Development Company, concluded with Atlantic Energy Drilling Concept Limited, a company allegedly linked to former petroleum minister Diezani Allison-Madueke. Under the agreement, Atlantic helps fund the operating costs of eight oil blocks in exchange for rights to lift a portion of the oil they produce. Kachikwu could terminate this agreement, which reportedly disadvantages NNPC. He recently said that NNPC soon expected to conclude a deal in which a new partner will pay up to $1.3 billion to take over the Atlantic agreement. With oil prices low relative to operating costs, however, Kachikwu may fail to find a reputable buyer willing to renegotiate this deal on his terms.
Buhari's Bigger Challenge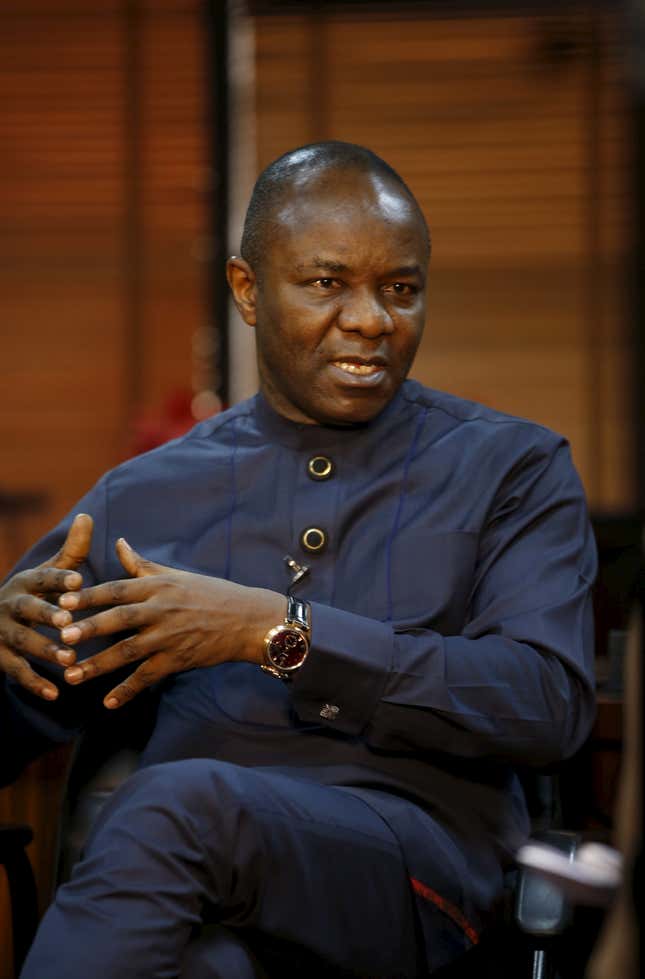 Although Buhari undoubtedly wants to overhaul the country's oil sector, NNPC appears to be dragging its feet. With global oil prices low and government finances under pressure, Buhari needs to carefully scrutinize NNPC decision making, including the latest unbundling plan. He should also ask his officials tough questions about shady arrangements inherited from his predecessor, such as the Atlantic Energy agreement and an opaque crude oil transportation contract criticized by industry experts.
But Buhari has a task greater than just stopping NNPC from falling back into bad habits: transforming Nigeria's national oil company into a cost-effective, profit-driven, transparent institution. Creating 30 separate companies out of NNPC will not necessarily make them more profitable and could instead increase operational costs and make oversight more difficult. As it stands, NNPC receives far less government oversight than its global peers.
Besides producing crude oil, NNPC also makes national petroleum policy, generates its own budget, and regulates the petroleum industry: all clear conflicts of interest and practices unheard of elsewhere in the world. Buhari must take these important oversight roles away from NNPC (or its successor companies) and address the their deeper ills before time, inertia, and powerful elites long pampered by patronage conspire against him.