Garissa, Kenya
Last Friday (Mar. 25) was a quiet day in the library at Kenyatta University, on the outskirts of Nairobi. Students were busy preparing for midterm exams when commotion suddenly broke out. Hundreds of panicked students stumbled over each other as they ran toward the exits, causing a stampede. Several jumped out of the library's third floor windows.
"All of a sudden we heard screams. No one asked what it was. We all ran to get out," Abdimalik Khalif, a first year student, said. Patrick Mwendwa, another student at Kenyatta University says. "I thought we were under attack. That's why some of the students jumped from the higher windows, just to rescue themselves." At least 38 people were injured in the incident, which police later said was started by two students fighting.
Khalif and Mwendwa, like most of the students who ran, thought their university was under an attack similar to one launched by militants on Garissa University College in Kenya's north east region a year ago . The attack left 148 students dead. Al-Shabaab, an Islamist militant group based in neighboring Somalia, claimed responsibility for that attack in Kenya's northeast.
Since the April 2, 2015 attack, many schools have added safety measures like around-the-clock security guards. Garissa University itself was reopened early this year with more security. Ahead of the first anniversary, security forces have been put on high alert and police have asked the public to be extra cautious. Students are more skittish than ever. That fear has destabilized university life in Kenya and actually made them less safe than before.
Since the Garissa attack, there have been four cases of students panicking in response to what they believed were terrorist attacks. Over 230 university students have been injured in these scares, according to figures reported in local media.
In the same week as the Kenyatta University stampede, an electric fault triggered a blast in a student dormitory at Moi University in Eldoret town in western Kenya and students clamored for safety, with some jumping from windows. Twenty one students were injured, according to local media.
The worst of these incidents occurred in late November, when university officials at Strathmore University in Nairobi failed to notify students of a mock security drill. Panicked staff and students caused a stampede that resulted in the death of one person and serious injuries to dozens of others.
"The students are always alert, and every bang or loud sound can cause panic among the students because we don't want to be caught in a dangerous situation," Abdimalik said. University administrators and government security officials have not responded to requests for comment from Quartz.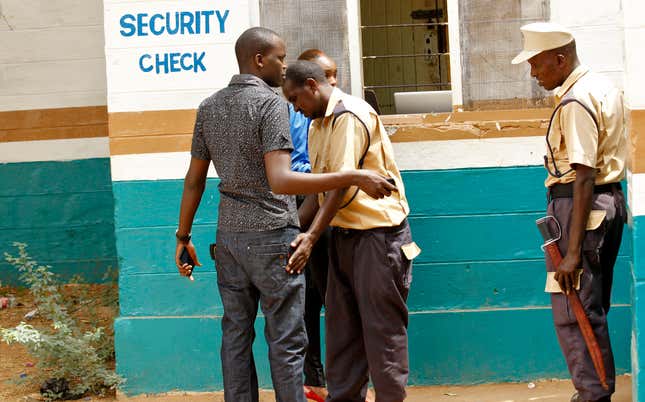 The panic stems from more than just fear of another attack from Al-Shabaab, which has increasingly targeted Kenya since 2011 when Kenyan defense forces began operations in Somalia to oust them. Students also doubt the ability of Kenya's security forces to keep them safe. Abdimalik says, "We know what happened in Garissa attack, so no one trusts security agencies. Even if they tell you, 'It's okay, there is no problem,' you still follow your instincts."
When militants seized the campus of Garissa university, it took paramilitary forces seven hours to get to the scene, giving the attackers time to separate Muslim and non-Muslim students and kill the latter group. In a previous attack in Nairobi, when al-Shabaab militants killed 67 people at the Westgate shopping mall in 2013, soldiers looted stores while the mall was still under siege.
"This culture of improvisation, coupled with the absence of proper command, control and communication, not only makes them distrust [the security apparatus], but have close to zero faith," says Abdullahi Boru, a Horn of Africa security analyst and researcher for Amnesty International.
In some instances when students have reported suspicious people or activities to the police, the authorities became suspicious of the students instead, and harassed them, he adds.
Boru says this lack of trust adds to insecurity on campuses because students are less likely to give police information that could thwart attacks. He says, "They know there is no coordinated effort at prevention and response."