Nairobi, Kenya
Kenya is the middleman in a bizarre and quickly escalating diplomatic row between China and Taiwan. This morning (April 12), Kenyan police fired tear gas and brandished assault rifles to force a group of Taiwanese nationals to board a plane bound for China, according to Taiwan's foreign ministry.
The clash comes a year after a group of 76 Chinese and Taiwanese nationals were put on trial in Nairobi for charges of cyber crime. Half of the group, including 23 Taiwanese nationals, was acquitted last week. (The other half of the group is awaiting a court verdict in June.) The acquitted group was ordered released and given 21 days to leave the country by April 26th.
Instead, they were taken to a police station in Nairobi's Kilimani district and on Friday (April 8), 10 of them, including eight Taiwanese nationals, were taken to the city's main airport where Chinese police took them to the Chinese city of Guangzhou, according to Taiwan officials and the group's lawyer Steve Isinta. The rest, including 15 Taiwanese nationals, were forced to fly to China today.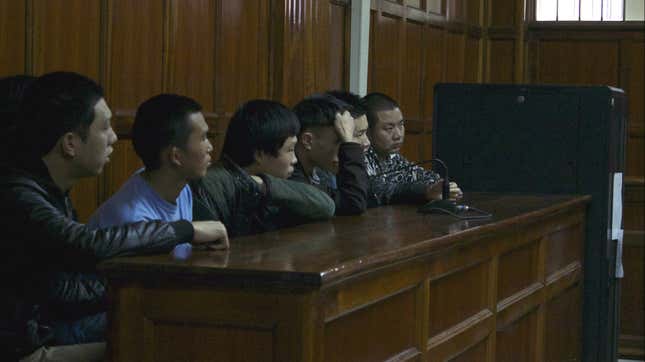 Beijing considers Taiwan one of its own provinces, while Taiwan operates as an independent country, with democratic elections and no formal sworn allegiance to leaders in Beijing. But relations between the two governments have been mostly respectful in recent years.
Isinta said that police told the group, which was housed at the police station, at 5:30am to get ready because they would be leaving soon. Soon he got a message from one his Taiwanese clients saying, "It's not our people coming for us." Chinese officials, instead of Taiwanese, had come. Isinta said that he did not hear from them after that.

Then things got violent, Taiwan's ministry of foreign affairs claims. When the 15 Taiwanese refused to leave the police station "police broke through the wall, threw tear gas and then about 10 police entered with assault rifles," Antonio C.S. Chen, the chief of Taiwan's foreign ministry department in charge of West Asian and African Affairs, told a news briefing in Taipei.
Video footage shown by Taiwanese media, allegedly from the incident, shows a group of men trying to secure a door.
"It was illegal for them to be deported. To be deported you have to have broken the law," Isinta tells Quartz. "It's because of pressure from China," he said.
Officials from Taiwan's liaison office in South Africa, its closest diplomatic office to Kenya, say they have information that Chinese authorities pressured Kenyan police (link in Chinese) to deport the group. Taiwan's ministry of foreign affairs called these deportations "an uncivilized act of extrajudicial abduction," orchestrated by Beijing.
Another group of 22 Taiwanese arrested last week on similar suspicions of cybercrime was also deported to China today, a representative from Taiwan's office in South Africa, who is in Nairobi to deal with the situation, told Quartz.
That brings the number of Taiwanese nationals in Kenya who have been sent back to China rather than Taiwan up to 45.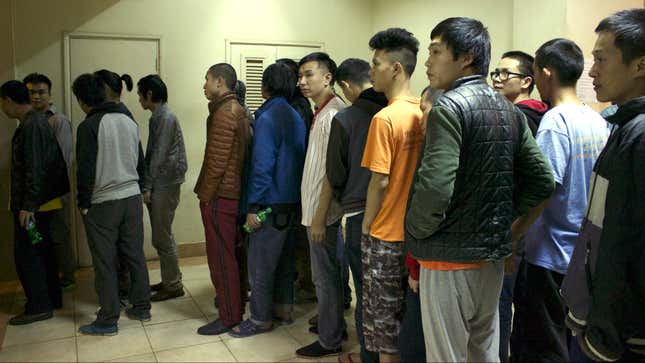 Africa was one of the first battlegrounds for Beijing's one-China policy—the principle that there is only one China and that is the one represented by the Chinese Communist Party. Kenya has sided squarely with China, recognizing Beijing since the East African country gained independence in the 1960s. It does not extend diplomatic recognition to Taiwan.
Most Kenyans don't understand what the controversy is about, nor do they care, according to Isinta. But that doesn't legitimize the actions of the Kenyan police. Isinta has filed a motion to take the country's attorney general and the police boss to court over the detention and deportation of his clients after their acquittal.
"It doesn't matter if Taiwan belongs to China or vice versa. That is for international law to answer. My issue is that these are people who were kept illegally."
China and Taiwan have an agreement not to extradite each other's citizens. Taiwanese nationals suspected of an investment scam were deported to China from the Philippines in 2011. It took Taipei almost five months to have them sent back to Taiwan.
The diplomatic imbroglio in Kenya isn't over. The second group of accused who are awaiting a verdict in June includes five Taiwanese nationals. After a hearing in Nairobi's Miliman court yesterday, Chinese and Taiwanese representatives got into a heated argument when the Taiwanese official tried to speak with a Taiwanese national being held at the court.
According to Joseph Chen, from Taiwan's office in South Africa, the Chinese diplomat told him he had no authority to speak to the accused because Kenya does not recognize Taiwan and there is no Taiwanese consulate in Kenya.
"He put his finger on my nose and said you are not embassy. It was very disrespectful," Chen told Quartz. Witnesses said the heated argument devolved into shoving, but Chen said the altercation was a verbal one. "He shouted at me. I shouted back."