The Islamic State may be gaining a foothold in East Africa. The militant group took responsibility for an IED attack on a convoy of African Union peacekeepers traveling outside of Somalia's capital of Mogadishu on April 25.
African Union officials have said that ISIL may not have been behind the attack, which left no casualties. Still, there are worrying signs that the group is gaining traction in war-torn Somalia, where another extremist group, al-Shabaab, could serve as a ready pool of recruits for ISIL.
ISIL, which has been competing with al-Shabaab for recruits in "the little emirate" since last year, appears to be ramping up its efforts. It released a propaganda video on April 14 in which a group of fighters trains in an undisclosed location in Somalia and pledges allegiance to Islamic State leader Abu Bakr al Baghdadi.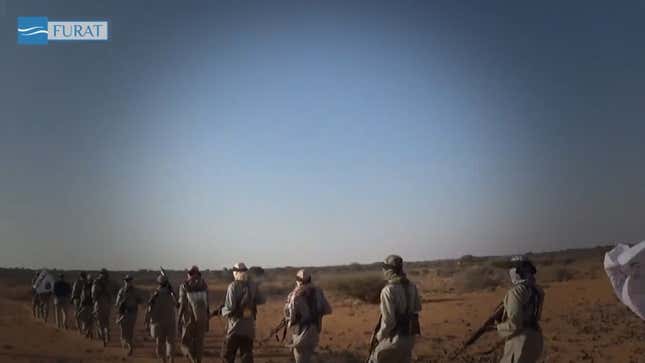 One of the fighters featured in that video is ex-al-Shabaab leader Abdiqadir Mumin, a cleric who defected to ISIL last year, reportedly taking 20 fighters with him. While the group's following is likely still small, its appeal may be growing among disenchanted al-Shabaab members who have seen their territory in Somalia taken back by African Union forces, supported by the United States and other African nations. (Al-shabaab, whose name means "the youth," aims to oust the government and turn Somalia into an Islamist state. It declared allegiance to Al-Qaeda, ISIL's rival, in 2012.)
Earlier this month, a previously unknown group called Jahba East Africa, or the East Africa Front, came out in support of ISIL and called on fighters to desert al-Shabaab. "We are telling the mujahideen in East Africa that al-Shabaab has now become a psychological and physical prison," it said in a propaganda video released on April 7.
Analysts believe that younger al-Shabaab supporters might be attracted to a mission that goes beyond just Somalia. ISIL has pockets of support in northern and western Africa. When Boko Haram pledged allegiance to ISIL last year, it called on all sub-Saharan jihadists to join its forces. For ISIL, Somalia's attraction may be that it borders key US allies in East Africa like Kenya, Ethiopia, and Djibouti.