Johannesburg, South Africa
About twenty people of all ages gathered earlier this month in a chilly auditorium at the University of the Witwatersrand in Johannesburg for Digital 101. The course is aimed at youth, but people of all ages have shown up for a free crash course in web design, search engine optimization, social media and digital marketing.
Last month, Google announced that it would train one million young people over the next year, giving them digital skills to participate in the global economy. The classes have begun, with sessions in South Africa, Kenya, Nigeria and Tanzania. They've also launched an online training platform called DigifyAfrica.
Today's class is called Digify Bytes, a one-day course in digital basics, run in partnership with non-governmental organization Livity Africa. There is also a more intense three-month course that promises to end in a job for the participants. So far, it has delivered 100%, according to Google.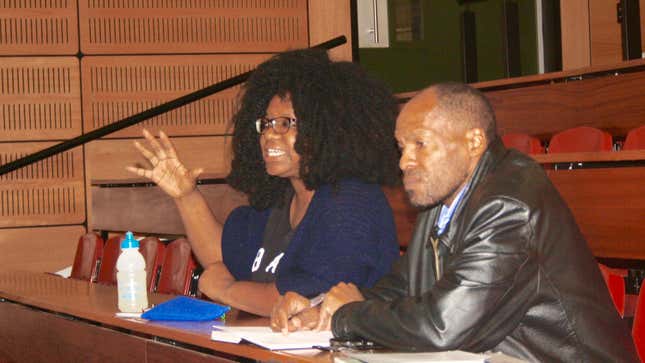 The class begins with the very basics of digital: what is the internet. As they make their way through the foundations of social media and mobile communication, it becomes clear that the social impact of the internet in Africa is something the participants are still coming to grips with. Over and over, the conversation returns to jobs. In South Africa, where about half of young people are unemployed, it's an issue that occupies the public discourse.
"The digital revolution creates it's own jobs," says Enoch Sithole, a media specialist who went back to school. "I don't think we should hold on to old ways of doing thins to protect outdated jobs."
Africa brings to the digital revolution the continent's growing youth population—both as consumers and developers. The continent's development challenges have given rise to innovations that create leapfrog technologies. Mobile money transactions and solar-powered backpacks are just some of the examples. Google and other tech companies establishing a footprint on the continent are cultivating a presence among what will be the world's largest population in the next few decades.
While the youth population has and will continue to bulge, the number of jobs lags behind. In Nigeria, 13.6% of youth aged 15 to 24 were unemployed in 2014, while in Kenya it was 17.4%. In South Africa, which keeps better statistics than most other sub-Saharan African countries, it is a jolting 52.6% and worsening. Digital industries, like financial technology, could create new opportunities for employment. Preparing young people for these sectors is key, but it will take more than that.
Of course, it's not quite as straightforward as digital skills guaranteeing jobs. Looking at global trends, digital development has also spelled the end of many low-skilled jobs, some of the participants said. And even if they had the necessary skills, the digital environment moves so quickly that young jobseekers may struggle to keep up and find their newly earned qualifications soon outdated.
While the students, like so many Africans, are cautiously optimistic of the digital revolution that has slowly made its way across Africa, they are all painfully aware of the lack of internet access across the continent. During class discussion, the South Africans are certain they enjoy the most reliable infrastructure, but are shocked to hear that Kenya's cheaper data costs have meant more people are online.
"The digital world has created a dichotomy," said Kazeem Dawodu, a visiting mathematics fellow from Nigeria also attending the class. "Those who have access are high class and those who don't have are low class."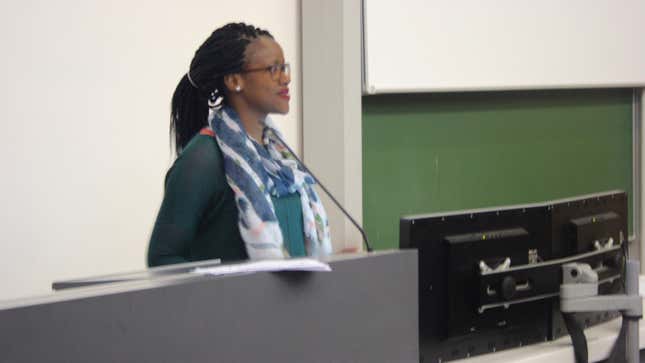 "If African people are able to access information, they're able to be aware of the world, aware of what's going on, even politically, socioeconomically," said Liseli Mngoma, a postgraduate media studies student at Wits. "Information changes how you live your life."
"Unemployed youth, they're the ones who give you the reality of what digital can actually do," said the course instructor Nomacala Gapare. The 24-year-old is herself a graduate of the longer Digify course, and has started her own business. She recalls being in sessions where participants had never seen a laptop. And despite the ubiquity of mobile, many don't have an email address.
While digital skills are sure to be an advantage to many young Africans—one million if Google have their way—Africa's developmental issues hamper digital progress. Still, it doesn't need to be one or the other. It could be simultaneous, if stakeholders other than Google got involved.
This post has been corrected. An earlier chart on global population projections had an incorrect figure. That chart has now been updated.