Since 2012, more than 11,300 refugees have died attempting to cross the Mediterranean Sea into Europe. Among them: Samia Yusuf Omar, a 21-year-old runner from Somalia who undertook the voyage in the hopes of getting closer to her goal of competing in the 2012 London Olympic Games.
Omar's remarkable story is captured by German artist Reinhard Kleist in a new graphic novel called An Olympic Dream: The story of Samia Yusuf Omar, which was published in the US this April. The book documents Omar's childhood in war-torn Somalia, her hopes of becoming a professional runner, and her journey from Somalia through Ethiopia, Sudan, and Libya.
Kleist worked on the book for a year and initially serialized it in a daily comic strip. The artist says he was drawn to the emotional impact of Omar's story, and her efforts to "fulfill her dream of running as a way to get out of her bad situation in her homeland in Somalia."
Omar burst onto the international scene during the 2008 Olympics in Beijing, where she competed for Somalia in the 200-meter race. Even though she came in last, the race showcased Omar's determination, and seeing her thin physique among the toned, muscled bodies of her fellow runners was inspiring for Somalis made hopeless by decades of civil war.
Emboldened by her participation in the Beijing games, Omar hoped to represent Somalia in London in 2012. But back home, a different reality awaited her. The conflict in Somalia was undergoing a new twist, as the nascent transitional government faced off against extremist group Al-Shabaab.
In 2010, a then 19-year-old Omar decided to leave Somalia and train in neighboring Ethiopia. "She talked about sports, she watched sports games on YouTube, she played sports when she had any free time," says Teresa Krug, a journalist who met Omar in Hargeisa, Somaliland, that year.
After traveling through Ethiopia, Sudan, and Libya, Omar got on a boat in the hopes of reaching Italy, finding a coach, and making it to the Olympics. But the boat carrying her ran out of fuel, according to media reports. She failed to grab a rope tossed by an Italian navy ship rescuing passengers, and drowned.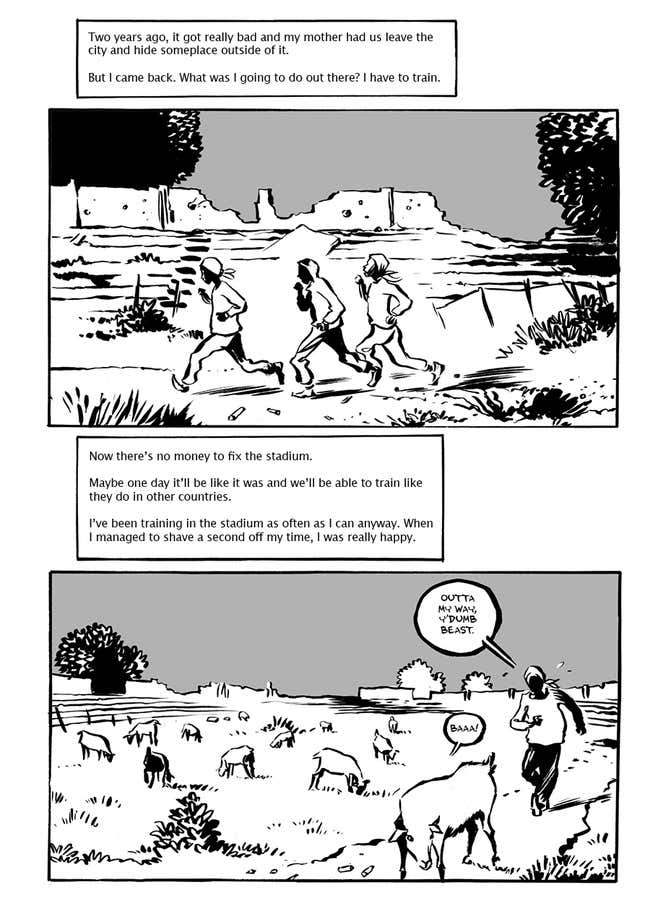 Kleist's book is well-timed. The 2016 Olympics in Rio, which kick off in August, will host a team of refugees for the first time in Olympic history. Since Omar's death, global displacement figures have reached an all-time high—65.3 million people are now displaced by conflict and persecution, according to the United Nations High Commissioner for Refugees. Somalia, Syria, and Afghanistan account for half of the world's refugees and Kleist interviewed many refugees migrating to Europe in an effort to better understand Omar's travails.
Somalia today is not the country Omar left in 2010; there are signs of a slow recovery underway. Al-Shabaab no longer has a heavy presence in the country's capital, Mogadishu, and many of the group's strongholds have been taken over by the government, supported by African Union peacekeeping forces. In Mogadishu, roads are being paved and businesses are thriving. There are even regional soccer tournaments sprouting up, and the stadium Omar dreamt of training in is scheduled for renovation. The Somali women's basketball team is also competing globally now; two if its teammates—Mohamed Daud and Maryan Nuh—will represent the country in the 5,000 and 400 meters, respectively (Somali), in Rio.
Still, Omar's story is a reminder of the hope and heartache experienced by those held back by the country's decades of unrest. "She was one of the most driven people I have ever had the privilege of meeting," says Krug. The odds might have been stacked against her, but "she is a person who tried her best."