Somalia goes to the polls from this Saturday (Sept. 24) to elect a new government. The historic elections mark only the second time since 1969 (pdf, p. 12) that both parliamentary and presidential elections will be held on Somali soil—significant progress for a country scarred by decades of civil war and brutal terrorist attacks. They're also taking place at a time when the country's democratic institutions have never been stronger.
Less than 1% of Somalia's population of 12 million will be tasked with forming the country's next government. This is the result of a 2004 UN-brokered agreement which put voting power in the hands of clans, the arbiters of social and political life in Somalia, as a way to mitigate conflict over government seats. This system allows for most appointments—including the most powerful—to be divided among the country's four major clans, with the remainder distributed among a dozen minority clans and sub-clans.
As a result, around 14,000 delegates representing those clans will select the 275 members of the lower house, while regional federal states will select the 54 members that make up the upper house of parliament in voting between Sept. 24 and Oct. 10. Those lawmakers will then elect the next president on Oct. 30., who will pick the prime minister, who in turn will be tasked with forming a cabinet.
Analysts worry this narrow model of electioneering only benefits an elite political class. They say it also widens the already existing rift between clans and sub-clans and stymies the creation of an all-inclusive system that would unite Somalis based on nationhood.
"Little, if any, is being said about the transformative alternatives" in terms of governing structures, says Abukar Arman, who previously served as Somalia's special envoy to the United States.
Yet, despite its shortcomings, Somalia's political and electoral system has had a moderating effect on the country's dismal political reality since the country's two-decade long civil war ended (for the most part) in 2011. Even though the electoral space in Somalia is narrow, the degree to which democracy and political processes are valued in the country has widened in promising ways.
For example, the 14,000 delegates voting in this election are significantly more than the 135 elders who elected the 2012 members of parliament.
Politicking has also to a large extent replaced the dynamics of clan-led infighting. Somalia has had a semi-presidential system (pdf, p. 29) since 2012, and the power wrangling between the president, the parliament, and the prime minister, has emphasized dialogue and discourse over destruction. The nascent government has embarked on significant legislation to fight female genital mutilation and money laundering. It also mandated that clans and regional states appoint women to at least 30% of positions in both houses of parliament. Whether the next government will put those proposals in place remains to be seen.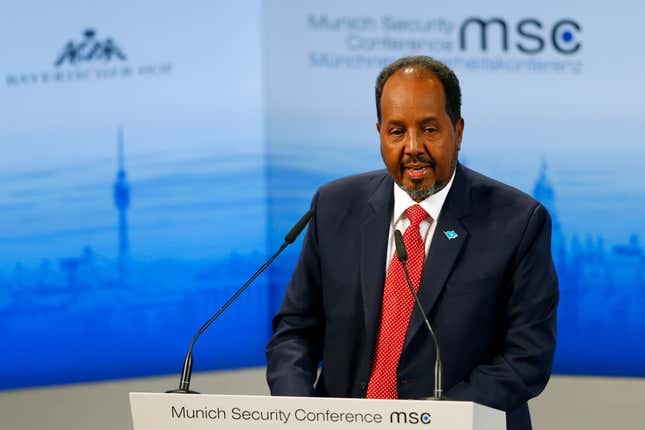 This maturing political process has encouraged the emergence of political parties, in a shift away from clan politics. Members of the new parliament will be expected to join a political party two years after the election or effectively step down. This will strengthen the dozen or so political parties that emerged across the country before and during the 2012 elections. Previously, many of these parties hit a dead-end because parliament hadn't drafted the special laws that would have allowed them to legally operate within the political sphere. But in June, the parliament passed a law that would govern parties, which incumbent president Hassan Sheikh Mohamud signed in September.
Many of these parties have yet to articulate their political platforms. "The optimist in me believes, in the long run, political parties could change the prevalent myopic and destructive clan politics, to become issue-oriented and collective-minded," Arman says.
But perhaps the most important consequence of the country's political system is the signals of confidence from its youth.
More than 80% of Somalia's population is under 35. With per capita income at $435, it is one of the poorest countries in the world. But in recent years, young professionals have expressed their commitment to electoral politics by campaigning to join parliament, securing posts in districts and regional governments, and using social media to pressure the government to institute much-needed changes. One of them, Fadumo Dayib, a Harvard graduate, is even running to become Somalia's first female president.
"What I'm doing is actually a vocational calling," Fadumo said of her decision to return from Finland where she arrived as a refugee in 1990. "This is my calling. This is what I'm supposed to be doing."
President Mohamud, who is campaigning for reelection, promised that 2016 would see a one-person, one-vote election. But the reality is that universal suffrage will not take place in Somalia any time soon. Limited resources and the government's lack of control over large swathes of the country still held by the terrorist group al-Shabaab stand in the way. For now, the slow strengthening of democratic processes in Mogadishu will have to suffice.
After the elections are over, many of the endemic problems that have hampered state-building—corruption, unceasing terrorist attacks, mistrust between the major clans and federal regions— will remain.  Yet, as a fragile state recovering from war, each messy step is an important milestone towards a better future.
"Elections are not an end in themselves," says Rashid Abdi, the Horn of Africa project director for the International Crisis Group. Yet the fact that all parties "now have a vested interest in the success of polls," he says, is a marked transformation.