Running blind in the eighth lane, Wayde van Niekerk never looked back or even to his side as he ran to victory in the men's 400 meter final at the Rio Olympics on Monday. His gold medal is still being celebrated in South Africa, van Niekerk's home, but his win also quickly became a race debate—a heated discussion about his skin color and ethnicity, not his running technique.
Everything is about race in South Africa. The former Dutch then British colony gave rise to apartheid in the twentieth century, one of the most infamous systems of racial segregation. Throughout its history, South Africa has assigned value to its citizens according to the color of their skin and the texture of their hair. White people were seen as most superior, black people as most inferior and peoples in between assigned their status according to ethnic characteristics.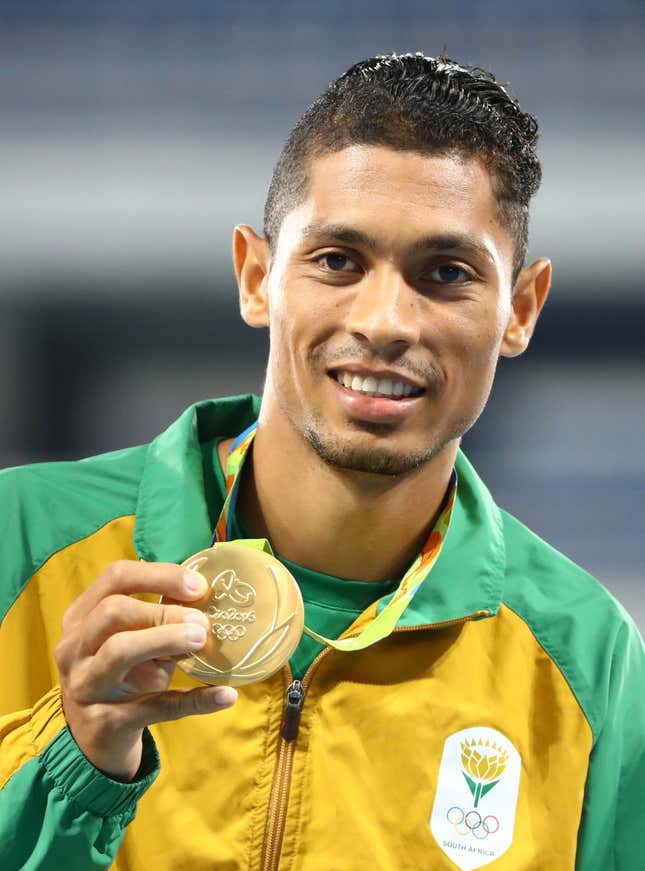 Van Niekerk is coloured, a classification formalized during apartheid to describe people of mixed race. Somewhere in between, coloured people enjoyed some benefits above black people—like the state spending a few cents more to educate a coloured child than a black child—but were still far beneath white people. Just over twenty years ago, van Niekerk would not have been allowed to represent South African of color, just as his mother Odessa was excluded from competing internationally during aparthied.
The history of coloured people is more nuanced than just a mix of black and white people. Coloured people are a result of slavery, of the displacement of South Africa's indigenous people, of black people "lucky" enough to be a few hues lighter and inter-marriage. Today, at just over 8% of the population (pdf), coloured people have also become known for some of South Africa's worst social maladies: unemployment, drug and alcohol addiction and gang violence. The problems are not unique to this group, but the stereotypes persist.
So when van Niekerk won, he not only shattered Michael Johnson's 1999 record of 43.18, for many he shattered stereotypes. Visuals of van Niekerk celebrating with the South African flag draped around him had barely reached his hometown when his win sparked a heated debate about race and ethnicity. Was van Niekerk's win one for coloured people, for black people, for all South Africans?
While the term coloured seems antiquated and cringe worthy in some social contexts, particularly in the United States or Britain, it is still a recognizable identity and culture in South Africa. Somewhere else, van Niekerk would probably have been black. In South Africa, his racial classification remains a key identifier as he moves through the world. For many coloured South Africans, the sight of coloured man winning the medal was affirming, seeing themselves represented—and succeeding—at the world's premier sporting event.
For some black South Africans, it seemed again that coloured South Africans were clinging to an identity that set them above black. Van Niekerk hasn't waded into the debate, but it could be argued that he identifies with more than just one perspective. It is possible to identify as black, coloured, or South African depending on one's context.
While the social media debates around van Niekerk probably made many squirm, it also sparked a much-needed conversation about identity in a country still coming to grips with citizens having their identity examined and literally codified. During apartheid, identity numbers in South Africa indicated which racial category the person fell into.
The reaction in South Africa is a reminder that representation matters the world over. Critical theorists and audiences argue that positive images and nuanced portrayals of different ethnicities contribute to the production of a positive identity and self image. In van Niekerk's case, he's become a positive image for coloured people and all South Africans who could benefit from seeing talent and hard work lead to victory.