Gabon's national assembly building in the capital city of Libreville was set ablaze late on Aug 31, as protestors demonstrated against the narrow victory of incumbent president Ali Bongo under controversial circumstances.
The protests and the fire prompted security forces to storm the opposition leader Jean Ping's headquarters, according to the BBC. Ping said that two people were killed in the protests. He has taken to Twitter to describe the state of affairs in the country. Around 6pm local time on Aug. 31 he tweeted that his offices were under assault by the Republican Guard.
According to AFP, internet access has been cut in much of the capital. Security forces clashed with protestors in the streets of Libreville on Wednesday, soon after the electoral commission CENAP announced the results. Bongo was reported to have won the election with 49.8% of the vote versus 48.2% for Ping, a margin of just 5,594 votes out of a total 627,805 registered voters.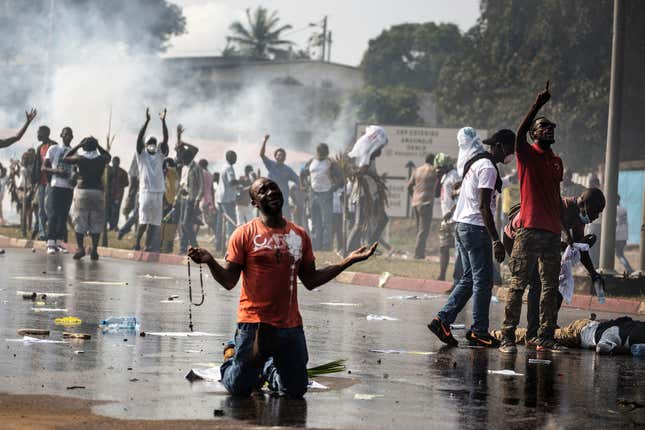 Ping, the former head of the African Union commission, has rejected the result and demanded a recount.
"'Results' likes Ali Bongo's are the hallmarks of dictators and tyrants who refuse to give up power," Ping said in an emailed statement, calling on his supporters to remain peaceful.
Citing the delay in announcing the results and unrealistic voter turnout as high 99.9%, Ping accused Bongo of manipulating the election. European Union election observers also said the election "lacked transparency," with electoral bodies failing to release things like a list of polling stations or all registered voters.
Analysts have said that if the election had been free and open, Bongo could very well have lost to his rival, a quiet former diplomat and the son of a Chinese businessman. Earlier this week, Ping had declared himself the winner based on unofficial tallies.
"Two generations of Gabonese have lived exclusively under the Bongo presidency," said Oumar Ba, a PhD candidate at the University of Florida who has been following the election. "I believe yes, the majority of Gabonese would want to elect another president."
The US State Dept released a statement saying it is "deeply concerned" and called on the Gabonese government to release results from each polling station. "Gabon is at a critical juncture. This is the time for all leaders there to act in a way that safeguards those who live in Gabon. We continue to monitor the situation closely."
The win by Bongo means an extension of the nearly 50-year rule of the Bongo family. His father Omar Bongo was president of the central African former French colony for 42 years. Ali Bongo became president in 2009.