To understand the potency of the multisensory intoxication that is the Chale Wote Street Art Festival held in Accra, Ghana annually, I begin in the east of the continent and invoke Kenyan writer Binyavanga Wainaina:
I want to live the life of a free imagination. I want to work with people around this continent to make new and exciting things, to make sci-fi things, stories, pictures. I want this generation of young parents to have their kids see Africans writing their own stories, painting their own stories. That simple act, I think, that is the most political act one can have. I want to see a continent where every kind of person's imagination does not have to look for being allowed.
Chale Wote translates in the Ga language spoken in the Ga-Jamestown district of Accra to: "Man, let's go!" It is a wonderful actualization of a free imagination in action invoked by Wainaina.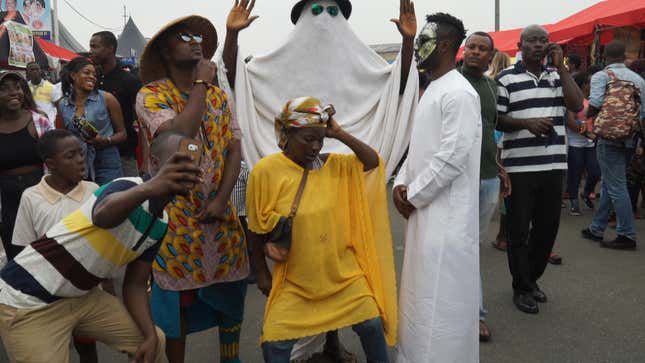 It is an irreverent myriad of cutting edge performance art, film screenings, talks, music events, photography, fashion and installations. The Chale Wote project invites the artists and viewers to reconfigure the coordinates of how we understand our place in our world in ways that are both intriguing and liberating.
This year's instalment of Chale Wote was framed under the idea of the creation of a "Spirit Robot". The Spirit Robot offered participants an opportunity for an exorcism of the canonised ways of thinking from elsewhere. It is a thinking which continues to stunt African art practices that still seek permissions from white cubed spaces and the impotent halls of academia.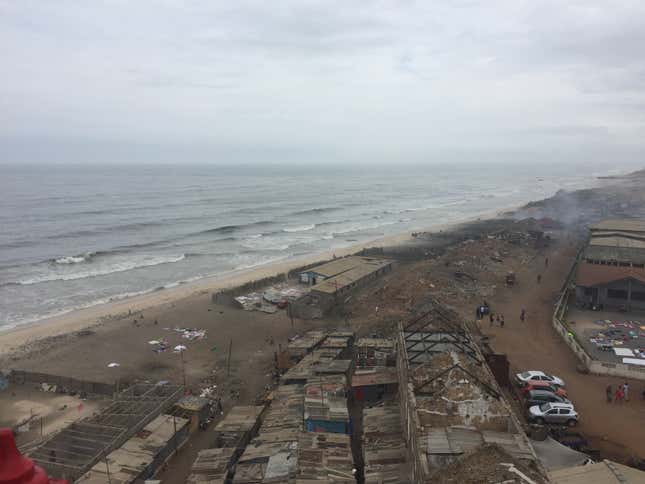 For a glorious week in Ga-Jamestown, the contours and cadences of every day's joys, questions, fantasies, desires and sorrows are dramatised and, dare I say, theorised in ways that are daringly innovative and spectacularly visual.
Meeting the black magician
I encountered the Afro-American artist Autumn Knight at the Untamed Empire, one of the beautiful venues where the Labs @ Chalo Wote programme was held. She describes herself as a black magician. This Afro-trickster's bag of tricks includes an affecting performance video piece called Lagrimas Negras (Black Tears).
In the video, the artist offers her black tears at the seawall in Galveston, Texas. She wanted to see if an expression of grief by a black woman/body would elicit any form of empathy from the public.
For an hour Autumn wept but not a soul stopped to ask what was wrong, save for some children whose parents swiftly pulled them way. Autumn described it to me as a survivalist strategy from which she conjures up different realities/temporalities and imagines herself outside the world that tells us that we cannot make things.
At the heart of this film performance is the sad question "do black tears matter?". Autumn is invested in constructing a narrative about our tears; in a world that is comfortable to hold a binary of black body as simultaneously inhuman and superhuman.
Ritual of creation
Realpen Pencil, who lives and works in Accra, is a young instant live drawing artist with a photographic memory. This description does no justice to the extraordinary ritual of creation I experienced while witnessing him working in the streets of Ga-Jamestown. This was a public act of creation in which, for hours, the artist was surrounded by cheering and at times impatient audiences.
Beyond the kinetic beauty of his performance, Realpen Pencil seemed to remind us the embodied nature of birthing works of the imagination.
In this our Instagram times of instant gratification where the ubiquity of image making structures and mediates our experience of things and times, it is important that makers such as Realpen Pencil exist. His process reminds us that the act of looking and capturing does not always have to be mechanical and veneered through digital filters.
Blurring lines between fashion and art
The Nest Collective from Nairobi in Kenya is a cutting edge multidisciplinary art collective collapsing and blurring the uninteresting lines between fashion, film, music and visual arts. This collective describes itself as an army of thinkers.
Their project of beauty, memory and imagination takes flight in the poignant film "To Catch A Dream". It is a visual and sonic thrill that tells the tale of Ajuma, a grieving widow plagued by recurring nightmares. In bold narrative, sartorial and aesthetic moves, the talented director Jim Chuchu creates a modish melancholic world, cadenced by multiple Eastern African languages spoken by the characters.
Very much like the broader concerns of the Nest Collective, this film accomplishes to experiment with ideas about multiple futures/pasts, that are conceived on aesthetic and conceptual daringly original terms. Seconds into the film the label "fashion film" peels away as you encounter the beautifully rendered interiority of Ajuma. She wrestles with the memory of a beloved, moored by the searing music from the original soundtrack.
Creating new knowledge
In a conversation with the co-director of Accra dot ALT and producer of Chale Wote, Mantse Aryeequaye, Aryeequaye told me about the economic transformative infrastructures that Chale Wote offers the neglected community of Ga-Jamestown.
Speaking about the evolution of the Chalo Wote over the past five years Aryeequaye asserts it important for young black people to create new knowledge. Aryeequaye reminded me of the fact that the whole of Ghana was once the Wall Street of the transatlantic slave trade. As such, the culture of exploitation is embedded within the psyche of the people.
Chalo Wote has sparked a lot of economic activities, but is also an important site for experimentation for artist/thinkers: an alternate space for radical imaginations and practice.
Nduka Mntambo, Lecturer of Film and Television, University of the Witwatersrand
This article was originally published on The Conversation. Read the original article.