Susan Murabana's work recognizes a modest, but important fact: that the telescope has been around for over 400 years, yet most people have never looked through one.
The Kenyan astronomer is the co-founder of The Traveling Telescope, a company that aims to help schoolchildren develop a closer relationship with the cosmos. By bringing the stars and planets closer to boys and girls living in both rural and urban areas, Murabana hopes to promote the importance of science and technology in Kenya.
Her company's mission, she says, "is to take the telescope to people who can't come to us." Giving youngsters access to a telescope, she says, is not about getting everyone one of them to become an astronomer. It is rather about giving them opportunities "that will make or change the decisions of what they want to do" in life.
The story of The Traveling Telescope is also about the journey of Murabana: from a girl who loved science in school but never pursued that path, to an educator determined to bring astronomy into the public fold. After graduating with an economics degree, Murabana went to work  in Ghana with Cosmos Education, an organization that works to improve science education in developing countries. While teaching the solar system there, Murabana said she got interested on the topic of cultural astronomy.
"I always thought astronomy was modern science," she says. "But actually, our ancestors, every community, has actually looked up at the sky."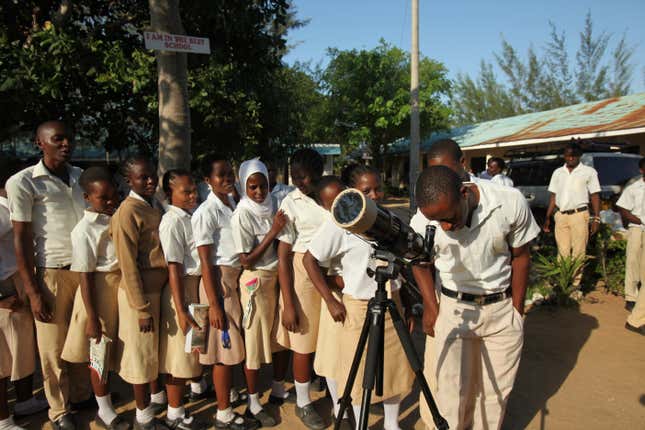 In 2013, as a total solar eclipse was expected in northern Kenya, Murabana organized a trip with a group of friends who were keen on stargazing. The total eclipse lasted for about 10 seconds. But for Murabana it lasted long enough to meet her future husband and business partner. Daniel Chu, a filmmaker, and a keen astronomer had come to Kenya to make a film about Murabana's efforts to deliver the 5,000 solar-safe glasses to children in Turkana. Six months later, the two started the Traveling Telescope.
Today, the social enterprise boasts of a team of astronomers who go around giving educational tours and conducting outreach activities. They do this by providing 30 to 40-minute visual lessons inside their mobile planetarium, besides employing their most treasured accessory: the largest telescope in Kenya.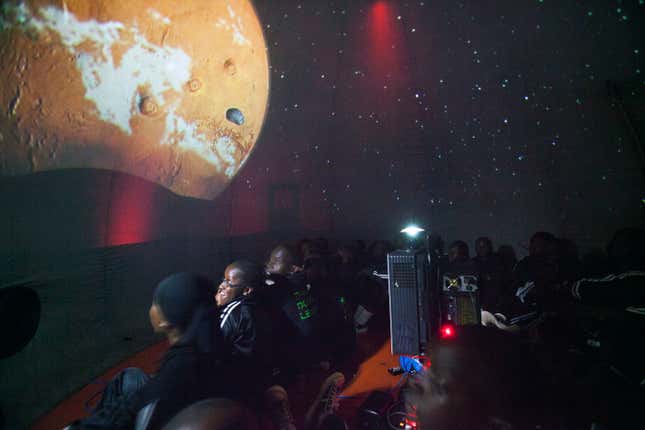 In the last two years, The Traveling Telescope has been able to reach more than 30,000 children, in more than 100 schools, in Kenya and Tanzania.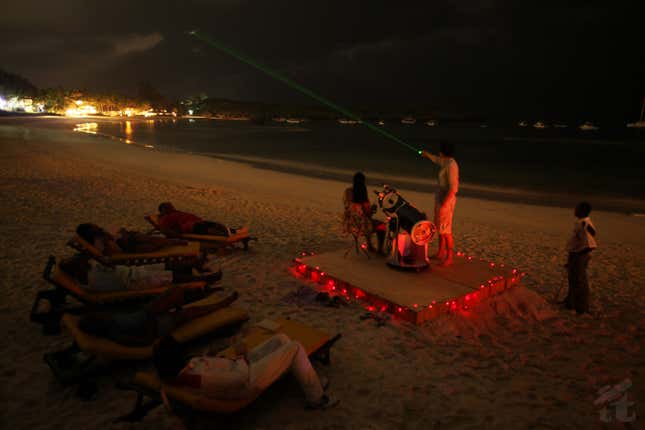 The Traveling Telescope will soon start crowdfunding to build a permanent planetarium and observatory in Kenya. Murabana says they will still travel around and take the telescope to the people who cannot come to them.
But by building a permanent one, they hope to create a space that endures, where parents and children can always come back to whenever they want.
In the end, she says, "the whole idea is to get people to look through the telescope and to appreciate our place in the universe."