Morocco is working on a $10 billion project with the Chinese group Haite to develop an industrial city that will host some 300,000 locals.
The project envisions a large Chinese-style industrial park on the edge of the Mediterranean, built on about 2,500 acres with room to expand up to nearly 5,000 acres.
Morocco's King Mohammed VI has been personally involved in the improvement in Moroccan-Chinese ties that preceded the deal. The King met with president Xi of China during an official visit to Beijing this year, which led to the signing of a strategic partnership.
Like those in China, the park will include both industrial sites and apartment towers.  The site will host 300,000 Moroccan employees many of whom will live on site. The plan draws a lot from Chinese development strategy. China's reform and opening of the 1980s began "special economic zones" like Shenzhen in southeastern China, slowly opening the Chinese economy to outside investment. Morocco hopes to follow a similar path to growth.
The unnamed development will be built near Tangiers, Morocco's fifth-largest city, which remains economically backward.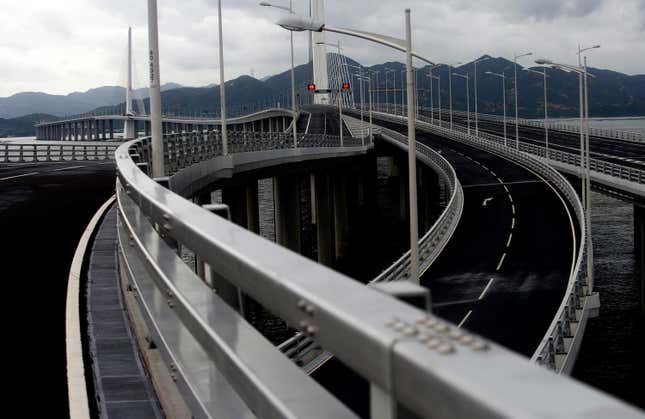 Other countries in Africa have tried to copy the Chinese development model, but Morocco's proximity to the European Union is an extra incentive for Chinese investors. Morocco is just 9 miles across the straits of Gibraltar from Spain.
Morocco has made significant improvements to its infrastructure to attract investment. The national highway network grew from 100 kilometers in 1999 to 1,772 kilometers in 2016. Morocco also plans to open Africa's first high-speed rail line between Tangiers and Kénitra by 2018. The railroad is expected to reduce the travel time from Casablanca, Morocco's largest city, to Tangiers from nearly five hours to a little more than two.
"The Chinese looked very carefully at Morocco before they began making such large investments and picked a location to invest, infrastructure was one factor in the investment," Mohamed Boussaid, Morocco's minister of economy and finance said in an interview with the American Media Institute in October. "They looked at what Boeing, Peugeot, Ford and other companies were doing before they made their move."
Some observers are skeptical of the plan.
"If the Chinese firms build and finance this infrastructure it is all to the good for Morocco. But chances are it will not happen," said Deborah Brautigam, director of the China Africa Research Initiative at John Hopkins University, in a written statement to the American Media Institute. When tentative agreements like this one do move forward, she said, they tend to progress very slowly.
Other examples of Chinese-style SEZs in Africa have proved underwhelming, limited by lack of reliable power or high transportation costs. But China sees Morocco as a gateway to the continent claims the minister.
"Morocco is a natural place for China to look at as a gateway to Africa," Boussaid said. "Morocco is the third most common destination for foreign direct investment in Africa. Morocco is also the second largest source of African investment in Africa and the largest source for such investment in West Africa."
El-Omari hopes the new Chinese deal in his region can spur growth for the whole country.
"Chinese factories are increasingly focusing on meeting the demands of their domestic market," he said, noting climbing wages for workers in China.
"So there is an opportunity for Morocco," he said. "We think we can follow the Chinese example to lead us to growth. China grew this way, Ethiopia is growing this way, why not Morocco?"