You don't need the turkey dinner to get into the frenzied spirit of Black Friday—just ask the thousands of people who clamored for deals on Nov. 25 in some of Africa's big cities.
For a long time, the American Black Friday sales tradition has been viewed from with afar with a mix of curiosity and fascination. Stories of frenzied, but sometimes deadly, stampedes and staggering discounts made for intriguing conversations. But, over the past few years, the Black Friday sales tradition has made its way to some of Africa's big cities and local online players—and it's starting to take root.
On radio, television and online, retailers have advertised Black Friday specials in South Africa. Supermarkets offered slashed prices, a fast food chain offered buy-one-get one free hamburgers and a cellphone company offered bonus caller minutes and data. In malls and online, everyone wanted in on the American tradition. Never mind the link to the Thanksgiving holiday, consumer culture would suffice.
Checkers, a member of Africa's largest retail group Shoprite, brought Black Friday to South Africa three years ago. Shoprite is known for its low prices, but opted to use its higher-end chain Checkers for its Black Friday sales. This year, Shoprite will spread Black Friday fever further to its stores in Nigeria, Zambia, Malawi, Uganda and the Democratic Republic of Congo.
"We were wary in the beginning that it wouldn't take off but then we saw it spread across Europe, the UK and Asia and so we launched it here three years ago," said Neil Schreuder, marketing director for Checkers. With Christmas coming up, South Africans are hungry for deals and Black Friday is a great excuse for retailers, suppliers and customers to have a shopping "occasion," he adds.
American retailers dubbed the Friday after Thanksgiving, Black Friday in the 1930s, after going into the black—making a profit—after a year of operating at a loss. Later, the term is believed to have been coined by police in Philadelphia used the term to describe the chaos that ensued when tourists and suburban shoppers flooded the city, along with petty criminals, a day after Thanksgiving.  It was rebranded in the 1980s as the year's biggest day of sale and snowballed into today's consumer bonanza.
Schreuder is confident that South Africans have seen enough social media videos of frenzied Americans fighting over goods to inspire the same shopping thrills. This year, a stampede has been reported in Durban. Similarly, last year, shoppers broke down a shop door and fought over bags of frozen chicken at a Checkers store in Port Elizabeth, a city on South Africa's south-eastern coast. In total, Checkers says it served over a million customers and sold enough Coca-Cola to fill three Olympic-sized swimming pools. This year, offering up to 50% off on "essential items," the group expected an even bigger response and so planned more extensively and extended trading hours across the country.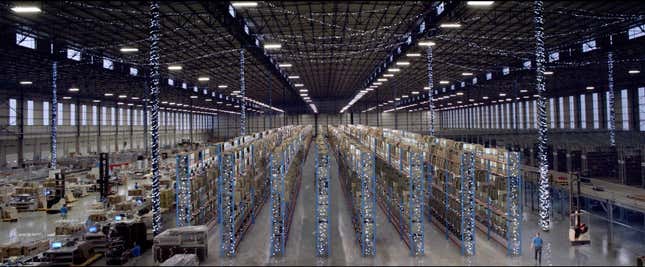 South Africa's largest e-commerce site, Takealot.com, adapted Black Friday to its brand by launching the "Blue Dot Sale." Over 10,000 products ranging from fragrances, to books, toys and appliances were marked down by up to 60%, the e-retailer said in a statement. The sale began at midnight on Nov. 25 and continue through Nov. 28. Last year, Takealot.com saw a 227% spike in traffic and a 260% annual increase on orders on its Black Friday sales day.
But not everyone was swayed by the discounts, with KPMG South Africa viewing it as perfect storm of pressured consumers succumbing to slick advertising in a struggling economy. Yes, just like in the United States: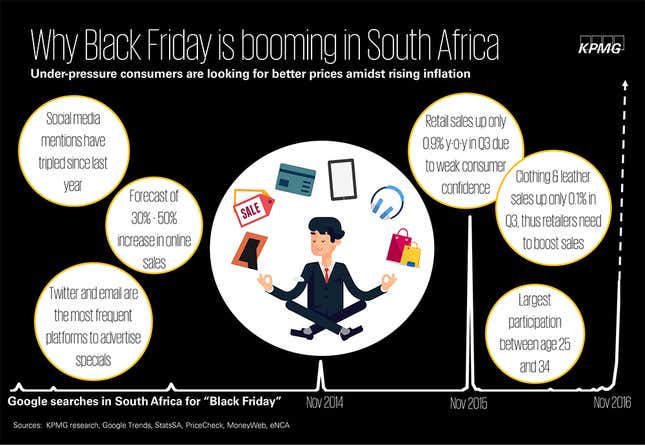 In Nigeria, Africa's most populous country and its largest economy, adverts of Black Friday sales have also been rampant over the past month. Leading the charge is one of Nigeria's leading big e-commerce platforms, Konga. Set up in 2012, Konga began its own version of the Black Friday sales a year later. Calling it "Yakata", a slang in local parlance for a big fall, Konga offers items, ranging from mobile phones to household appliances at a discount.
"Our Yakata is not restrictive as it's not just on one day but we have our Yakata sales during the Black Friday period," explains Mayowa Adebayo, Konga's director of marketing and customer experience. This year, Konga's Yakata sales lasted a week.
Mobile phones are always the biggest seller online for Konga and Jumia, Nigeria's two largest e-commerce retailers.
Emmanuel Nwachukwu, head of operations at SLOT, a mobile phone retail chain, says the company's annual Black Friday sales, now in its second year, is "just a way to increase consumer loyalty and give back  to customers." Nwachukwu says SLOT will rather "offer customers amazing discounts than spend money on a marketing campaign."
It may be relatively new, but the Black Friday trend is starting spread in Nigeria. Adebayo says internet searches for Konga's Yakata sales this year had begun since August. For his part, Nwachukwu says SLOT's website crashed twice in 24 hours since Black Friday sales began at midnight on Nov. 24. Smaller retail stores are also offering discounts. But despite promising to help buyers save money, some Nigerians remain skeptical of the deals.
While the importation of the Black Friday tradition even though Nigerians do not celebrate Thanksgiving can be seen as blatant copying, businesses offer globalization as an explanation.
"Nigerians are early adopters and we set trends too," Adebayo tells Quartz. "Anything that is internationally relevant, Nigerians also want in," she says. Nwachukwu agrees: "The world has become a global village, it will be impossible to say there won't be a mix of culture and ways of doing things."
Adebayo says Konga's Yakata is inspired solely by the idea of a period of massive discounts and not a turkey-eating tradition. "For us, it's just about the concept of Black Friday when prices crash and people come online to buy things. That's our version of it, it has nothing to do with Thanksgiving," Adebayo tells Quartz. "If it can happen in America, why can't it happen here?"