Nigeria has been synonymous with corruption for many years now. Repeatedly, governments have been characterized by wayward spending and a lack of accountability. But many people hoped the country had taken a turn for better when, in May 2015, Muhammadu Buhari took office as Nigeria's president.
A former military dictator known for an austere lifestyle and strict anti-corruption stance, Buhari was seen as the perfect man to rid government of its excesses and instill a semblance of financial responsibility. In his first few months in office, Buhari lived up to his strong anti-corruption billing, arresting leading members of his predecessor's government after probes revealed the misappropriation of billions of dollars. But despite the early high-profile anti-corruption drive, Buhari's government has recorded no convictions in trials of allegedly corrupt government officials.
With his anti-corruption drive seemingly losing steam, Buhari now faces the embarrassing reality of having a large-scale, callous embezzlement of funds on his watch. Worst yet, the funds were meant for millions of Nigerians in the northeast displaced by Boko Haram's seven-year insurgency. A senate hearing investigating the spending of the Presidential Initiative for the North East (PINE) and its fund for rebuilding the northeast has uncovered troubling findings. In a published report on the state of affairs in the northeast, the senate says "so much money has been made available by government with very little to show for it."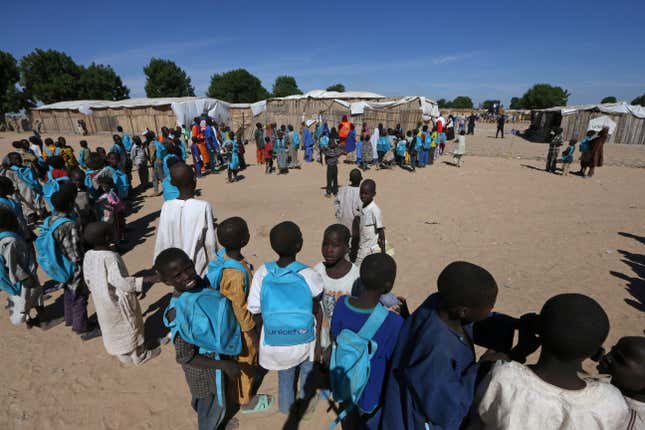 A breakdown of some of PINE's spending, published as part of the Senate's report, showed questionable payments to contractors such as $646,000 for "removal of invasive plant species along river channels" and donations of $318,000 to non-governmental agencies organizing conferences. Further, it showed $372,000 had been spent on "supply of temporary shelters" but the senate's report states it found "no record of these shelters anywhere." The senate says the "rather incoherent and largely fragmented state of the procurement process so far points to a vague and corrupt scheme." In total, PINE was unable to account for $7.9 million of its funds at the senate hearing.
While PINE was set up by ex-president Goodluck Jonathan and has now been replaced by Buhari's Presidential Committee on the North East Initiative (PCNI), all of PINE's payments to contractors were made during president Buhari's administration. The first payment, a $158,000 contribution to a conference, was made on Jan. 1 2016.
These troubling findings only come days after Nigeria's government accused the United Nations and its agencies of exaggerating the scale of an imminent famine in the northeast. With overcrowded IDP camps in the northeast and some villages still covered in rubble after being destroyed by Boko Haram, UN estimates that 5.1 million Nigerians in the region could face severe food shortages next year. But in response, Nigeria's government claims the predictions are "blatant attempts to whip up a non-existent fear of mass starvation." It also said predictions of famine in the country are only "being made ostensibly to draw donor support by some of the aid agencies."
The denial by Nigeria's government flies in the face of evidence from on-ground observers who say IDP camp residents face hunger and disease on a daily basis. Given the scale of the crisis, the World Health Organization, in August, announced a scale up of its emergency response activities in the region after its assessment estimated mortality rates in the region to be four times higher than "emergency thresholds."
It's not the first time efforts to cater for IDP camps have been tainted by corruption. In June, Kashim Shettima, governor of Borno, the state with the highest number of IDPs, ordered a police investigation after officials of the state emergency agency allegedly stole and sold relief material for profit.