A 76-meter (250 ft) luxury yacht said to belong to Teodorin Obiang Nguema, the vice-president of oil-rich Equatorial Guinea has been seized by Dutch authorities after it tried to leave Makkum, the Netherlands to head to Malabo.
Obiang Nguema, who is the son of president Teodoro Obiang Nguema Mbasogo, Africa's longest serving president, has been under investigation in Switzerland. The yacht, Ebony Shine, was seized (in French) after a request by Swiss authorities. Last month, 11 of the world's rarest and most expensive cars owned by Obiang Nguema were seized in Geneva, adding to the Obiang family's international legal battles over alleged misappropriation of public funds. The vice president is believed to have a net worth of around $600 million.
Ebony Shine is one of two luxury yachts owned by the Equatorial Guinea. The other 90-meter yacht, called Ice, is docked at Tangier, Morocco, according to YachtHarbour.com. Ebony Shine was bought for $120 million. Both yachts are estimated to be worth around $250 million.
As well as yachts and cars, which include the Swedish-made Koenigegg One valued at $2.8 million, and a $2 million Bugatti Veyron, Obiang Nguema is also believed to own at least one private jet, including a Dassault 900.
He has denied ownership of the luxury items, claiming that they belong to his country's government, according to Swiss publication L'Hebdo.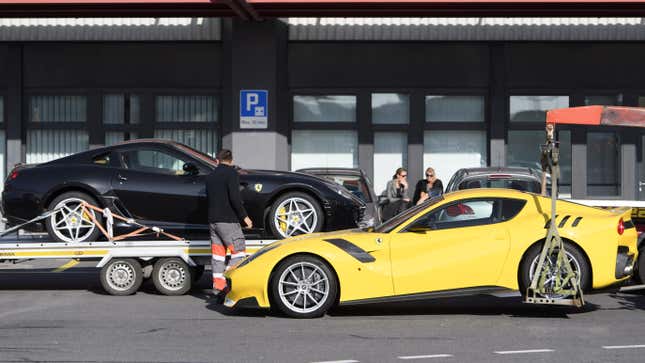 Equatorial Guinea is Africa's third largest oil producer with a GDP of $15.53 billion in 2014, with a population of just over 1.2 million, according to last year's census. That means it has one of Africa's highest rates of GDP per capita. Yet, it's ranked 138 out of 188 countries on the United Nations Human Development Index.
The Swiss investigation comes five years after an investigation was launched in France into Teodorin Obiang. He is accused of having procured ill-gotten wealth and is scheduled to stand trial in Paris in January 2017. In 2011, French police sequestered luxury cars from Obiang's $180 million residence in Paris, as well as furniture and art, including paintings by Edgar Degas and Auguste Renoir, worth $50 million.