It's probably not well known but Africa has been represented at every Winter Olympics since 1984. Morocco and Algeria are some of the most regular participants these days. South Africa did take part as early as the 1960 games in Squaw Valley, USA, but that was during apartheid, and it was subsequently banned from participation till 1994. Since then it's taken part in every games except the last one in 2014.
But for some athletes trying to represent sub Saharan African countries at an unfamiliar event, the journey to participating in the Winter Olympics is often nearly as difficult as their actual sport. Too many sports federations on the continent are notoriously disorganized and bad at managing finances which leads to athletes having to fend for themselves. This happens with even with much more popular sports than skiing or bobsledding.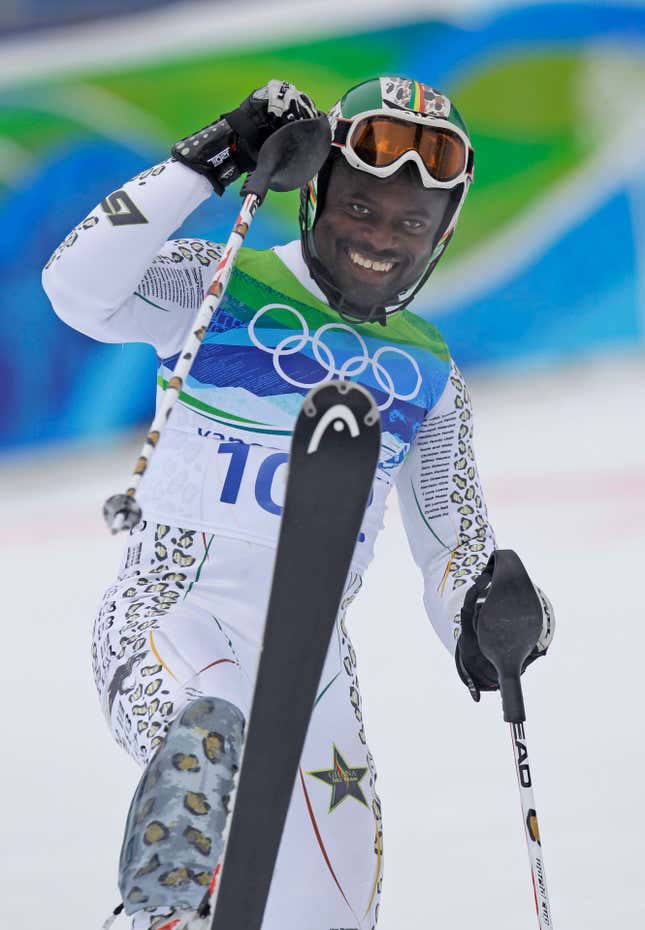 African winter athletes  have the extra burden that the formal sports bodies aren't already in place. Lamine Guèye, the Senegalese skier, acknowledged as the first black African participant in 1984, had to ask the International Ski Federation to set up a Senegalese body.
Back in 2002, before making Cameroon's only appearance at the Winter Olympics, Isaac Menyoli had to start a national skiing federation. Mathilde-Amivi Petitjean, one of the two Togolese skiers at the Sochi Games in 2014, had her career sponsored by her family as the Togolese Ski Federation did not have the funds to bankroll its Winter Olympics debut.
At the 2006 and 2010 games, Ethiopia was represented by cross country skier Robel Teklemariam, who sometimes trained with roller skis on the streets of Addis Ababa when he wasn't in the United States where he grew up. He also had to set up his country's ski body and rely on funding from Ethiopian diaspora.
Ghana's Kwame Nkrumah-Acheampong, nicknamed the Snow Leopard, became his country's first ever skier at the Winter Olympics in 2010 after learning how to ski on artificial slopes in the UK.
Kenya, Madagascar and Zimbabwe have also taken part since the 1990s till the last game in 2014.
But to date, no African country has won a medal.
Ahead of the 2018 Winter Olympics in Pyeongchang, South Korea, more Africans are hoping to put the countries on the map. For the first time ever, an African team could participate in the sport of bobsled if three Nigerian women have their way. US-based trio Seun Adigun, Akuoma Omeoga and Ngozi Onwumere have set up a Nigerian bobsled team with aim of qualifying for the 2018 Games. Adigun, a track and field athlete for Nigeria at the London Olympics in 2012, is leading the team.
Like others, Adigun and her team are faced with starting a federation for their sport. Without financial backing from sports authorities, the team is hoping to crowdfund their effort and are looking to raise $75,000 to purchase equipment and fund their qualifying bid and help them make history.
Uganda's Brolin Mawejje, 24, is also hoping to represent his country in snowboarding and become the first-ever Ugandan at the Winter Olympics. Based in the US since he was 12, Mawejje will put plans to attend medical school on hold to focus on the Olympics. Like the Nigerian bobsled team hopefuls, Mawejje is aware of the historical significance of his participation.
"My motivation, really, is holding the flag at the opening ceremony," Mawejje says in a documentary. "So [it] doesn't really go as far as winning, or getting on podium, but picturing myself as an African holding an African flag at such an event really pushes me. I believe that I can pave that same path for other kids."