Africa may not feature much on president-elect Donald Trump's political map, but its oil reserves have been a feature on that of Rex Tillerson, the ExxonMobil CEO who will become next US secretary of state. Africans watching Trump's cabinet pick may be concerned with Tillerson's track record on the continent of helping support regimes of some of the continent's strongmen in pursuit of oil deals.
Based on Tillerson's record on the continent it is also likely that human rights and environmental policy take a back seat to more pragmatic dealmaking, say analysts.
In Equatorial Guinea, Exxon Mobil has facilitated the autocratic regime of the Obiang family by exploiting its oil reserves. The political elite use oil revenue as a personal ATM while many in the small central African state live in abject poverty.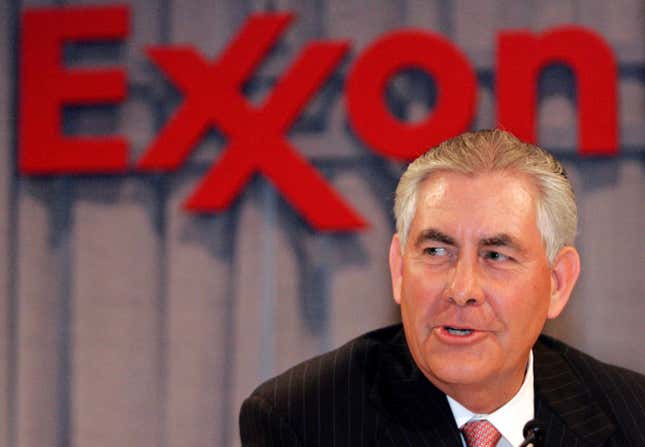 Exxon Mobil has operated similarly in Africa's largest oil producer, Angola. The state oil company Sonangol is also an important political asset, so much so that it will now be run by Isabel dos Santos, daughter of Angola's decades-long leader Eduardo dos Santos.
Then there is Nigeria, where Exxon Mobil's record has been ambivalent. The company took over Mobil's operations in the Niger Delta in the 1990s, introducing a more rigid management style, according to a report by the New York Times. But the company, along with its competitors, was slow to respond to human rights violations caused by oil spills, according to Amnesty International.
In Chad Republic, Exxon has also helped fund Idriss Deby hold on to power, but the longtime leader's unpredictable politics led to a record $74 billion fine for unpaid taxes against Exxon. While many of these deals began before Tillerson's tenure, they continued under him and saw Tillerson rub shoulders with leaders like Muammar Gadaffi.
Tillerson has all the capabilities to run the state department, says John J. Stremlau, who worked in the state department from 1989 to 1994. He is bound to be a capable and intelligent manager but may not bring with him the kind of empathy needed on this job, says Stremlau.
As an energy man, Tillerson's is unlikely to address climate change and its effects on millions of Africans, Stremlau thinks. (Trump's cabinet picks already indicate a potentially dangerous shift on climate change policy).
"He is a guy that governments on this continent can do business with," said Stremlau. "But the only way to make the US state department under Tillerson responsive to human rights in Africa is to make it have some political cause to the United States."
Public pressure to protect human rights, rather than an inward looking America, will also go some way in ensuring that US foreign policy is not driven by pursuit of raw resources, Stremlau believes.
Under a Trump administration, African nations will find strength in acting as a regional bloc, pursuing a common interest, he adds. That will force Tillerson to strike multilateral deals rather than broker agreements with self-interested states.