Cape Town is a well known hotspot for tourists. Especially during peak South African summer  (October to February) when thousands of people flock to the country's coasts. But it's also a time of the year when sharks attacks are most likely to occur.
Next to the United States and Australia, South Africa is the country with the highest recorded shark attacks in the world. Hopefully, if a local company and a non-profit have their way, beachgoers will rest easier this year with the introduction of drone unmanned aerial vehicles (UAV) sharkspotters.
South African company weFix, mostly known for its cellphone repair services, has partnered with non-profit organization Shark Spotters to help it use drones to spot sharks more effectively. The company is providing shark-spotting teams with drone equipment, training, licensing and insurance, which will be used to survey beaches at Muizenberg and Fish Hoek.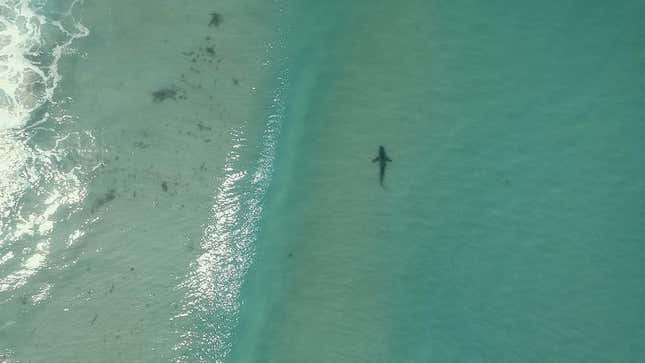 Known for the precision of visual data, drones are becoming more critical to monitor and survey hard-to-reach wildlife populations. CEO of weFix Alex Fourie says the pilot program has helped in the validation of potential sharks sightings. "What previously would have been declared a great white shark in Fish Hoek, actually turned out to be a copper shark, which is not dangerous."
The drones weFix provide are currently being used as a responsive measure once something suspicious is seen from the land with binoculars. Fourie explains that the drone will then go out and confirm the species of shark or whether it's a false alarm.
South Africa has recorded 393 shark attacks since the year 1900, according to the International Shark Attack File, which keeps track of shark attacks. Most notably, vivid live television footage last year showed Australian pro surfer Mick Fanning barely escape a shark attack. Just a few months ago a great white shark attacked a fisherman near Cape Town.
From studying bird colonies in Australia to overseeing rhinoceros in South Africa, the technology pose a promise for better understanding and protecting wildlife and those exposed to it. Shark Spotters have already captured some drone images and footage of sharks along with a school of dolphins.
According to Fourie, South Africa is at the "cutting edge" of drone legislation internationally, which has helped the company increase public awareness around drones. And weFix plans on taking further advantage of this environment.