As president Joseph Kabila clings to power, the Democratic Republic of Congo is once again teetering on the brink of violent disaster. In the west, dozens of people have been killed in clashes between security forces and anti-Kabila protestors. In the east, armed militias are fighting for control while the central government is distracted.
The Democratic Republic of Congo (DRC) has had a fragile peace since the early 2000s, emerging from two civil wars that sucked in its neighbors to become the bloodiest interstate conflict since World War II. More than 5 million people were killed and millions displaced between 1994 and 2003, and the east of the country is still prone to sporadic fighting. There are fears the current political crisis could herald a return to that protracted violence.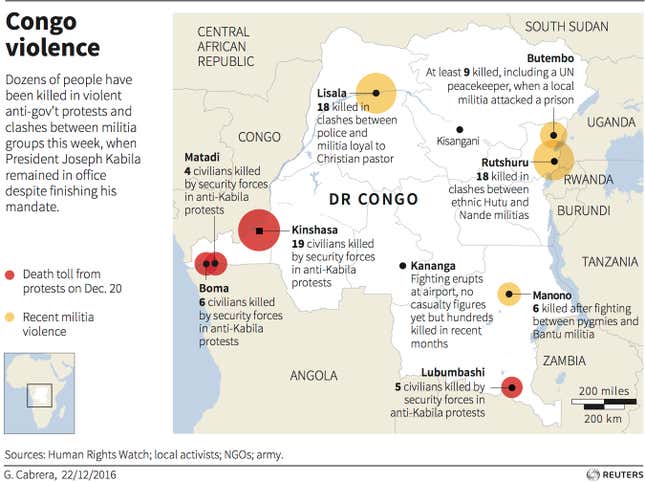 Kabila's presidential mandate ended at the end of his second term in office on Dec. 19, but he has refused to step down. Instead he has used his influence among the courts to extend his hold on power, indefinitely postponing the Nov. 27 election.
In response, a growing number of protestors have demanded Kabila's removal, risking their own lives. Earlier this month, the UN reported that Congolese security forces had killed at least 40 people and arrested 460 since Dec. 19.
Mediators are trying to negotiate between Kabila and opposition leaders an end to the political violence, with the hope that elections will take place in 2017. Those talks could be derailed, however, by the Dec. 28 arrest of an opposition leader.
Meanwhile political instability in the far western capital, Kinshasa, and in large cities like Lubumbashi, has also left a power vacuum for militias on the other side of the country. Militia groups killed 34 civilians near the eastern cities of Beni and Nyanzale over Christmas weekend alone.
These armed groups appear organized by ethnicity, raiding villages and retaliating in turn, according to Reuters. In at least one instance the Allied Democratic Forces, a Ugandan rebel group with ties to radical Islam, has been blamed for deadly cross-border raids in the northeast. Soldiers in the Congolese army are also accused of participating in the violence.
Natural disasters have added to the growing tragedy: At least 50 people were killed and 10,000 left homeless after heavy rains and flooding in the southwest of the country on Dec. 29.
If war descends again on this country at the center of Africa (the third-largest on the continent) the consequences of displaced peoples, violent chaos and stalled development could take a toll on the entire region.