As a young boy, Magunga Williams was a bibliophile. Growing up in Kisumu along the shores of Lake Victoria, reading was his favorite pastime, whether in school, at home or with friends. But during his late teen years, Williams noticed that he couldn't find the kind of books that he craved for in local bookstores. The stores, which mostly supplied school textbooks, didn't also have a diverse collection of works by African authors.
As a university student in the capital Nairobi, he also encountered the same problem. The few bookshops in the city rarely held an assortment of books beyond the standard international bestsellers. As a reader, Williams was also not convinced of the idea that Kenyans don't read or buy books. He said that roadside vendors selling secondhand books on the streets—also known as "bend over book stalls"—were thriving.
And so was born the idea for Magunga Bookstore, which officially launched in mid-Dec. 2015. The online store hopes to combine the convenience of delivering to customers with the mission to promote and distribute only books about Africa and by African writers. So far, the Magunga store has stocked 500 fiction and non-fiction titles from countries including Kenya, Nigeria, Liberia, South Africa, and Zimbabwe. The store has sold an average of 100 books every month.
"Kenyans, or at least those in major cities do read," Williams says. "They just don't read African as much as I would like them." People, he says, go blank if you ask them to identify authors beyond household names like Chinua Achebe, Ngũgĩ wa Thiong'o, Chimamanda Ngozi Adichie and Binyavanga Wainaina. "It's problematic. It's really problematic."
Social media as launching pad
The business of managing bookstores in Kenya is a precarious one. In 2013, the government started taxing books, a move that publishers said contributed to rising prices and hindered the performance of school-going children. The high taxes made buying books a luxury, and put a strain on managing physical bookstores.
But aided by a rising middle class, equipped with mobile phones and well-versed in social media, online bookstores are slowly gaining a foothold in Kenya. (Other African countries have fully-fledged online stores like Exclusive Books and CNA in South Africa and Okada Books in Nigeria.) This is giving entrepreneurs like Magunga Williams, who might not have the capital or space to launch a bookstore, the opportunity to sell books. The books he has on stock are stacked inside the two-bedroom apartment he shares with his partner—a space they like to call the "literary warehouse." To sell the books, Magunga also directs the readers of his blog—6,000 of them on a good day—to check out the store and buy books.
Angela Wahito, the co-founder of the Ides of March bookstore also said they have complemented social media marketing with word of mouth. "Our model has been based on the internet, and aggressively marketing our brand on social sites like Instagram and Facebook." Wahito, a law student at the University of Nairobi, launched the store alongside a friend in Sept. 2016, and have since sold about 70 books.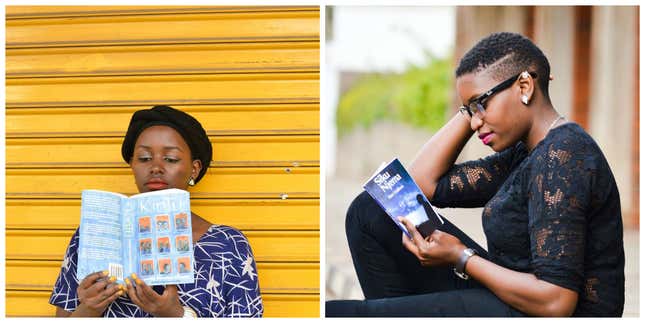 Besides working with individual writers and publishers, both Wahito and Magunga are supplied by conventional bookstores. Many of these stores struggle with clearing their merchandise or reaching customers who might want to buy these books.
The challenge with distribution, of reaching clients beyond major cities, is something managers at e-Kitabu, East Africa's first e-book store have been tinkering with. Since they launched in 2012, the platform has built a global inventory of over 500,000 books, with 3,000 of those certified for Kenyan education systems. The system has been built to use offline, says Will Clurman, the company's co-founder and CEO, and allows users in 900 schools in Kenya to access books on desktop computers, tablets and android phones.
Publishers, Clurman says, were aware of the shift to digital reading and buying, but almost all complained about how to distribute those books. Some publishers were also worried about piracy and what that would do to their revenue. "That was the real genesis of e-Kitabu," he said. E-Kitabu also avails books in different languages including Kiswahili, Luo, Kikuyu and Somali, and hopes to develop a text-to-speech program for special needs learners.
Williams hopes to take his stock to more literary festivals and book fairs, and connect with more writers, publishers, and bookstores across the continent. This year, he is one of the patrons of the prominent Storymoja Festival in Kenya, which will take place in Nairobi between Sept. 27 and Oct. 1.
From all the Kenyan book titles he has amassed so far, Williams believes that "Kenya doesn't need another writer. We might want them, but I don't think we need them." What the country needs, he says, is to build platforms that would connect both readers and writers. "We are so focused on putting out material but not improving the space itself," he continued. "And that is not good."