Lagos
There's a buzz in Nollywood right now.
Last month the romantic comedy The Wedding Party became the first movie from Nigeria's growing film industry to break 400 million naira ($1.3 million). And in 2016 Nollywood's combined box office topped 3.5 billion naira ( $11.5 million) with 30% of ticket sales generated by local movies. To a Hollywood watcher those numbers will seem tiny, but for a burgeoning movie business growing out of years of rampant disc piracy and a battered economy, this was a breakthrough.
Nigeria's movie industry has become the country's second largest employer and shows huge potential as an export product to the rest of the world. This is especially important for a Nigerian government which is keenly aware of the need to diversify from its over-reliance on oil for 90% of its export revenue.
Not only was The Wedding Party a commercial success, but it was critically acclaimed when it made its debut at the influential Toronto International Film Festival last year. Still, despite Nollywood's significant rise in production values and its already huge popularity globally, Nigeria's movie business is still often perceived as an industry of disposable, poorly shot, and badly edited movies. Outside of the odd award show, its star actors, directors, and producers are rarely seen as creators of great art.
New York artist Iké Udé is setting out to fix that by reframing the Nollywood image in a new coffee table book called Nollywood Portraits: A Radical Beauty. Published by the Milan-based Skira Editore, it features 66 original portraits of Nollywood's biggest stars, and features a foreword by Harvard's Henry Louis Gates. The glamorous posed portraits—some inspired by the style of the Italian Renaissance painter Raphael—capture many of the biggest stars of the genre as their fans likely haven't seen them before.
Udé, whose work has featured in the Guggenheim Museum and the New Yorker, says modern Nigerian culture doesn't celebrate its heroes and heroines enough. "We need to valorize Nollywood," he says.
The artist, who left Nigeria to study in the United States back in the 1980s, wasn't a Nollywood fan, but after seeing some movies through relatives and meeting some stars, he became enamored with the culture. He enlisted his project partner, Osahon Akpata, to create the book and an upcoming documentary.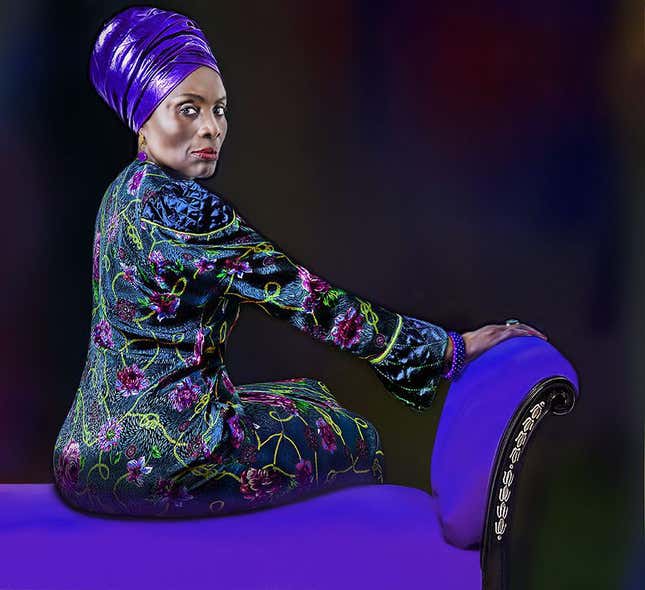 Taiwo Ajai-Lycett, a doyen of Nigerian TV and movies, says the book is long overdue and said she loved worked with Udé. "It's important for the world to see what we're doing here, no matter how nascent it is," says the 76-year-old, who has been acting in the UK and Nigeria since long before Nollywood was established.
Ajai-Lycett argues the industry shouldn't pander to the lowest common denominator with glamor and beauty alone—it should also discuss important social issues, such as the treatment of women in society.
"It's now the responsibility of Nollywood itself to raise its game in terms of knowledge, substance and quality of what we produce," she says. "We owe it to our audience."
Kehinde Bankole, the star of movies including October 1 and The Meeting, agrees that it's more than just a business. "It's both art and popular culture," she says. "Most of the material we put out are the things that happen in our immediate environment, but you can also see our aspirations for Africa. Sometimes we shoot things that we hope will happen."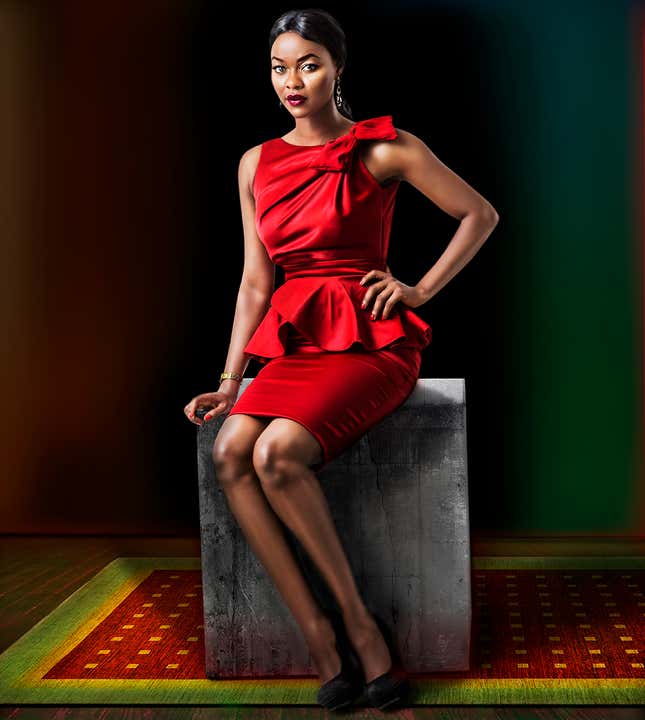 The aspirational aspect of Nollywood's features is often overlooked in explaining its impact on the wider pan-African diaspora. Some Nollywood movies show real life in Nigeria, warts and all. But, as in Hollywood, many movies highlight the lives of the upper-middle classes, an aspect of African life that's rarely seen. The big homes with servants and drivers of multiple expensive cars, the glamorous fashion, and the over-dramatized storylines have appealed to viewers across Africa and from as far afield as the Caribbean. Even those who might struggle to follow the idiosyncrasies of the Nigerian-English dialogue are attracted to the novelty of seeing people that look like them on screen, living the high life.
"For people like me who love movies, the early days of Hollywood are the stuff of mythmaking and legend," writes Henry Louis Gates in his foreword. "But in Nigeria, from Lagos to Asaba, it is happening now and it remains one of the most captivating places in the world to tell stories."
The pan-African appeal, as well as the vast African diaspora in Europe and the US, has attracted both financial investors and strategic partners from South Africa's' Multichoice TV to Netflix.
Kunle Afolayan, one of the leading Nollywood directors (and a 2015 Quartz Africa Innovator honoree), signed a deal with Netflix in 2015 to distribute his award-winning psychological thriller, October 1, set around Nigeria's journey to independence in 1960.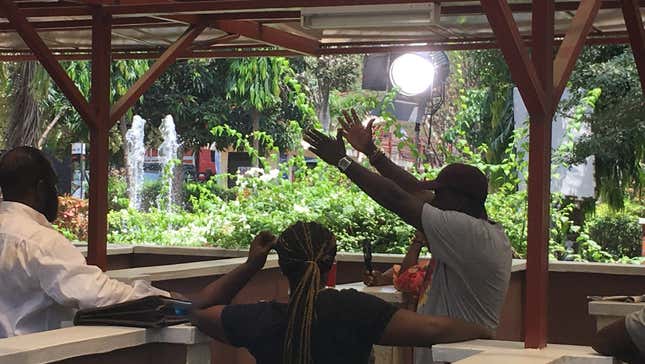 Afolayan, speaking on the set of a new feature called The Tribunal, backed by South African TV company Africa Magic, says the partnerships have been crucial. The Tribunal, which focuses on discrimination and Nigeria's employment culture, is being made for TV but Afolayan will retain rights to have it distributed on other platforms, including cinema and online, at a later date. He also sits on the advisory board of a government-backed Bank of Industry, which has also backed movies by up-and-coming directors at below typical commercial bank loan rates. It's one of Nigeria's initiatives to help the country diversify its economy.
It'll be a long time before Nollywood has a major impact on Africa's largest economy. For one thing, local movie theater infrastructure is only just catching up with the rate of local movie production. While many movies are streamed online, internet speeds and costs are still such that many people only watch extended video from the office, according to the streaming pioneer IrokoTV. But with a population of 180 million Nigerians, and many more fans across the continent and diaspora, there is undoubtedly huge potential.
"If Wedding Party can do $1 million when we only have 25 cinemas in this country, then you can imagine how much we'll be doing soon as we build more and more cinemas," says Afolayan. "The days of relying on DVDs are over—it was a piracy nightmare. Now, this business is about the cinemas and TV. "
Nollywood may find a similar trajectory to India's Bollywood, whose golden age of popular low-budget fare took off in the 60s and 70s, helped globally by the growth of Indian diaspora around the world. But in recent decades Bollywood has produced many arty and critically-acclaimed movies with budgets close to Hollywood productions.
Conversations with actors and directors in Nollywood tend to quickly gravitate to their ambitions for the industry as a whole, and not just their personal or individual careers. Udé said this was one of the attractions of the project.
"I am optimistic about the future of Nollywood because when you really spend time with the talent, they are boundless with ambition," Udé says. "They want to be as good as they are in Hollywood. They are so eager to better themselves, I was very inspired by that. It surprised me."